Teach English Abroad!
Travel the world, meet new friends, learn a new language…
Teach English abroad and travel the world! Teaching English abroad is perfect for recent university graduates who want to take a gap-year and live in another country, for people who want to make a career change, and for experienced teachers who want to travel. No teaching experience required! Earn $30,000 a year plus accommodation doing something that you love! Get free job placement assistance for paid teaching jobs abroad with OnTESOL!
4 Reasons to Teach English Abroad: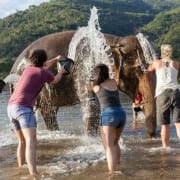 Most teachers work an average of only 29 hours per week, including lesson planning and administrative tasks. That leaves you with lots of time to travel with your friends or on your own. You can also pursue part-time job opportunities or offer private lessons to earn more money. Some ESL teachers even take language lessons or certificate courses at foreign universities.
Yes, most TESOL jobs are close to beautiful beaches and forests, where you can play sports or just enjoy the view! There are also many ancient ruins and historical landmarks that will awe and inspire you. There is nothing better than traveling like a local! If you like to visit unique places that are often omitted from the typical travel brochure, if you don't like to rush on your visits, and if you like to experience all the culture and history that each place has to offer, then teaching English abroad is for you!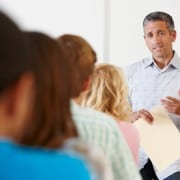 Teaching English abroad isn't only for gap-year university graduates who want to travel. Many people like it so much that they pursue a career in Teaching English to Speakers of Other Languages (TESOL) or Teaching English as a Foreign Language (TEFL). Some teach English in different countries, others become teacher trainers and/or prominent writers, and a few teachers even open their own language schools! Teaching English is a lot of fun, but it also comes with great responsibilities and we have met a lot of passionate teachers who want to help people all around the world.

Take the most advantage of your teaching English abroad experience and learn a new language! As a certified ESL teacher, you will know which language lessons are good for you and which aren't. You will also be able to use authentic material and engage in conversations with native-speakers more effectively thanks to the Communicative Language Teaching (CLT) methods that you learned during your TESOL certification course. Speaking the local language is not necessary for teaching English abroad; however, it is useful for building rapport with your students, overcoming culture shock, and getting better job opportunities at home when you return from your gap-year.
Free TESOL Preparation Courses!
Get ready to teach English abroad with TESOL 101 by OnTESOL! Learn about TESOL methods, teaching grammar, teaching vocabulary, teaching integrated skills, and more! We also developed free customized courses for the top teach abroad programs in the world.
An Internationally Recognized TESOL Certification Is Your Key To The World! Get Certified to Teach English Abroad Today!
Take a professional teacher training course and get the TESOL certification that you need to teach English abroad. Core, specialized, and advanced TESOL courses recognized by TESL Canada and ACTDEC UK.