OnTESOL is Accredited by:

U.S. Department of Education
Recognized Agency

TESL Canada Standard Level 1 & 2
TESL Ontario CTESOL (Part 1 of OCELT)
20 Years of Leading TEFL/TESOL Training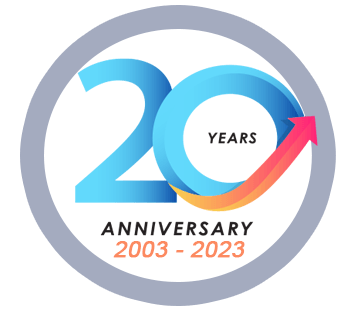 TESOL/TEFL
The Foundation of Your Teaching Career: Our TEFL/TESOL Courses
All our courses are recognized by TESL Canada and valid for ESL teaching jobs worldwide
SPECIALIST COURSES
20-hour Specialist Certificate Courses
Most English language schools offer their students specialized instruction to meet their specific needs. Topping the list are these four: Young Learners, Business English, IELTS preparation courses, and Online learning. The 20-hour Specialist certificate courses offered by OnTESOL will boost your resume and prepare you for more opportunities.
Save a total of

CA$400

US$320

when you enroll in the 168-hour Hybrid TEFL Certificate course, which combines the 120-hour TESOL course with the live 10-hour workshop and our most popular specialist courses (teaching young learners and teaching online)! See Course
Which TEFL/TESOL Course is Right For Me?
Ready to Become TEFL / TESOL Certified?
Our recognized TEFL / TESOL programs will give you the skills and knowledge you need.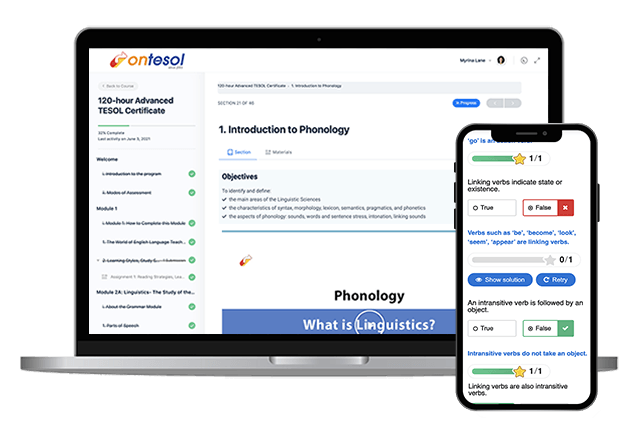 Syllabus and Course Material Recognized by TESL Canada
All course material is included in the tuition fee. You can access our responsive student portal from your desktop, phone, or table and you also have the option to download each chapter in PDF for printing and/or offline viewing.
Video Tutorials, Recorded ESL Lessons, FAQs Videos, Lab Tutorials, and Live Workshops:
OnTESOL offers a wide variety of videos to support your self-paced learning experience. Our online TEFL / TESOL courses include standard video tutorials, pre-recorded ESL lessons integrated with class observation assignments to show you how to deliver different stages of a lesson plan, FAQs videos to review sections of the TEFL / TESOL course where OnTESOL tutors have provided extensive support for the past 18+ years, and lab tutorials by our Director of Studies to support you in the lesson plan assignments.
Those looking for an interactive learning experience can add the live 10-hour Lesson Planning Workshop during registration in the 120-hour or 250-hour TESOL course. The 10-hour workshop offers a unique experience through live lectures and group activities.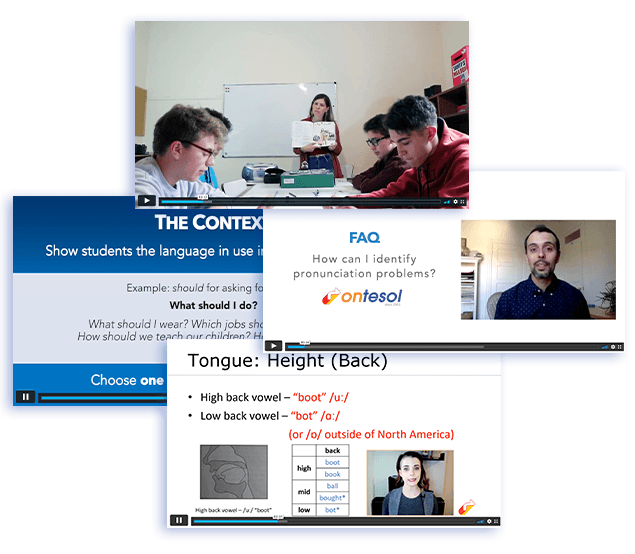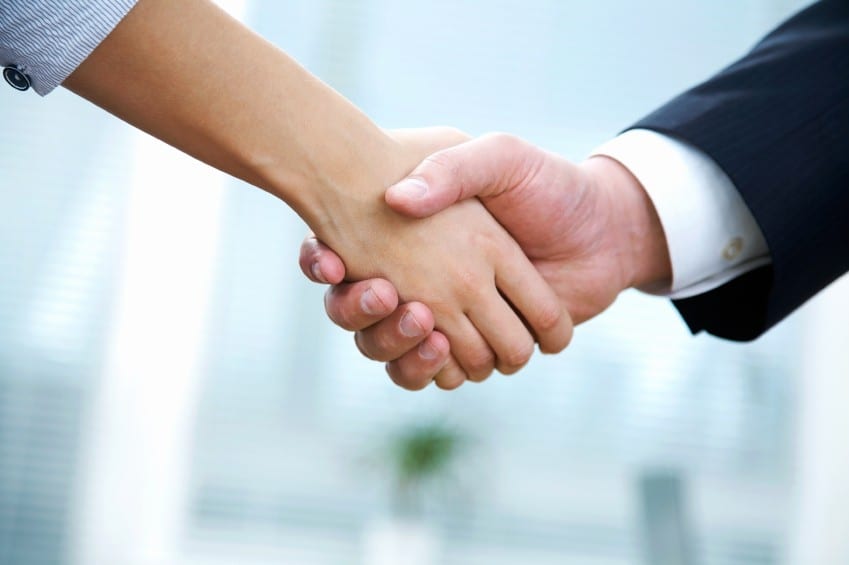 Professional Tutor Support
An experienced teacher trainer will be assigned to assist you throughout the program. Your tutor will provide you with extensive feedback on every assignment to help you improve your teaching methods.
OnTESOL only hires teacher trainers with more than 10 years of experience in the ESL classroom and more than 5 years of experience in CELTA, Trinity CertTESOL, or TESL Canada approved courses. Some of our tutors have more than 30 years of experience in the industry!
All our tutors are recognized by TESL Canada, so you are guaranteed to receive professional tutor support from a qualified and experienced teacher trainer.
Internationally Recognized TESOL Certificate and Transcript by Post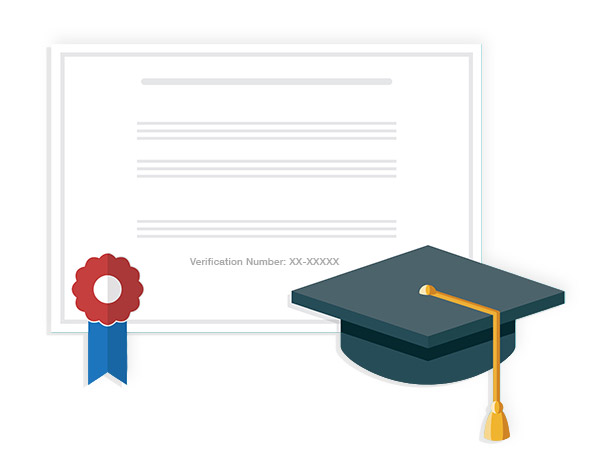 Job Assistance in the Top Destinations!
Receive free job assistance for paid teaching jobs in the top 20+ destinations when you register in the 120-hour, 168-hour or 250-hour TEFL / TESOL course with OnTESOL. Our job assistance service includes access to thousands of teaching jobs and support with resume and job interview preparation.
Reviews by Graduates

I have recently completed the 120-hour Advanced TESOL Certificate Course. I think this course is incredible and I would highly recommend it to anyone who wants to get into teaching English as a foreign or second language. Even though I've been teaching for several years, I discovered so many useful techniques so I recommend the OnTESOL course even for those who already have experience teaching English. My tutor, Aaron, was wonderful. He is a great guide who walked with me through the whole course, helped whenever I had problems and always got back to me in a timely manner. I want to thank OnTESOL for providing an unforgettable learning experience!
Yana Demtsun

I have enjoyed using my OnTESOL course for the past 7 years in life, in Cambodia and in Taiwan.
The lesson plan assignments and assistance I received from the kind tutors helped me to become more creative in the classroom. I would recommend this online TESOL course to anyone that would like to know more about Teaching English as a Second Language and developing their lesson planning skills.
Thank you OnTESOL for your help all these years after completing my course. I feel you have done a lot to assist me in my career.
Patrick Meir

Excellent online course. I was a little skeptical at first that the online course would not compare favourably with the classroom course but I was pleasantly surprised. I was able to apply much of my new knowledge immediately. I took the 120-hour course plus the course for business English. I applied for ESL work in the business sector immediately after completing my OnTESOL course and received a favourable answer to all my requests, finally settling with the YMCA in Montreal. I never thought the course would be so helpful especially when it comes to lesson planning.
Michel Di Stefano
1. Teach English Abroad or at Home:
Our advanced online TEFL / TESOL certificate courses are recognized abroad and in native-English speaking countries, so you can go abroad and have the credentials you need to teach at home. Take an internationally recognized TEFL / TESOL certificate course with OnTESOL!
2. Internationally Accredited and Recognized:
OnTESOL is institutionally accredited by ACCET – Recognized by the US Department of Education since 1978-. ACCET accreditation guides OnTESOL with developing organizational processes and policies that support ongoing course improvements and innovation through data-oriented analysis, student surveys, and annual educational reviews.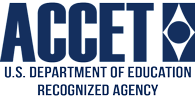 Our online TEFL / TESL / TESOL courses are recognized by TESL Canada and TESL Ontario, which validate our syllabus and teacher trainers to ensure that OnTESOL graduates learn the skills they need for a successful career and receive the certification required to teach English in Canada or compete for high-paying jobs internationally. TESOL/TEFL/TESL courses recognized TESL Canada and TESL Ontario are academically equivalent to the UK-based CELTA and Trinity CertTESOL brands.

3. Professional Tutor Support:
An experienced and qualified teacher trainer is crucial in a TEFL / TESOL certificate course. Our courses come with a professional and accredited teacher trainer who corrects the work, provides extensive feedback on each assignment and is available to answer questions. The Director of Studies supervises tutors, moderates assignments, and issues the final transcript and certificate. All our tutors have been approved by TESL Canada and TESL Ontario.
4. Job Assistance Package
Get free recruitment, access to an international job board, a master list with more than 1,000 schools from around the world, and help with your resume and job interview when you take an accredited TEFL / TESOL certificate course with OnTESOL. Learn more about our job assistance package.
5. Lesson Planning Skills: Why You Need Them
The level of lesson plan that you will learn to create in an advanced TEFL / TESOL certificate course will put you above everyone else when applying for English teaching jobs. More importantly, your lesson planning skills will prepare you as a reflective and independent teacher, which means that you will have the skills to adapt the boring textbook and eventually develop a full curriculum with original lesson plans. This is a very valuable skill to have because it will help you enjoy your job and pursue a lucrative career in the field of Teaching English to Speakers of Other Languages (TESOL).
Request Brochure
Submit the form and we will send you a one-time email containing your Information Package.

Select the checkbox if you wish to receive the latest news and be the first to hear of any promotional discounts!