20-hour Teaching English Online Certificate
TEFL/TESOL Courses > 20-hour Teaching English Online Specialist Certificate
Get Certified to Teach English Online!
The 20-hour Teaching English Online Certificate is a specialist course for TEFL / TESOL certified teachers looking to upgrade their qualification to teach English online. This specialist course is included in the 168-hour Hybrid TEFL Certificate or can be added for an additional cost to the 120-hour Advanced TESOL Certificate.
This specialist course will teach you the core elements of teaching English online, including appropriate technologies and strategies to create your online program or prepare yourself for working for an online language school. You will learn how to evaluate and use online technologies, determine the type of teaching approach or strategies appropriate for your teaching target, and learn the basics to design your online program.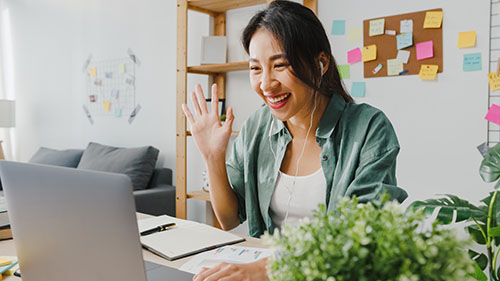 Online Tutor
The 20-hour Teaching English Online course is fully online and you will be assigned an experienced tutor to answer your questions and correct your assignments.
Course Certificate
Graduates receive a 20-hour Teaching English Online certificate awarded by Coventry House International – OnTESOL. A stamped hard copy will be mailed and graduates also have the option of downloading a digital copy.
Course Duration
This course takes a minimum of one week to complete, but trainees are given up to 8 weeks to complete the course.
Entry Requirements
Candidates must have an internationally recognized TESOL, TEFL, or TESL certification course in order to take this course. If you do not have a TEFL / TESOL / TESL certification, the Teaching English Online specialist is included in the 168-hour Hybrid TEFL Certificate or it can be added to the 120-hour Advanced TESOL Certificate course.
Tuition: CA$299
Discount: CA$299 Only CA$100 when you register in the online 120-hour TESOL course with OnTESOL
Teaching English Online Course Syllabus
Modes Of Assessment
Your understanding of the topics in each module will be assessed through one final assignment. There are also some self-corrected quizzes to review parts of the module, and reflection tasks where you are asked to reflect on the material and readings in the corresponding module. Although quizzes and reflection tasks play an important part in the learning process, they do not count toward the final mark.
Modules
Module 1: Fundamental Concepts of Online Teaching
Module 2: Equipment and Online Platforms
Module 3: Rewards and Challenges of Online Teaching
Module 4: Assessing Technology Integration Models
Module 5: Methods and Approaches for Online Lesson Planning and Teaching
Module 6: Class Observation
Module 7: Choosing Digital Tools
Module 8: How to Master Behaviour Management in the Online Classroom
Module 9: How to Get Started Teaching Online
Register and Start Today: