Which TEFL Certification is Right For Me?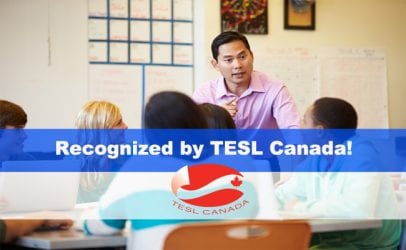 The key to picking the right TEFL certification course is knowing where you want to teach and for how long. Many places accept online TEFL certification and many others require completion of a supervised teaching practice module. Luckily, OnTESOL offers flexible options for those who want to teach English abroad during their gap year, teach English online, and those who want to pursue an international teaching career. You can take the TEFL course online, complete a specialist TEFL module online, and even take a separate teaching practice module anywhere in the world!
How Will a TEFL Certification Course by OnTESOL Make You A Better Teacher?
Being a native speaker will only help you to a certain point. In the classroom, it would enable you to identify errors. However, it is difficult to help students understand how to correct themselves without knowledge of grammar and phonology rules. For this reason, OnTESOL includes a comprehensive grammar and phonology module in every TEFL certification course!
Knowing about the Communicative Approach or Task-based Learning is only the half of it! As a teacher, you will need to follow these methods through well-planned lessons that present the language point in context through the use of materials and activities that mimic real life scenarios. OnTESOL is the only online TEFL institute that will teach you how to plan lessons using various lesson planning formats. To get the best training for a professional career, take the 250-hour TESOL Diploma and learn to adapt or even create a full curriculum based on original lesson plans that meet your students' needs!
Teaching practice is not mandatory for entry-level teaching jobs abroad, but it is highly recommended for becoming a better teacher. Why is OnTESOL one of the few online TEFL institutes that offers a teaching practice module? Very simple. To take this module you need to know how to create lessons and most online TEFL certification courses out there offer a quick introduction to the methodology of TEFL, but they do not assess trainees through lesson planning assignments. The TEFL certification courses offered by OnTESOL will prepare you for the classroom from the first day you finish the online course, whether you want to get supervised teaching experience or feel ready to jump into the job!
Related Articles on Teaching English in China