The Best TESOL Certification Courses in Canada!
Get a TESOL certification that is accepted abroad and in Canada! Coventry House International-OnTESOL is the largest provider of TESL Canada-recognized courses in Canada. Our courses provide a lot of flexibility because you can study online and complete a Practicum anywhere in the world.
Testimonial – Chris Noel: The TESOL Diploma course is full of relevant and high quality information and activities/lesson plan ideas that would easily work well in all ESL classes. I could instantly see the real life applications for all of the theory that is included in the course as a whole. My tutor was always helpful and timely in giving assignment feedback. Overall, I thought the course was well put together and challenging. I am 100% satisfied with OnTESOL's 250-hour TESOL Diploma course.
Our TESOL Courses and Their Canadian Accreditation: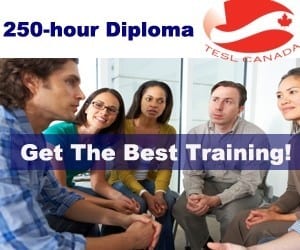 Our online 250-hour TESOL Diploma is perfect for:
Experienced ESL teachers returning to Canada, who need to pursue TESL Canada certification online and at their own pace.
People who are seeking an international career and would like to get the best training from the beginning. The 250-hour TESOL course will prepare you for exciting career advancement opportunities and lucrative jobs worldwide.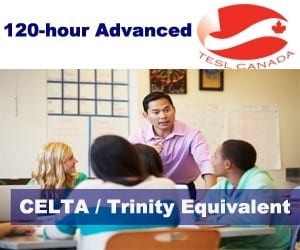 The 120-hour Advanced TESOL Certificate is perfect for:
New teachers who want to get a TESOL / TEFL job abroad and need an internationally recognized TESOL certification.
New teachers who want to get the minimum credentials for teaching English in Canada.
3 Reasons to Take Your Course with Coventry House International-OnTESOL
The TESOL courses offered by Coventry House International-OnTESOL are fully online, so you can study TESOL from the comfort of your home computer or tablet.
There isn't a deadline to complete the separate 20-hour Practicum module required for TESL Canada certification, so you can go abroad as long as you want with the online TESOL certificate and take the Practicum when you are ready to return to Canada and apply for jobs here.
Candidates can complete the Practicum at any ESL school, LINC program or TESOL institute in the world. Our program provides great flexibility and allows teachers to save a lot of money by taking the Practicum at the school they work!