Online TESOL Certificate Courses
Recognized by TESL Canada and TESL Ontario
TESL Canada Standard 1 & 2 / TESL Ontario CTESOL (Part 1 of OCELT)
Why Should Canadians Choose a Recognized TESOL Certification?
Most online TEFL / TESL / TESOL certification courses are only valid for entry-level positions abroad and online. The online TESOL certification courses offered by Coventry House International-OnTESOL are perfect for Canadians looking for a TESOL certificate that is valid for ESL teaching jobs and career advancement opportunities in Canada, abroad, and online.
Our online TESOL courses have been evaluated and recognized by TESL Canada since 2003. OnTESOL is the first fully recognized online TESOL institute in Canada and the first online TESOL institute in the world to offer graduates the option of completing a Practicum module equivalent to CELTA or Trinity CertTESOL (With feedback from a Practicum Supervisor and real ESL students in the classroom).
Our TESOL certification courses are completely online and self-paced, and you will be assigned a TESL Canada-approved personal tutor to answer your questions and provide extensive feedback on your lesson planning assignments.
Other unique features of the TESOL certification courses offered by OnTESOL include practical lab assignments, live lesson planning workshops via Zoom, accredited syllabus with textbook, a variety of pre-recorded videos, and lifetime job assistance in Canada and other destinations.
Qualify for English Teaching Jobs in Canada
TESL Canada Professional Standard 1 certification is the minimum requirement for teaching at a Canadian private ESL school program such as General English, ESL Immersion, IELTS or TOEFL Preparation Courses, and English Conversation.
Experienced ESL teachers who hold an MA in Education or Linguistics and a minimum of TESL Canada Professional Standard 1 certification are eligible to teach English in Canadian colleges, universities, and K-12 programs, but many high-paying positions prefer TESL Canada Standard 2 certification.
For teaching Canadian Newcomers in the government-sponsored LINC program, the minimum requirement is TESL Canada Standard 1 certification in all provinces except for Ontario, where TESL Ontario Level 2 OCELT is required. The 120-hour online TESOL course offered by OnTESOL is recognized by TESL Canada Standard 1 / TESL Ontario Level 1 CTESOL and those who wish to upgrade to TESL Ontario OCELT Level 2 can complete the second part with another organization at a later time.
What is TESL Canada?
TESL Canada is the leading accrediting organization for Canadian TESL / TEFL / TESOL certification courses and is highly recognized worldwide. You can use your TESL Canada certification to teach English in Canada and other Native English speaking countries, teach English online, or go abroad with an internationally recognized credential.
All you need to qualify for TESL Canada certification is to have a university degree (In any area) and complete a TEFL / TESL / TESOL certification course with a recognized provider such as OnTESOL. Non-native speakers who did not complete their university degree in Canada or another native speaking country need their IELTS / TOEFL score to become eligible for TESL Canada certification.

Compare Online TESOL Certification Courses and Accreditation:
Institutionally Accredited by ACCET
– U.S. Department of Education Recognized Agency –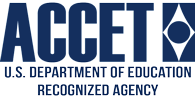 Recognized by TESL Canada and TESL Ontario
– Academically Equivalent to CELTA and Trinity CertTESOL –

TESL Canada Standard 1 Certification
TESL Canada Standard 1 Certification
TESL Canada Standard 2 Certification
Testimonial – Chris Noel: The online TESOL certification course is full of relevant and high quality information and activities/lesson plan ideas that would easily work well in all ESL classes. I could instantly see the real life applications for all of the theory that is included in the course as a whole. My tutor was always helpful and timely in giving assignment feedback. Overall, I thought the course was well put together and challenging. I am 100% satisfied with OnTESOL!
READY TO BECOME TESOL CERTIFIED?
Our recognized TESOL programs will give you the skills and credentials you need to teach English in Canada.