Teach English in South Korea with EPIK!
Free Job Placement Via Official EPIK Recruitment Agency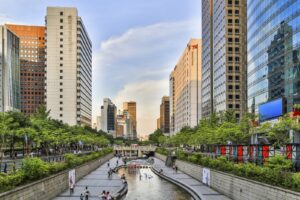 Teach English at a public school in South Korea with the English Program in Korea (EPIK). Apply to teach in a metropolitan area or a beautiful rural town! EPIK offers a great salary plus amazing benefits such as paid accommodation, airfare, vacation, and health coverage! Candidates must be native-English speakers and have a university degree. Candidates who do not have an accredited TESOL / TEFL certificate may apply and complete the course before starting the contract in South Korea. Teaching experience is not required.

Why Apply to EPIK Through OnTESOL?
1- We partnered with Korean Horizons, an approved EPIK recruiter, to offer free recruitment to qualified candidates!
2-Get $100 OFF on the 20-hour TEFL Workshop when you apply to teach with EPIK through OnTESOL. Upgrade your credentials with the in-class weekend TEFL course.
3- Get full support with the job application! Your lesson planning skills will play a very important role during the first screening stage. Apply to teach with EPIK through OnTESOL and get feedback on your lesson plan for free.
All contracts are for 1 full year.
22 classes per week:  1 elementary class would be 40 minutes & a middle or high school class would be 50 minutes each.
Hours are 8:30am to 4:30pm.   Monday to Friday.  No weekends, No split shifts.
EPIK Pay Scale :
Package includes airfare allowance, settlement allowance, furnished apartment, orientation, work permit, paid vacation, airport pick-up, and medical contributions.
EPIK Nationwide Jobs
Level 2 EPIK teachers: 2.0-2.2 million won per month
Requirements:
Bachelor's degree in Education / major in Teaching, TESOL, Second Language Studies, or Education
OR
Bachelor's degree in any discipline + TEFL/TESOL/CELTA certificate
OR
Bachelor's degree in any discipline + Teacher's License
OR
Bachelor's degree in any discipline + 1 year TaLK scholar experience
Level 2+ EPIK teachers: 2.1-2.3 million won per month
Requirements:
1 year of full-time teaching experience + one of the following:
-Bachelor's degree in Education / major in Teaching, TESOL, Second Language Studies, or Education
-Teacher's license
-TEFL/TESOL or CELTA certificate
OR
Master's degree in any discipline with a Bachelor's degree in Education / major in Teaching, TESOL, Second Language Studies, or Education
OR
Master's degree in Education / major in Teaching, TESOL, Second Language Studies, or Education with a Bachelor's degree in any discipline
OR
After 1 year as a Level 2 with the renewing province
Level 1 EPIK Teachers: 2.3-2.5 million won per month
Requirements:
2 years of full-time teaching experience + one of the following:
-Bachelor's degree in Education / major in Teaching, TESOL, Second Language Studies, or Education
-Master's degree in Education / major in Teaching, TESOL, Second Language Studies, or Education
-Teacher's license
-TEFL/TESOL or CELTA certificate
OR
After 1 year as a Level 2+ with the renewing province
Level 1+ EPIK teachers: 2.5 to 2.7 million won per month
Requirements:
Minimum 2 consecutive years as Level 1 with the renewing province