About EPIK:
EPIK is the public school program in South Korea run by the Ministry of Education, Science and Technology. There are over 700 jobs available with EPIK every 6 months.
Why Teach with EPIK?
 EPIK offers a great salary plus amazing benefits such as paid accommodation, airfare, vacation, and health coverage! You can apply to teach in a metropolitan or rural area.
Free Guide to Teaching English in South Korea with EPIK
700+ Jobs Available in Many Locations!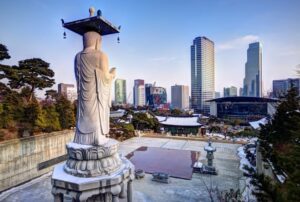 You can apply to teach English in any of the following national, metropolitan and provincial offices of education :
1- EPIK nationwide (including the metropolitan cities of Busan, Daegu, Incheon, Gwangju, Daejeon, Ulsan, Sejeong & within the provinces of Gangwon, Chungnam, Chungbuk, Gyeongsangnamdo, Gyungbuk, Jeonbuk, Jeonnam & Jeju)   (Available February and August each year)
2- Gyeongsangnamdo (Changwon, Masan, Yangsan, Jinju, Sacheon, Goseong & Others)  province – (Available 1st of every month)
3- Chungcheonnamdo (Cheonan, Nonsan, Boryeong, Taean & Others) province –  (Available each month)
4- Seoul Metropolitan City –  (Available February and August each year)
Only recruitment agencies approved by EPIK can place you in South Korea. OnTESOL works with Korean Horizons to help candidates throughout the recruitment process.
Step 1- Application: Submit job application with resume and lesson plan. OnTESOL will provide you with feedback to make corrections on your lesson plan.
Step 2- Phone interview: Korean Horizons will schedule your phone interview with EPIK.
Step 3- Documentation: Korean Horizons will send your documents to EPIK, includes the copies your university degree/s, letters of recommendation, copy of TESOL certification, and Criminal Background Check.
Step 4- Work Visa: After EPIK receives your documents, they will send your job contract to the closest South Korean embassy, where you will have to sign the contract and pick up your work visa.
Step 5- Go! You will be given the date to fly to South Korea to attend Orientation Week. Airport pick-up is included.
All contracts are for 1 full year.
22 classes per week:  1 elementary class would be 40 minutes & a middle or high school class would be 50 minutes each.
Hours are 8:30am to 4:30pm.   Monday to Friday.  No weekends, No split shifts.
EPIK Pay Scale :
Package includes airfare allowance, settlement allowance, furnished apartment, orientation, work permit, paid vacation, airport pick-up, and medical contributions.
EPIK Nationwide Jobs
Level 2 EPIK teachers: 2.0-2.2 million won per month
Requirements:
Bachelor's degree in Education / major in Teaching, TESOL, Second Language Studies, or Education
OR
Bachelor's degree in any discipline + TEFL/TESOL/CELTA certificate
OR
Bachelor's degree in any discipline + Teacher's License
OR
Bachelor's degree in any discipline + 1 year TaLK scholar experience
Level 2+ EPIK teachers: 2.1-2.3 million won per month
Requirements:
1 year of full-time teaching experience + one of the following:
-Bachelor's degree in Education / major in Teaching, TESOL, Second Language Studies, or Education
-Teacher's license
-TEFL/TESOL or CELTA certificate
OR
Master's degree in any discipline with a Bachelor's degree in Education / major in Teaching, TESOL, Second Language Studies, or Education
OR
Master's degree in Education / major in Teaching, TESOL, Second Language Studies, or Education with a Bachelor's degree in any discipline
OR
After 1 year as a Level 2 with the renewing province
Level 1 EPIK Teachers: 2.3-2.5 million won per month
Requirements:
2 years of full-time teaching experience + one of the following:
-Bachelor's degree in Education / major in Teaching, TESOL, Second Language Studies, or Education
-Master's degree in Education / major in Teaching, TESOL, Second Language Studies, or Education
-Teacher's license
-TEFL/TESOL or CELTA certificate
OR
After 1 year as a Level 2+ with the renewing province
Level 1+ EPIK teachers: 2.5 to 2.7 million won per month
Requirements:
Minimum 2 consecutive years as Level 1 with the renewing province