ACCREDITED ONLINE TESOL COURSES SINCE 2003
Recognized by TESL Canada and ACTDEC UK.
Academically Equivalent to CELTA and Trinity CertTESOL
TESOL/TEFL
INTERNATIONALLY RECOGNIZED TESOL COURSES: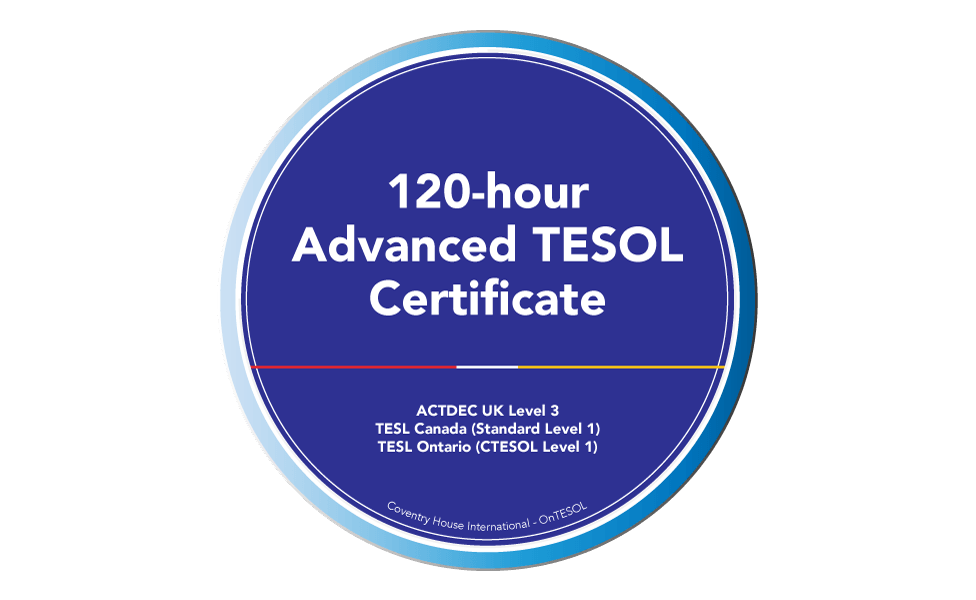 120-hour advanced TESOL certificate
Get certified to teach English abroad and get a credential that is also accepted in Canada, the United States, and other native English speaking countries.
This online 120-hour course offers the same level of training as a CELTA or Trinity CertTESOL course.

TESL Canada Professional Standard 1
ACTDEC UK Level 3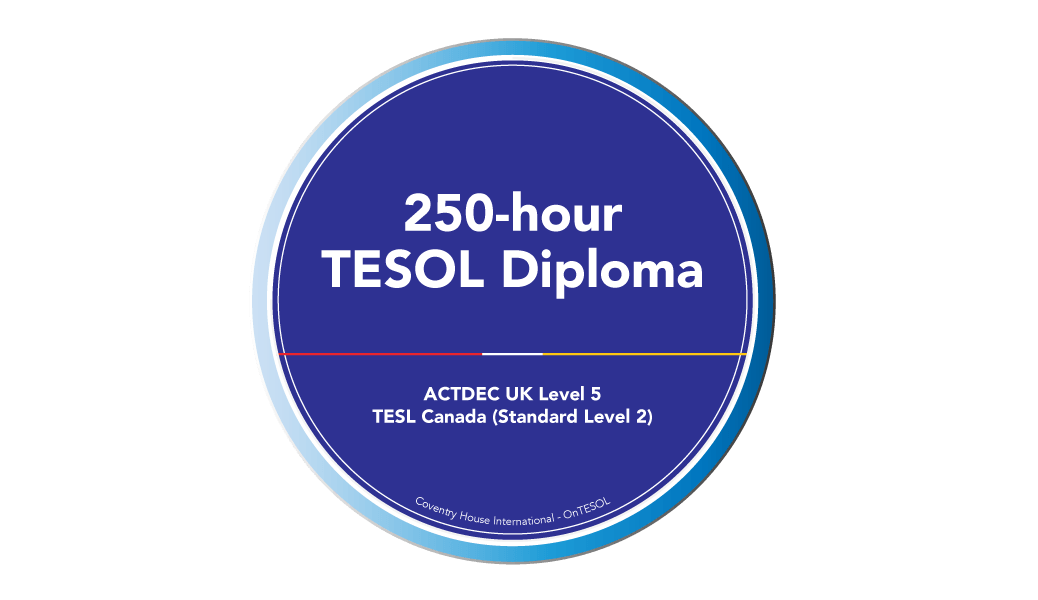 250-hour tesol diploma
The 250-hour TESOL Diploma is an extended version of the in-class Trinity CertTESOL that Coventry House International offers in Toronto.
Get the best training for a successful career with the TESOL Diploma.

TESL Canada Professional Standard 2
ACTDEC UK Level 5
WHICH COURSE IS RIGHT FOR ME?
The TEFL / TESOL courses offered by OnTESOL go beyond the theory and methodology of teaching English. All courses are assessed through practical lesson planning assignments that will prepare you to use the Communicative Language Teaching method anywhere in the world.
All courses are recognized by TESL Canada.
SPECIALIST COURSES
20-HOUR SPECIALIST CERTIFICATE COURSES
I have recently completed the 120-hour TESOL Certificate Course. I think this course is incredible and I would highly recommend it to anyone who wants to get into teaching English as a foreign or second language. Even though I've been teaching for sevel years, I have discovered so many useful techniques so I suggest that course even for those who think they are good at teaching English. My tutor, Aaron, is wonderful. He is a great guide who walked with me through the whole course and helped whenever I had problems and always got back to me in a timely manner. I want to thank OnTESOL for providing an unforgettable learning experience !
Yana Demtsun
I have enjoyed using my OnTESOL course for the past 7 years in life, in Cambodia and in Taiwan.
The assistance I received from the kind instructors that helped me to be creative and develop the way to teach. I would recommend this course to anyone that would like to know more about Teaching English as a Second Language and developing the skill of making lesson plans.
Thank you OnTESOL for your help all these years after completing my course. I feel you have done a lot to assist me in growing and succeed in teaching English.
Patrick Meir
Excellent online course. I was a little sceptical at first that the online course would not compare favourably with the classroom course but I was pleasantly surprised. I was able to use much of my new knowledge immediately. I took the 120-hour course plus the course for business English. I applied for ESL work in the business sector immediately after completing my OnTESOL course and received a favourable answer to all my requests, finally settling with the YMCA in Montreal. I never thought the course would be so helpful especially when it comes to lesson planning.
Michel Di Stefano
LESSON PLANNING SKILLS:
WHY YOU NEED THEM TO GET THE BEST JOB
At interviews, top schools ask applicants to create a lesson plan on the spot, often with only 30 minutes to prepare your presentation. In addition, the Director of Studies holding the interview will often ask questions related to the Theory and Methodology of TESOL. Furthermore, organizations like EPIK require applicants to submit a lesson plan with the initial application. Thus, it is more difficult to get to the interview stage with some schools if you do not have good lesson planning skills. Our graduates get reputable jobs worldwide because we teach them how to create and deliver professional lesson plans. Take an internationally recognized TESOL certificate course with OnTESOL!
COUNTRY SPECIFIC TESOL CERTIFICATION GUIDE FOR THE TOP DESTINATIONS