Quality TESOL Certification Courses for China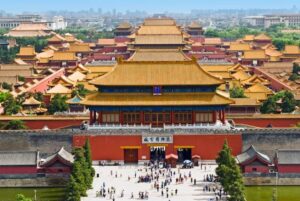 A valid, recognized TESOL certification program goes a long way toward helping you get the best teaching job in China. There are many institutes offering TEFL / TESOL courses, but not many are recognized for their quality of instruction. If you want to teach English in China, be sure you take the right TESOL course to enable you to get a good teaching job and be prepared for different teaching situations.

Testimonial – Lyndsay Davidson: The TESOL course was extremely beneficial for me. Because of this program I am able to follow my dreams and work and live abroad.  I was hired right after finishing this course as a TA for a school in Qingdao, China. Thank you OnTESOL!
What is the Best TESOL Certification for China?
The 120-hour Advanced TESOL Certificate course offered by OnTESOL includes TESOL course material recognized by TESL Canada as well as professional tutor support. Your personal tutor will give you great feedback and help you apply your knowledge effectively in the classroom. After the online TESOL certification course, graduates are ready to create their own lesson plans for any classroom situation. Teachers who wish to upgrade their credentials can add the 20-hour Teaching English to Young Learners specialist course. Graduates can also take a 20-hour Practicum module anywhere in the world in order to gain supervised teaching experience.
Add a 20-hour Teaching English to Young Learners Specialist!
For only $100, you can upgrade your TESOL certification with a specialist on teaching English to young learners. OnTESOL recommends the TEYL specialist for those interested in teaching in public schools or private after-school ESL programs in China. This course will prepare you for best teaching jobs in China because the majority of jobs in China involve teaching young learners.

Top Credentials for Professional ESL Teachers
OnTESOL is the leader in advanced TESOL courses. The Advanced TESOL certification course is equivalent to CELTA / Trinity CertTESOL on completion of a 20-hour Practicum. The 250-hour TESOL Diploma is recommended for experienced ESL teachers, those who have an MA in Education, and/or those returning to teach English in Canada. The 250-hour program is more comprehensive than a 4-week CELTA and graduates who complete a separate 20-hour Practicum are eligible for TESL Canada Professional Standard 2 accreditation.
Have Fun Teaching English in China!
Watch this video to learn more about what to do in China after your TESOL certification!