Accredited TESOL Certification Courses for Japan
Recognized Worldwide
Earn Your TEFL / TESOL Certificate Online
Go to Japan with an accredited TESOL certification. Study online with OnTESOL and get qualified to teach English in Japan with the JET Programme, Conversational Schools, Business English centers, or universities.
Learn to Create Professional Lesson Plans with an Accredited TESOL Certification
Your lesson planning skills will be tested on your first job interview because English teachers in Japan are required to write professional lesson plans for every class.
OnTESOL will prepare you for the TESOL job that you want in Japan. All our TESOL / TEFL courses will teach you how to create professional lesson plans using accredited course material, presented in a convenient online format. All courses include access to an experienced tutor, who will answer your questions and correct your work while also adding excellent feedback.
Recommended TESOL Certification for Japan
Advanced 120-hour TESOL Certification for Entry-Level Teachers
Most entry-level jobs in Japan involve teaching English at elementary and primary schools. Save when you combine the 20-hour TEYL specialist with the 120-hour TESOL certification course.
You can also combine the 120-hour TESOL course with the 20-hour TBEC specialist if your plan is to teach Business English in Japan.
A 140-hour package will provide you with everything that you need to start your career in Japan. OnTESOL is recognized worldwide, so you can use your TESOL certification to continue your career in another country.
This course is academically equivalent to CELTA and Trinity CertTESOL (See course syllabus)
Unique features include:
Lab assignments for learning practical lesson planning skills
A wide variety of pre-recorded videos
Tutor feedback and support
Lifetime job assistance and access to the job board
Complete a separate and optional Stand-Alone 20-hour Practicum module in Japan or anywhere in the world.
250-hour TESOL Diploma for Experienced Teachers
The advanced 250-hour TESOL Diploma program is perfect for experienced teachers and/or those who hold a degree in Education, Linguistics, or a related field. Our 250-hour TESOL Diploma is very popular with experienced teachers applying for a university job in Japan, those who need advanced certification in order to obtain a pay rise, and those who are returning to Canada and are required to obtain TESL Canada accreditation in order to teach English in Canada.
Compare our course syllabus with CELTA's to find why our 250-hour TESOL Diploma program offers more training in grammar, methodology, and phonology .
20-hour Practicum
The Practicum is not required for jobs in Japan, but it is recommended because supervised teaching practice can help you become a better ESL teacher.

OnTESOL graduates can complete a separate Practicum with adult students. Click here for information on costs and requirements.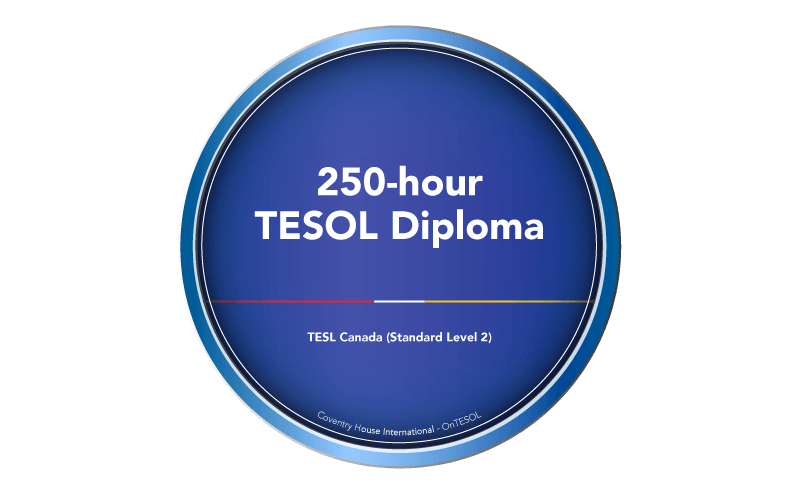 "I am glad I discovered OnTESOL. For many months, I searched the internet looking for a reputable school to complete my TESOL training. After reviewing the website and course syllabus as well as numerous testimonials from other students, I decided to take their TESOL certification course. I was very pleased with the course. I think they have a well planned curriculum. The resources that were provided were excellent".
Lydia Sorenson
JAPAN
READY TO BECOME TEFL / TESOL CERTIFIED?
Our accredited TEFL / TESOL programs will give you the skills and knowledge you need.