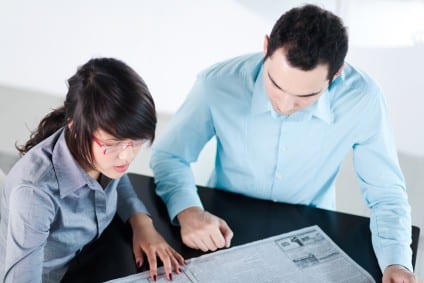 It is quite tempting to rely solely on an ESL textbook under the assumption that it works well for our students because it has been tried by professionals. The reality is that the material in the textbook often looks or sounds forced and unnatural, so it becomes necessary to supplement the textbook with authentic material. In this article I will tell you how to choose authentic material for each level.
 -The 250-hour TESOL Diploma will teach you how to improve the curriculum with authentic material-
What is Authentic Material?

Anything that was written or recorded in English without the purpose of teaching English as a second language is authentic material. The following is a compilation of authentic material sources; however, it is not an exhaustive list, since more and more material gets created on a daily basis.
Ad Banners, advertisements, billboards
Catalogues, college and university brochures, flyers, travel brochures
Movies, scripts, commercials
Radio shows, newspapers, Internet websites, magazines, TV shows
Social media, You Tube, Phonebooks
Ticket stubs, manuals, menus, maps
Greeting cards, horoscopes
The English used in authentic material is natural and its sole purpose is communicating whatever the material was created for, rather than teaching a particular structure. This can make the overall language in the material a little challenging, especially for students in beginner or lower intermediate classes; however, authentic material is an excellent source of new vocabulary. In fact, the interest level rises so much when students are presented with authentic material, that their need for comprehension compensates for the difficulties they encounter.
Levels

Some people argue that authentic material should be used with higher-level students only, but a menu, flyers or even a newspaper (if you only focus on the headlines or certain words) can be used with beginner students. The key is to make sure that the instructions and activities are aimed for the correct level. A simple 'word search' where students have to find words they already know and highlight them, or cut them out of a magazine for example, can expose beginner or lower intermediate students to authentic material in a successful way.
Using Authentic Material to Supplement ESL Textbooks

Authentic material can be used in many different ways. Here's a very short list of suggestions. More can be found in future blog posts.
| | | |
| --- | --- | --- |
| Material | Activity / Task | Level |
| Flyers & Catalogues | Vocabulary and Bingo games | Beginners |
| Menu | Practice ordering / Role-play | Beginner – Low-intermediate |
| Horoscopes | Future Tense / Conditionals | Intermediate |
| Ticket stubs & Travel Brochures | Writing a travel journal or a short story | High intermediate |
| Advertisements | Reading Comprehension, Vocabulary and Media study | Advanced |
In conclusion, authentic materials have an indefinite number of uses for all kinds of lessons and levels. When we include authentic material in our ESL lessons, the way students learn is more natural and resembles acquisition of the language rather than forced learning of certain grammatical structures.
Teach English Abroad with an internationally recognized TEFL certification! Study online with OnTESOL and get certified to teach English worldwide. Click here to learn more about our accredited TESOL courses.

Related Articles:
TESOL: Using Textbooks Effectively
Teach English Using TV Shows, Movies, and Online Video
How to Teach English with Songs
https://ontesol.com/wp-content/uploads/2014/01/iStock_000010317297XSmall2.jpg
283
424
Andrew
https://ontesol.com/wp-content/uploads/2018/02/Ontesol-Logo-Small-300x138.png
Andrew
2014-01-07 17:00:14
2020-10-09 13:39:18
Supplementing ESL Textbooks with Authentic Material