While teaching abroad, you may notice that your foreign identity becomes a large part of your teaching identity, especially to your students.
This part of teaching abroad is mostly unavoidable, but it can be really helpful in the classroom.
Younger students, in particular, will likely have little experience communicating with a native English speaker.
In addition, they might be curious about your life and home country.
Introducing cultural activities enriches your lessons, engages young learners, and easily encourages your students to get to know you more.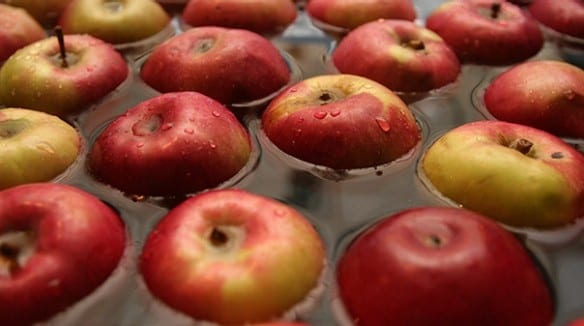 About the author: Kyle Dore graduated from OnTESOL's 120-hour Advanced TESOL course. He taught English in South Korea to young learners for over 4 years.
He currently teaches English in Toronto, Ontario, Canada. 
Fall – Halloween/Thanksgiving – Bobbing for Apples -Cultural Activities 
In the fall season, themes related to Western holidays are a common topic used in ESL lessons.
Halloween and Thanksgiving offer plenty of materials to engage Korean students.
It also teaches them about holidays outside of their own country.
During my second year in Korea, I wanted to try something different, and I chose to have students bobbing for apples!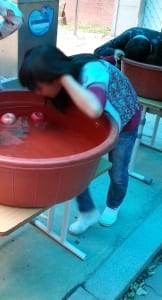 I created a lesson and an activity that gave a fresh cultural experience to my students. 
The school agreed to supply a few bags of apples and basins for the water.
The lesson was split into two parts.
One, an English-based vocabulary lesson in the classroom, and the other, a bobbing for apple activity which was done in the school's courtyard.
To tie the apple bobbing in with the lesson, we taught vocabulary and expressions applied to the activity.
The word 'bob' was taught–to make a quick short movement up and down.
We also connected the activity to a lesson about 'Chuseok', Korean Thanksgiving. 
The activity was quite successful, although the experience was much wetter than I had originally anticipated!
Whenever you take children outside of the classroom, the lesson can become quite unpredictable, so be prepared!
This type of activity does require some logistical planning with water and required space, but it is well worth the effort.
Get certified to teach English abroad! Enroll in our 120-hour TESOL course and begin the adventure of a lifetime! 
Winter/ Christmas – Making Gingerbread Houses
During early winter, ESL teachers in Korea often focus on the topic of Christmas.
For my class, we decided to create gingerbread houses together.
I knew finding the supplies would be challenging, but luckily, I lived in a major city that had access to gingerbread house kits.
For teachers living outside of urban centers, looking online is a good option.
This lesson is structured in a similar way to the above-mentioned vocabulary-based lesson.
To teach vocabulary, we tied the lesson in with a textbook chapter based on the fairy tale "Goldilocks and the Three Bears".
Most of the vocabulary was based on parts of a house and was quite easy to integrate. The vocabulary consisted of words like:
Home – House – Roof – Chimney – Doors – Cottage – Porridge 
Before the students built their houses, I created a one-page worksheet that detailed the various parts of the house and some decorating techniques.
I also recommend having a sample house pre-built to show the students a finished product.
This activity works well in small groups.
However, be sure to circulate throughout the classroom to ensure all students have an equal opportunity to build and decorate their masterpieces.
Be prepared to teach English to young learners in South Korea. Enroll in our 120-hour certificate +  TEYL courses and save $200! 
Conclusion
Although just a few ideas, these are some ways to teach cultural activities to young learners.
Curriculums can vary from school to school, however, the majority of elementary lessons focus on textbook-based learning.
If your co-teacher agrees, I highly recommend including cultural activities in the occasional lesson.
These communicative activities provide an enriched learning environment for learners to remember and practice the target language easily.
Save money, travel, and have the adventure of a lifetime teaching English in South Korea with EPIK!
Recommended Reading: