In my 6B class, I prepared a few ways for the students to retell Greta Thunberg's biography.
Students created a list of events in her life, with the main events under the title "Greta Thunberg". Alternatively, students had the option of drawing a concept map or a timeline.
This helped some to organize their ideas better.
Whichever way they chose, they would still fulfill the requirements and get the task done. Giving such options is one way to introduce an inclusive teaching strategy in the classroom.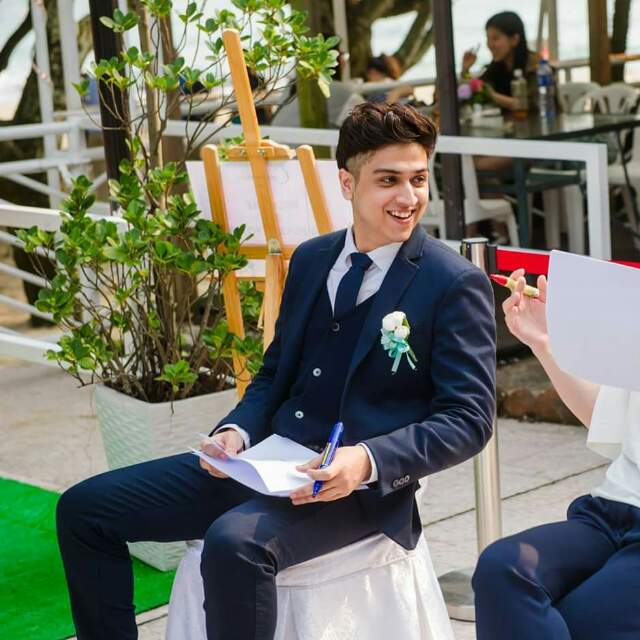 About the Author: Ibrar Mohammed is a recent graduate of OnTESOL's 250-hour TESOL diploma.
He currently teaches English in Hong Kong. Ibrar believes that having a rigid philosophy towards teaching could be useful at times.
However, he does not advocate a single philosophy. In today's ever-changing world, there is a certain advantage for teachers who can flexibly adapt their philosophies to cater to their students' strengths and weaknesses.
Educating is more sophisticated than talking to your pupils, it requires talking to and with your pupils. He advises teachers not to give up on anyone that sets foot in their class regardless of their performance.
What Is Natural And Easy For Students?
I understand that formal examinations do not offer this type of luxury as the register, format, and even the word count is restricted to ensure uniformity and, thus, fairness.
However, as a teacher, I do not promote this kind of rigidity. To learn, they must be able to shape the content in a way that is easy and natural to them.
To reorganize it and to reformulate it until they've got the essence of the concept. The concept of this lesson was to retell someone's life story. I prepared a QR code that contained the hyperlink to Greta's article on Biography.com.
I gave students the options to write it down in order to present tidbits as well as major events in her life.
Approaching The Task
Before I started the task, I asked them if they knew about Greta. Most of my students replied: no. I was surprised because I did not anticipate this. And, so I immediately tried to find out how much they knew about Greta.
To approach this dilemma, I asked them if they had seen her face before to which they replied, "yes, on TV." Then, I asked, "why was she on TV?" And slowly but surely, they said the Cantonese equivalent of "environmental protection."
It was close enough of an impression to work off of so I taught the English phrase. I then showed them the viral video that propelled her into becoming Time's Person of the Year in 2019.
ESL Speaking Activity – My Timeline
The Task and Pre-Task
After that, the students had a better idea of who Greta was, and it was a bit easier to understand her life and attempt to retell it. The article had signaled for key events, like dates, so they could find out the information easily.
I showed the article to the class and asked them to find the dates together as a pre-task. This way they could get familiar with the location of the dates first. Then, I gave them the time to read Greta's biography. My students had 10 minutes to read the article and write down the events in her life with an extra minute to clean up and make their answers intelligible.
Get the Best TESOL certification to Teach English Worldwide!

Presentation of Life Events
Once students completed the above task, I invited them to present individually. I chose the student by using a random number generator if there were no volunteers.
The selected student then used the random number generator upon completion of their presentation.
The unpredictability ensures no one feels like they are being picked on by the teacher, and their probability of doing the presentation is left to chance.
These measures tend to work a bit better than having the teacher pick out someone based on my experience in teaching.
Conclusion
This is an excellent example of a task-based lesson that provides students with choice and freedom to create a creative presentation.
The task is meaningful to them using a modern theme like environmental protection and youth empowerment.
It also approaches an issue that is greatly talked about in the media, providing more likelihood that students will be familiar with the topic of the lesson.
Giving students the opportunity to work together in teams as well as giving them plenty of time to approach the task is key for creating an inclusive classroom environment.
Recommended Reading:
4 Ways To Be Culturally Sensitive In The ESL Classroom
Large ESL Classes: Tips and Tricks for Teaching Speaking Skills