In this blog, our 120-hour TESOL certificate graduate explains how to use communicative activities and authentic materials to supplement Unit 2 of the FCE Oxford Textbook.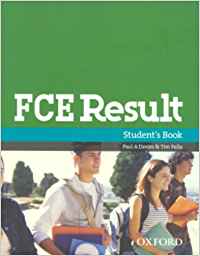 Verb Patterns
Verb Patterns are one of the more challenging grammar topics to teach to students. One of the best ways to help students learn and remember Verb Patterns is to have students see them in context.
I created a list of discussion questions to start this section off. Once they have finished the discussion, I have them underline the two verbs and note which verbs have -ing following them and which have the infinitive following them.
I then move on to complete #1 and #2 from the textbook.
Here are the questions I use:
-What do you enjoy doing in the summer?
-What do you expect to do when you go back to your country?
-What can you risk getting when traveling somewhere new for the first time?
-When have you postponed meeting someone?
After completing #2 from the textbook, consider making a slideshow with the list of verbs that have infinitive following them and the list of verbs that have -ing following them. Choose students at random and ask them questions using the verbs with their -ing or infinitive form. I also created the table below to give students some examples for explaining the usages of Stop, Remember, Go, and Try. You could also add Forget to this table. I project it onto the screen and we go over each verb, its explanation, and example together.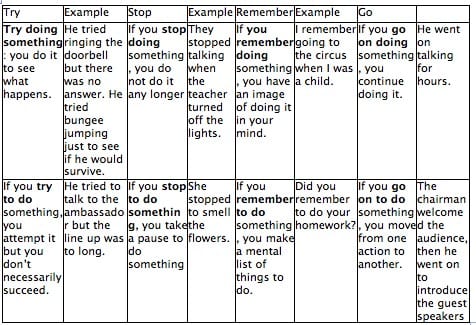 As a way of further helping your students to remember the above-mentioned Verb Patterns, create a slideshow displaying eight different people in scenarios such as shopping (She remembered to buy juice) or running in exhaustion (He went on running even though he was exhausted), for the 4 different verbs.
Pause at each picture and have students work in pairs to create sentences with each picture using the correct verb and Verb Pattern.
Vocabulary – Describing Natural Landscapes
#1 Instruct students to go through this activity in pairs.
#2 Put the options on the board while students do #1 and see how quickly they can guess the word that doesn't belong.
Have students do #3 and #4 in pairs.
Then use this plot generator to create a short story (No longer than a few short paragraphs, it should only take a max of 25 minutes). Click on 'fill the entire form with random ideas.' Don't show them all filled in gaps, stop at "four adjectives that could be used to describe places."
Give each group a theme, for example, one group writes a love story, one writes a crime, one a sci-fi, etc. Students must work in small groups of no more than four to write a story with all of these elements as well as at least five new words they learned from the textbook. This is a great exercise for many of the vocabulary sections in the FCE textbook. The stories they come up with are hilarious and creative!
Charades for Collective Nouns
After going through the practice exercises in the text have students act out the collective nouns in groups of four, each pair acts out one collective noun to the other pair. This way if they are acting out a herd of cows, for example, they can do the activities together. Make sure to instruct this to students so that one student in the pair doesn't end up doing all the acting.