I have been teaching English for over 2 years in north-western Madagascar. I was hired by a large aquaculture company to implement an English training program for their 900 employees. I also work directly with the people and children in the neighboring village with a foundation named Fondation Ecole de Félix. This foundation brings to access to education and healthcare for the Ankarana people.
In this OnTESOL graduate blog, Jessica Whitehorne explains how to supplement the ESL textbook with authentic material to increase student motivation.
The Life of an English Teacher in Madagascar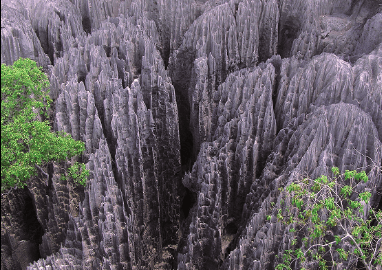 Madagascar is the 6th poorest country in the world. Life here is simpler, without schools, roads, or access to drinking water. It has structured a self-sufficient life organized around nature for thousands of years.
Therefore, if you are not teaching English in the capital city of Antananarivo, you will most likely be in isolation surrounded by lush untouched nature.
On a weekly basis, I work with adult learners from beginner to advanced English levels helping them develop all four main skills of listening, speaking, reading, and writing. I also teach Business English and an IELTS course to high advanced level executives of the company. The TESOL certification I completed with OnTESOL taught me how to create lesson plans for different levels of students and to supplement the ESL textbook with authentic materials. All I had to do was follow the Communicative Approach with the lesson plan template from the TESOL course to develop a curriculum specific to my students.
The Importance of Supplementing The ESL Textbook in Madagascar
When planning and teaching a lesson, every ESL teacher supplements their material to better suit their students' needs and the culture they are working with. Even when you have had the opportunity to choose your own textbook and material, you will still find yourself searching for ways to supplement and adapt the material as teaching is a creative process.
In my experience, learners and teachers always need something new, effective, fun, and personalized for unified learning. Supplementing the ESL textbook has been crucial for me because it helps make learning more fun. In addition, it boosts student motivation because most students work long days with heavy workloads.
In some ways, I want my English class to be an escape from their daily hardships. My main philosophy for teaching English is one must learn through fun. If your students aren't having fun, there is a high chance that their learning process is being hindered. In my classroom, I'm always trying to come up with new ways to keep my students engaged, having fun, and learning while supplementing the text.
As a teacher, supplementing your material isn't always easy. When topics are daunting, supplementing the ESL textbook material for videos, games, or interactive tasks keeps students engaged and learning without even realizing it. This is one process I do in supplementing the ESL textbook in Madagascar.
Read More: 35% OFF 168-hour Hybrid TEFL Certificate
Three Ways to Supplement The ESL Textbook in Madagascar
Video clips– Supplement the activities by creating engaging discussion questions, worksheets, and vocabulary games based on a video clip that follows the theme you are working on.  For example, if your unit theme is "daily routines", have students watch a short video clip of Mr.Bean.  Then,  have students discuss what he is doing in the video. You can also create a worksheet where your students write or draw a timeline of what he does in the morning when he wakes up.
Pictures – Supplement your text by taking pictures related to the theme. Students work together with the teacher to label the objects in the picture. They then work in groups to categorize and add words to their categories. They use the words they labeled in the pictures to make sentences provided by the teacher as clozes (gap-fills) worksheet.  This is a great way to help students use and practice their new vocabulary. For example, I used this technique in my classroom to supplement the text when learning about clothes and colors.
Dialogues– Supplement your text by taking dialogues containing the vocabulary and grammar theme of the lesson /unit. Personalize them based on your student's interests, experiences, and cultures. Then have your students work in pairs using the dialogue as a model to write and perform their own. This way of supplementing the text is excellent during the practice stage of a communicative grammar lesson.
Meeting the ESL Learner's Needs
Whatever means you choose to express yourself as an ESL teacher, always continue to work with your students' needs and culture. Supplementing your material brings something new, effective, fun, and personal to your lesson and your students, creating unified learning. Supplementing the textbook helps boost motivation and creates an overall more fun learning environment for your students. Use elements such as video clips, pictures, and dialogues to help students enjoy the learning process and boost motivation.