If you are new to teaching Business English, these 4 Task-based Learning activities will help you prepare classes for students across a wide range of positions and English language proficiency levels.

–Save $200 on your 140-hour TESOL Course! Perfect for Business English teachers!–
1. Job Interview
Going to an interview is something that everyone can relate to. Interview skills are important, practical bits of knowledge that we all use regularly in life.
Some of your students might even be in charge of conducting interviews, so this task works two-fold for skill development.
The group can decide what the company is and what position the candidate is going for in advance.
Divide them into pairs, with one person acting as the boss and the other as the interviewee.
You can permit each role to prepare questions and answers for a few minutes during the prep phase of the task.
Give a time limit to the groups and send them off on a mock interview. Evaluating and responding, as well as quick-thinking, are developed here.
Have the partners switch roles to experience the target language from both sides.
The class can then discuss elements of a great candidate and interview session, as well as offer tips on how to best respond to certain types of interviewers.
2. The Business Mixer
Professionals are often obliged to attend company functions and parties.
As such, it is equally necessary for them to develop and practice skills relevant to socializing appropriately in these environments.
Essentially, your students will need to learn how to use the perfect balance of job talk versus small talk.
Prepare for the activity by providing details of their company: name, types of products or services, basic information, and what they are looking for in a business partnership or affiliation.
Each student will have slightly different details on their cards (think single-person departments or different companies altogether).
However, make sure that each card has a "match"- another card with details allowing both parties to achieve what they want.
-Study TESOL Online! Start with the 120-hour TESOL certificate course–
Encourage them to call upon their previous knowledge of appropriate introductions, how to talk about oneself, and how to ask appropriate questions to fellow professionals; then set them loose.
Students will roam the room, making small talk with fellow businessmen and women before moving into business discussions.
They should work through what they have on their cards to determine whether this person is a good fit for their business or not.
If they are not matches, they must practice tactfully leaving the conversation in an appropriate manner.
All students are engaged in this task, and even if some find their matches before others, they can continue to socialize using the target language.
In the end, pairs should get together and explain to the group how they figured out that they were good matches.
3. Customer Service
Providing customer service is a huge role in the working world.
Many adult students are working for companies where their responsibilities might include dealing with unhappy clients.
Likewise, they themselves might be the customers who need to call another company about an issue or with a question.
If all of your students are from the same company, you can brainstorm a list of potential complaints or problems as a group.
In pairs, have one student act as the client and the other as the customer service agent. The 'client' will ask questions or lodge a complaint, and the customer service agent must deal with them accordingly.
Then switch roles. At the end of the task, have the students discuss methods that were successful and those that were not.
What are some common themes among the entire class? Listening, evaluating, and responding, and negotiating are huge players here.
You can use one problem/complaint about the class or give each group different ones to change it up.
The end goal of the task is to resolve the issue as best as the 'agent' can, leaving the 'client' feeling well-serviced.
I used this task with students working in a variety of fields, including medicine, higher education, engineering, and sales.
I found it more challenging and effective to have the students sit back to back, as though they were on the phone, thus forcing them to rely solely on verbal language.
4. Presentation Pitch
Many students of business English work in fields requiring presentations or pitches, at least to some extent.
Many times, this falls in line with sales of products or services: their company has something and they are trying to push it to someone else.
A great way to develop the necessary presentation skills and build confidence with the relevant target language is to do mock pitches/presentations.
–Online TESOL /  TEFL Equivalent to CELTA Certification–
This task can be tailored to any industry and any department.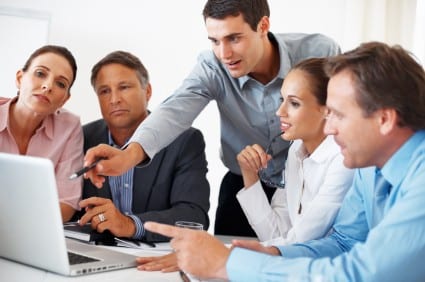 Prep the students by telling them that, in pairs, they must develop a convincing presentation to pitch to their boss, the board, or a potential client.
The subject of the presentation will need to be tailored to the industry of your students in order to be most effective.
If you have a mixed class, you can have mixed topics. Perhaps the students will be pitching a new product or offering a solution to a current problem.
Have the pairs prepare key points with supporting details aimed at convincing their audience of what they're offering.
The entire class can serve as the client/boss/board that needs to be convinced.
After all, groups have gone, the class can have a discussion on what tactics and language styles were most effective and what could be improved upon.
Related Articles:
Teaching Business Learners To Socialize – Networking
How To Teach Business Learners To Socialize – Making Small Talk With A Visiting Client
Teaching Business English Learners How To Socialize With Visiting Colleagues