If you're looking for something to use for one hour, for several classes, or even long-term, this will fit the bill.
The Daily News integrates reading comprehension, vocabulary building, grammar, pronunciation, listening comprehension, fluency, and confidence-building.
It's also a practical way to keep a class action on a daily basis while providing variety at the same time. No one will get bored and class members will learn new things.
In addition, students stay current on news and have opportunities to build their English skills. What more could you ask for in a classroom activity, right?
How Does It Work?
For teachers who have long-term classes with the same students for two or more classes per day, this is an ideal method to break up the monotony.
For teachers who want to incorporate something useful into their repertoire, this can give you something to fall back on when you encounter classes that need some spice. It can also be a one-time activity, but it would be somewhat of a wasted opportunity for something more long-term.
Teaching Speaking Skills: An Activity For More Groupwork In the ESL Classroom
Step 1 – Brainstorm
Brainstorm with the class on the various categories of news and, if possible, list them where everyone can see them. You'll probably hear world news, sports, local news, lifestyle, entertainment, business, economy, and the like. If it's a large class, the more types you can dig up the better because you'll want a category for everyone.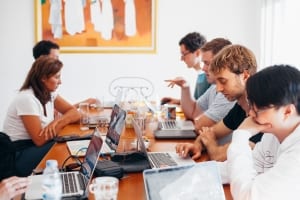 Step 2 – Grouping
Divide the class into teams. Usually, two people per team are fine. If it's a large class, you can go with three per team. But the idea is for each member of the class to be involved, so limit the team size to as few as possible.
Step 3 – Assign News
Each team is assigned a news genre to be reported on each day. To keep it fair, you can draw topics out of a bowl or shoebox. You can also ask for volunteers for each genre. However you decide to do it, try to make sure everybody's happy with their choice of news topic. If not, you can allow them to trade with others. In some cases, you can't please everyone, so you can explain that it's meant to challenge them. You'll work it out.
Teachers can help out by directing students to simple English news websites such as VOA, Engoo, or Breaking News English, News in Easy English, News in Levels, BBC Learning English – Six-minute English, or BBC News if they're more advanced.
Step 4 – Give Short Reports
Each team is required to give a short report every day about one or two topics, possibly three within their category. The keyword here is "short," report. Students tend to overthink this and prepare pages of information on one news item. That would be overkill—and I've seen it on more than one occasion. So, you'll need to remind them repeatedly that it's just a news overview. But they should be well-read if questions arise from class members about more details.
It just needs to be kept simple, as if they're sharing the news with friends or colleagues over a cup of coffee. Nothing formal is necessary. No ties, no styled hair, and straight bodies are not necessary. They're just sharing the news with their classmates.
Step 5 – Question Time
After a team has shared their news, other students are required to ask questions to learn more information. One twist to get things going is to require a minimum of one question from each of the other teams. This obliges them to pay attention to their classmates' news and challenges them to form questions.
Find out why accreditation is so important in the TESOL industry!
Step 6 – Feedback
It's one thing to let them interact, but it's another to give feedback. That's why you need to be actively engaged in noting common or gross points for feedback prior to the end of class time. Be sure not to single anyone out and try to be sensitive to issues that might point to one person only. The best practice is to take note of common issues that can be improved and share them prior to the end of class.
An Example Class
You may be trying to picture how this plays out in your mind. So, we'll describe the scenario of a one-hour Daily News session here for visualization.
Class begins. The teacher exchanges greetings and or gives announcements, then asks if students are ready to begin their news reports. Of course, the ideal response is, yes!
For example, the first group to start today is the Entertainment team that was randomly selected at the beginning of class. Randomly selecting at the start of the day's class ensures each group is prepared.
All ears are on the Entertainment team eagerly awaiting the entertainment news they researched the night before. The Entertainment team, from their seats (not front and center—remember, this is an informal activity), shares three points from yesterday's news:
Shawn married Kath in a secret wedding in the Himalayas,
Director Spielberg is preparing the next Jaws episode, and
People are flocking to see the new romantic comedy, Speed Bump. That's it!
Now each of the other teams asks a question about the news. The Politics team for example asks, "Are there any details about the stars and story of the new Spielberg movie?" And the Entertainment team, having read the full article last night, is able to answer.
Then the World News team asks who attended the wedding of Shawn and Kath and if there are any photos of it online. The Entertainment team, well-prepared, says no photos, but a video showed up on YouTube yesterday. And the questioning continues from each team until the end. Specific questions, short and sweet answers, quick and painless!
If there's more time, after the Entertainment news, the next randomly selected team gives their news. Again, they do not need to stand up or go to the front of the class. This is a casual activity, so they can stay in their seats. Hence a circular or square seat formation is best if possible. Remember, these are not in-depth reports; they're just sharing the news.
Get the most advanced training in an online format with the 120-hour Advanced TESOL certificate!
What Are the Benefits of Daily news speaking activities?
The Daily News activity is an ESL multivitamin. Several areas of English language skill building are addressed in this activity.
Reading Comprehension
Challenge each member of each team to understand their news by researching and reading the news in English.
Vocabulary Building
Inherent in this activity is having to learn a new vocabulary associated with a specific genre of news. As they interact with each other, they learn more vocabulary from other news being shared. In time, they learn new words from politics, natural disasters, entertainment, business, finance, technology, and more.
Grammar Building
Having to formulate questions or learning how to express news in bites is a challenging means of developing structure. ESL students need to find the most succinct way of expressing what they want to say. Talking about the past, present, and future, will also challenge their grammar skills.
Pronunciation
Speaking to their peers will challenge learners to practice and produce the pronunciation of peculiar words. By doing so, they begin to understand rules and letter combinations.
Listening for Comprehension
By requiring other teams to listen and ask questions, they're challenged to listen for information. The beauty is, they have a teammate to assist and vice versa.
Fluency
Reading is already a fluency builder. But sharing the news that they've prepared adds to it. Answering questions challenges them to use what they've already read to respond.
Confidence Building
After giving the news several times, they'll have much more confidence speaking publicly and understanding what they're hearing.
Final Thoughts
This is an excellent way for your class members to be engaged in something that can last for an hour, hours, or days, depending on your needs. The Daily News speaking activities is a superb strategy for injecting an element of variety as well as uniqueness in your lessons. And at the same time, it addresses ESL in a holistic and natural manner.
Give the Daily News a try and tell us in the comments how it worked.
Related Articles:
5 ESL Games For Teaching Reading And Listening Skills
5 Fun Task-Based Learning Activities
Teaching Speaking Skills: An Activity For More Groupwork In The ESL Classroom
5 ESL Games For Teaching Reading And Listening Skills
ESL Games For Teaching Grammar And Vocabulary