Teaching English in Sevilla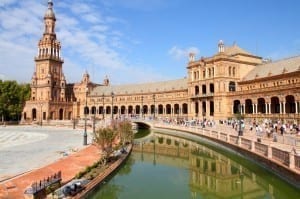 Sevilla is an excellent city to land in if you've never traveled before and are looking to create community with friendly locals and expats alike. This being said, the competition for TESOL jobs is steep, so be sure to begin applying in August and have an internationally recognized TESOL certificate. Sevilla is a very walkable city, so be sure to see the many gorgeous sites it has to offer! Finally, the relaxed atmosphere is one of the many reasons so many teachers flock to this gorgeous haven!
Join a Strong and Welcoming Expat Community!
Many teachers come to Sevilla to find a vibrant and welcoming expat scene. Although the local scene is a little more tight knit, you can get to know locals and the local area by taking a cooking class. Many OnTESOL graudates who teach English in Sevilla said they loved the experience they had with Taller Andaluz de Cocina, which is operated by an approachable and friendly couple, Jose Manuel and Maria. Not only will you get the opportunity to cook, but they will also take you on a pleasant tour of the famous Triana market in town to shop for ingredients. There are many different groups to become a part of, such as the American Women's Club or soccer leagues. If you've recently arrived and are looking for a quick place to crash, the Couchsurfing community is also pretty tight.
Teach English in a Very Walkable City and Save Money!
Adding to its livability is the ability to walk around Sevilla to enjoy the sites. It very flat and there is only one small hill in this old city. To get a sense of some of the most fantastic pieces of art in Spain, wander over to the cathedral. A typical walking tour might take you to see the main market and many of the prominent plazas in the city. The city's narrow streets and old homes are gorgeous to admire while taking a stroll through the city. Check out Sevilla Walking Tours for more info. By the time you've finished a tour, you'll be an expert in your new home town!
Finding English Teaching Jobs in Sevilla
The best time to find a TESOL job in Sevilla is the last weekend in August, when most schools are about to re-open after the holidays. If you are not a EU citizen, be sure to start all visa arrangements at least 3 months in advance. When job hunting in Sevilla, it is best to hand your CV in person as the competition is steep. Make sure you show your keen desire to work and live in Sevilla! The best way to apply is to walk around (this is where a flat city comes in handy) and dress in light and breathable clothing as the city heats up at this time of year to around 40 degrees. Speak or make an appointment with the Head of Recruitment at each school and do not be afraid to be determined by calling them back if you haven't heard back. There are many highly recommended schools, including The English Language Institute, The British Institute, Clic and Linc.
Learn More About Teaching English in Spain