Teaching English in Bilbao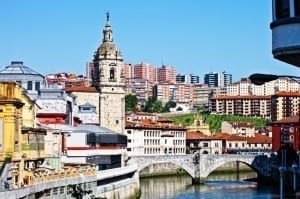 If you want to be surrounded by friendly locals who appreciate good food and wine, head to Bilbao. Bilbao is located in the Northern part of Spain, on the border with France, close to the mountains and the famous Rioja wine region. This is a city that is beginning to come alive as dynamic and innovative, while maintaining its traditional roots. A true business hub, this is an excellent place for many TESOL teachers to land and teach business English. This page will tell you more about teaching English in Bilbao and how you can have a great year abroad!
A Hidden Gem for ESL Teachers!
Bilbao's population is around 1 million people, so not it is not as big as other major cities in Spain. However, Bilbao offers a growing and competitive job market for teachers to dive into. It is quickly becoming known as a city that focuses on sustainability and cooperative enterprise systems, so more professionals are flocking to this dynamic hub. One of our graduates recommended putting ads on a site called Tus Clases Particulares to make extra money as a private teacher. Many new teachers have luck growing their reach this way. For further support as a new teacher living in Bilbao, check out TESOL Spain which hosts a conventions around the country and has access to a variety of resources and publications.
People from Bilbao are friendly and inviting! They are a family-oriented people who value close relationships with all family members and friends. If you get to know a Bilbaoan, you'll likely be invited to one of their many family events. They will also likely help you to find a job and support you with any problem you have. Aside from the people, you'll have more of an opportunity to speak the language as English is not as commonly spoken here as it is in Barcelona or Madrid. Get a real taste for Spain and head to a bar to mingle with the locals to try the best tapas you've ever tasted with a nice local beer. Bilbao is also located near the Rioja region, an internationally acclaimed wine region.
Perfect for Nature Lovers and Sports Enthusiasts!
The Basque country has easy access to a variety of gorgeous landscapes! Get out of the city and either kayak, swim, surf or take the shuttle boat to San Sebastian Island, which has a lovely beach and many seaside resorts to stay in overnight. You can take a 5 euro trip which lasts about 1 and a half hours to Zumaia and Zarautz, or hike for about two and half hours and is part of the legendary Camino de Santiago. This coastal hike will take your breath away. To soak up some nature closer to the city, head to Parque Abusu.
Discover Bilbao: Old and New
Bilbao is re-defining itself as a modern city but one which continues to conserve its traditions, culture, cuisine and landscapes. For a nice Saturday afternoon break, head to the Guggenheim Museum. The impressive structure was designed by acclaimed architect Frank Gehry, and represents the city's transformation and journey from the old to new. To get a sense of the festive nature of this region, head out to some of the festivals in Bilbao like Semana Grande, the most festive and exciting party in the city in August and the Tamborrada in San Sebastian.
Learn More About Teaching English in Spain