October 31st is a fun and important date around the English-speaking world. It is also a great opportunity for English language learners to have some fun, learn new vocabulary, and learn about the culture behind this date.
Learning a language cannot be done independently from the culture that is attached to it. Furthermore, when students are exposed to cultural events, their interest in the language often rises.
Whether you are teaching in an English-speaking country or not, you can bring Halloween to your class regardless of the age group you are teaching. Here are some ideas for a lesson that your students will most certainly remember.
-Get your TEFL certification online with OnTESOL!-
Listening Practice – Teaching Integrated Skills
Watching short scary scenes from movies or sit-coms can provide you with a great listening activity connected to the theme.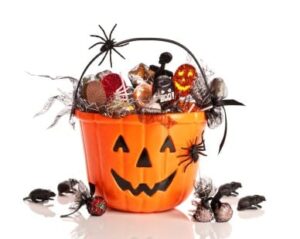 There are plenty of videos online too that teach about Halloween. There are how-to videos about carving pumpkins, safety while trick-or-treating, and even the meaning of Halloween. Depending on the age and interests of the students you can create different listening activities around the material you find.
Speaking Practice – Teaching Integrated Skills
Teach students about the classic rhyme:
"Trick or treat, smell my feet, give me something good to eat, if you don't, I don't care, I can see your underwear." This rhyme has some variations as well, so you could also encourage the students to be creative and even work on rhyming words with them.
You can organize an activity in which students walk around the class saying the rhyme and getting candy from each other.
You can even teach students about songs and rhymes about Halloween and practice saying them out loud.
Reading Practice – Teaching Integrated Skills
Reading poems like The Witch of Willowby Wood by Rowena Bennett or even an excerpt from Shakespeare's Macbeth when the witches recite their "Double, Double, Toil and Trouble" in simplified language can be some of the most interesting material students can be presented with. These literature pieces can be used for reading comprehension, vocabulary expansion, or even reciting and fluency practice.
For a different kind of reading assignment, students can be given newspapers with articles on urban legends or Halloween events.
For lower-level students and/or younger students, you could bring the instructions on how to carve a pumpkin and ask students to read them and follow them. Asking students to do this in groups and encouraging them to speak to each other in English while they do this will result in a holistic language experience.
Writing Practice – Teaching Integrated Skills
Students can be encouraged to write ghost stories or any of kind of scary stories if they are younger. Older students can be asked to write about scary experiences they've encountered too.
If you are teaching English in an English speaking country, you can ask the students to go out on Halloween day and then write about their experience the next day.
For higher levels, you could ask students to write their opinion about children going to strangers and asking for candy or why they think Halloween would or would not be a successful celebration in their own country. A comparative essay on different customs around the world for Halloween could also be a very good ending for a mini-unit based on this fun date.
All in all, using Halloween as an excuse to create a theme-based lesson will surely bring a fresh atmosphere to your class and entertain your students while they continue on their path to learning the language.
Related Reading:
6 Ways You May Be Teaching English All Wrong