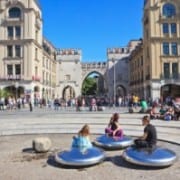 Germany has a large and prosperous ESL market, which means plenty of jobs that pay great! Finding a great teaching job in Germany is not the biggest problem; there are large organizations such as Berlitz and Inlingua, lots of small language schools in every city, major organizations that offer in-company Business English lessons, and even art schools that offer lessons in English. If you are a EU citizen, you can just move to Germany and start working right away. For Canadian and American citizens, getting the visa is the most complicated step. Luckily, Germany is the most flexible country in Europe when it comes to issuing the work-visa to non-EU citizens.
TESOL Germany: How to Immigrate as a Non-EU Teacher
It is highly recommend to contact the German embassy closest to your city for more information. In general, this is what North American teachers do:
Canadian citizens between the age of 18 and 35 are eligible for the Youth Mobility Agreement Visa, which allows candidates to work in Germany for a maximum of one year. This is great because you can start teaching as soon as you arrive and keep your savings for leisure. If you want to stay longer than a year, you have to apply for the freelance teaching visa.
US citizens can enter Germany with a tourist visa and stay there for 3 months. This is enough time to procure employment and apply for the freelance teaching visa. You will need to bring enough savings to support yourself for 1 to 3 months, but you can save time and money if you plan accordingly.
Getting The Work Permit to Teach English in Germany
To get the freelance teaching visa you will need to go to the "foreigner's office" (Ausländerbehörde) in the city where you are staying. The process is very bureaucratic and all the forms are in German. Bring all your documentation, including your passport, a notarized copy of your university degree and transcripts, 3 recommendation letters and your official TESOL / TEFL certificate if you have one. You can start the application process before procuring employment, but you will likely need to show proof of having a teaching job awaiting your work visa. In short, you will have to show the "foreigner's office" that you are qualified for the job you are pursuing and that you can support yourself. A bank statement showing a balance of at least 3,000 Euro is highly recommended.
Applying for TESOL Jobs in Germany
Finding a TESOL job in Germany is easy. Search for schools in your area and apply for the best jobs that your qualifications and experience afford. You can find a list of schools on you OnTESOL account, Google "ESL school in Germany", or search the local phone guide. Send your cv, cover letter, and a portfolio of lesson plans (if you have one) directly to the Director of Studies and follow up by phone to secure an interview.
Being proficient in German is not required for teaching English, but some schools prefer to hire teachers who have a basic level of German. Since you are going to be teaching the English language and learning about CLT methods in your TESOL certification course, it is useful to take German lessons to better understand about language acquisition from the perspective of the language learner!