Teaching English in Bochum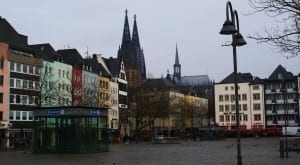 Bochum is a city that continuously reinvents itself. It started as a mining town back in the 19th and 20th century, became a thriving industrial hub after WWII, and it is now a vibrant cultural hub that attracts large multinational businesses from all over the world. There are 5 large universities in this city, so Bochum will likely continue to reinvent itself as a global leader in the business community. Bochum is the perfect place to earn a good salary teaching business English at offices or giving private classes. Below you will find more information about teaching English in Bochum.
Guide to Teaching English and Living in Bochum
There are over 40 stages all over Bochum, so if you're a music lover as well as TEFL teacher, you've come to the right place! Check out the famous "Bochumer Schaupielhaus" (Bochum's theatre) and the Bochum Symphony Orchestra. Although Bochum is a large industrial city, it is also quite green. End your day wandering the city's numerous lakes, meadows and woods! Another great thing about teaching English in Bochum is that it is very close to other artistic hubs such as Dortmund and Gelsenkirchen, so you will never be bored!
As mentioned earlier, Bochum is a large university city, so there are plenty of things to do at night or on weekends. For a great night out, head to the "Bermuda Triangle," a popular student haunt located in the centre of the city. For a taste of the local brew, head to the Fiege Brewery and then dance the night away at clubs Riff and Zeche. For a late night snack, head to the various food stalls serving the infamous "currywurst," a sausage covered in ketchup and curry sauce.
Bochum will provide you with excellent resources to brush up on professional development. With eight universities, you'll be provided with a plethora of options to choose from when it comes to higher learning and support as an ESL Teacher. Be sure to head to the Ruhr-University Bochum that has some excellent linguistic conferences and events for those who teach English in Bochum.
Related Articles on Teaching English in Germany