Find the best TEFL / TESOL certification course for your schedule, budget, and job objectives. Choose from a wide selection of self-paced, semi-synchronous, and specialist options. This year we are celebrating our 20th anniversary with new courses and big discounts! Learn more about OnTESOL and save on your CELTA-equivalent online TEFL / TESOL certification.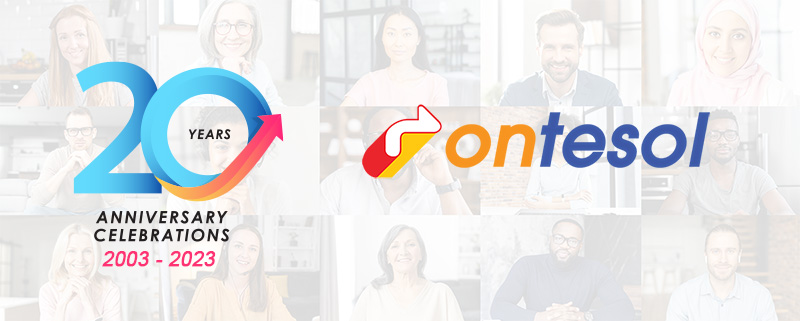 Our Fastest and Most Affordable TEFL / TESOL Certification
The 120-hour Advanced TESOL Certificate
can be completed in under 4 weeks and costs $2,000 less than the UK-based 120-hour CELTA certification course. Starting at
CA$650
US$489
, this fully accredited 120-hour course is our most affordable TEFL / TESOL certification!
Recognized by TESL Canada, the 120-hour Advanced TESOL Certificate course offered by OnTESOL is valid for teaching English abroad, teaching English online, and teaching English in Canada or the United States. Internationally recognized and valid for life, you will never have to take another TEFL / TESOL / TESL / CELTA course again if you plan to move from country to country. (Read: What's the difference between OnTESOL and other online TEFL courses?)
Our Most Convenient TEFL / TESOL Certification
The 168-hour Hybrid TEFL Certificate course offers the benefits of interactive face-to-face courses in a much more convenient online format. This semi-synchronous course combines the self-paced 120-hour course with the 10-hour Live Lesson Planning Workshop, and includes our most popular specialist courses to prepare you for more teaching jobs.
Complete your assignments at your own pace and attend the live sessions presented by our Senior Trainers. Ask questions and participate in group activities in preparation for the lesson planning Lab Assignments in the course. The live workshops are offered monthly, so you can jump into the next available session when you reach the lesson planning chapters in your TEFL course.
Includes the self-paced 120-hour Advanced course with personal tutor feedback and support
Includes the live 10-hour Lesson Planning Workshop via Zoom for a practical and interactive learning experience with other peers
Includes three specialist courses to prepare you for teaching online and K-12 internationally
Our Most Comprehensive TEFL / TESOL Certification
The 250-hour TESOL Diploma is only offered for experienced and certified ESL teachers looking to upgrade to TESL Canada Professional Standard 2 certification. 
Our Biggest TEFL / TESOL Discounts for 2023!
All our courses are fully recognized and include lifetime job assistance
OnTESOL is the first TESL Canada-approved online TEFL / TESOL course provider. All our graduates receive lifetime job assistance and access to our job board.