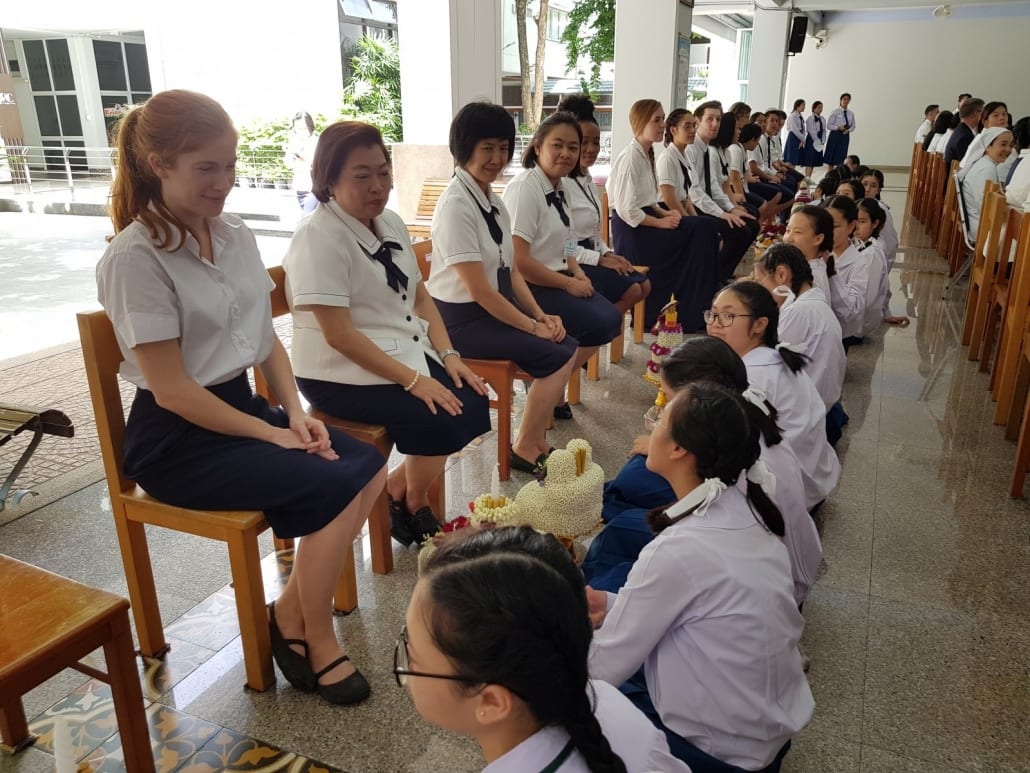 For my gap-year, I chose to teach English in Thailand because I felt a strong desire to learn about Thai culture. The culture exchange is an invaluable experience for me. I highly value learning from people who have different experiences, beliefs, and values. It provides a diverse perspective on life that I think keeps me constantly growing and learning.
Thailand has a rich history and the Buddhist values that underpin the culture are fascinating to me. I have several friends who traveled here before and I'd heard fantastic things about the people and the food! After some thought, I settled on living and teaching in Bangkok because of its affordability, diverse mix of people, and world-renowned reputation for being one of the friendliest cultures in the world.
There's a huge expat community in Bangkok, so it was comforting to know I'd be moving to a place that felt a little like home while still being able to experience genuine Thai culture. Another benefit of teaching English in Thailand is that it's relatively close to other interesting travel destinations such as Vietnam, Cambodia, and Indonesia, so this was an attractive feature because I wanted to travel to these countries in my free time.
Read More: Benefits of Teaching English Abroad
Save Money Teaching in Thailand!
One of the things I love about teaching English in Thailand is that I have a much better work-life balance than my teacher friends in the U.S. I'm able to enjoy an active social life, live in a nice house (which even includes a cleaning service three times a week), and go to a job I enjoy every day.
Although I make way less money in Thailand than I could be making in the USA, the cost of living in Thailand actually makes my standard of living here a lot better than in the USA. My rent and bills take out about a quarter of my salary, and food isn't expensive if you're sensible about where you buy it – street food is absolutely everywhere, it's delicious and is super cheap! I can grow a small savings account, afford medical care, and take vacations that I could never afford in the USA.  Some teachers I know are also able to save money to pay off their student debts.
Adapting to Life in Thailand
The main challenge I have had to face here is the different style of communication that makes work and general communication sometimes difficult. Thai people do not like confrontation and do not emphasize direct communication, so many problems that can be solved with simple two-way communication can remain unresolved or eventually become a much larger problem.
If you are patient and maintain a tolerant and positive attitude, these situations can resolve themselves easily. As a way of managing conflict, I would also recommend keeping an open mind. While teaching abroad is fun, it takes a lot of getting used to. Remember that it is equally important to take care of yourself, so be fair to yourself and give any opportunity a fair chance for you to enjoy it!
Teaching English with BFITS
The school I teach at goes a long way to make teachers feel appreciated. For example, it is very common for them to hold ceremonies honoring our work, as you can see in the picture above. Another great thing about BFITS is that the schools are equipped with the latest technologies, which make our job easier and motivate students. Every student has a different learning style, so the technology provided supports teachers with the tools we need to customize our lessons.
Getting Ready with a TESOL Certification
The TESOL certification prepared me for the actual in-class experience. It led me to develop meaningful teaching techniques which I now use while collaborating with other teachers. Having a good sense of lesson planning and the use of authentic material is key for any teacher who wants to succeed in Thailand. If you are looking to teach English in Thailand, an affordable online TESOL course is all you need to get started!