Italy is divided into twenty regions. Because of its long history, each region and even each small town may have many differences ranging from dialect to food specialties.
My TESOL experience has been in Emilia-Romagna, so I will focus on what it is like to teach in this region.
Read: Teach English in Italy Guide
Teaching English at Language Schools – TESOL Italy
I have found a decent amount of opportunities in Emilia-Romagna. In Parma alone, there are a number of private language schools that are always on the lookout for new English teachers with an accredited TESOL certificate. As a young teacher with very little experience, my starting salary ranges from 12€ – 20€/hr.
The hours are a bit unreliable at private schools. I am often offered a course the week before it starts. So I never know for sure what my schedule will be like the following month. Furthermore, everyone in Italy goes on vacation in August. You must take into account that you will most likely not be working in August.
If you are lucky enough to get a job at a public school, I believe that your vacations are paid. However, as long as you work in the private sector, you only get paid for the hours that you do work.
Other Options – TESOL Jobs Italy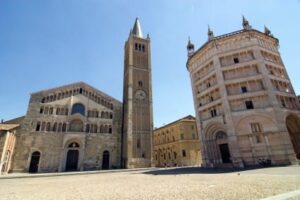 The region contains a number of important universities. The most important being Bologna, which is the oldest university in the western world. Many students take English classes as required. And you can bet that a lot of them will need your help!
Furthermore, there is a growing trend in English courses for children. Italians are starting to realize the importance of speaking English. So if your interest is teaching children, there are many TEYL positions in the region.
If you are really ambitious, you could even try to open your own association. Or set up an English camp for children. I don't know the details about doing that, but I have heard quite a few success stories.
Other Regions – TESOL Italy
As for other regions in Italy, you will probably have the most luck in the North. Lombardia, Piemonte, Veneto, and Toscana are some of the bigger and more regions that act as vital economic engines for the country.
With more industry and business, there is a greater need for English. English lessons at banks and agencies are very popular and you can likely find work teaching a business English course. These are organized by the companies themselves or through a private school. As some of the southern regions have a weaker economy, there is less of a chance of finding people who can pay for a course and the salaries may be considerably lower.
Related Articles
Teaching English to Young Learners in Italy