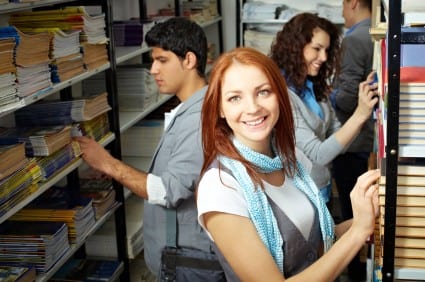 The reasons for having a textbook can be varied; maybe it was chosen by the Director of Studies or maybe you, as a teacher, insisted on having a textbook for the class. Whatever the reason, it is adamant that teachers are aware that the textbook is not 'the be all and end all' of your class. This article explains some of the advantages and disadvantages for using a textbook in the ESL classroom, and shows solutions for using textbooks effectively.
–Get the best TESOL training with the 250-hour TESOL Diploma! OnTESOL will teach you how to replace the textbook using creative lesson plans!–
Advantages of Using an ESL Textbook in TESOL
For practical reasons, having a textbook is good for the environment since it saves on photocopying handouts and wasting paper. This, in turn, cuts down the prep time for classes and the time it takes to distribute copies when doing an activity in class, thus making teachers more efficient with their time management in lessons. Other advantages include colour pictures and an easier way to assign homework based on the activities in the book.
Furthermore, having a syllabus ready is a lot of help for teachers, especially those who have recently entered the profession. Also, most of the lessons included in a textbook will have been tested or tried with students at least once and that gives teachers some confidence.
Read: Teaching English Using the Communicative Approach
Disadvantages of Using an ESL Textbook in TESOL

It is important to bear in mind that despite the advantages mentioned above, being confined by a textbook means that teachers feel limited or restricted in what they can or cannot do in class.
First of all, no matter how good the textbook is, there is no textbook that will benefit all the students in a class in the same way, and it will probably never exist either because every student is unique and so is their progress. Textbooks are often written to fit a majority of students and, even then, fail considerably at addressing all the issues necessary for most students.
When learning English as a second language each student has his/her own pace and rhythm, so a textbook can feel too restricting not only to the teacher but also to the students themselves. When textbooks do not inspire the students to learn the language, they can drive students to become disengaged and disappointed. What's more, textbooks are so expensive that they are not replaced or updated as often as they should, and this causes them to soon become outdated.
Finally, having one textbook for your class is certainly not conducive to including the concept of multiple intelligences or learning styles in your lessons, and only students who are strong in their logical mathematical and visual skills will be able to succeed.
Read: How the online TESOL course works
Solution? – To Use or Not to Use an ESL Textbook
The best way to solve the problems mentioned above is to supplement your lessons with authentic material. When this is done, the content can be kept current and up-to-date with global events, for example. This will keep the class interesting and motivating as it caters to the needs of all the students.
Using a checklist or lesson plan template that reminds you of the skills, learning styles and topics you need to bear in mind daily or weekly can be a positive way to prevent some of the restrictive and repetitive effects a textbook can have in lesson planning.
Finally, if you must, choose textbooks wisely making sure that at least 80% of it is useful and appropriate for the class you will be teaching, and supplement with authentic material on every lesson.
Learn to create professional lesson plans with OnTESOL. Take an internationally recognized TESOL course.
Related Articles:
Supplementing Textbooks with Authentic Material
Authentic Materials in Beginner Classrooms
Using Songs with Adult Learners
https://ontesol.com/wp-content/uploads/2014/01/iStock_000019977207XSmall1.jpg
282
425
Andrew
https://ontesol.com/wp-content/uploads/2018/02/Ontesol-Logo-Small-300x138.png
Andrew
2017-04-29 14:30:51
2020-10-07 01:54:57
TESOL: Using Textbooks Effectively