Teaching English in Bangkok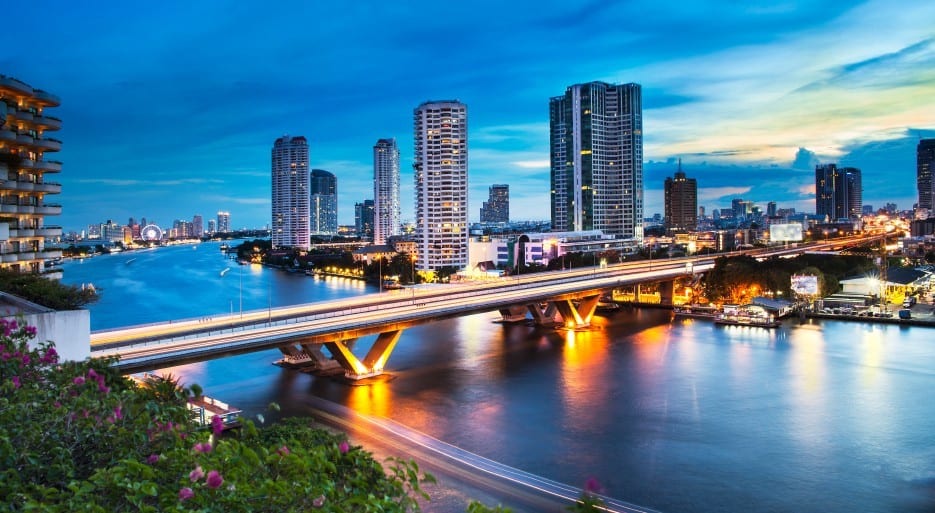 Come teach English in Bangkok, the City of Angels. Bask in the vibrancy and energy that you will only experience in this corner of the world. Bangkok is perfect for those seeking vibrant street life and charming people. Bangkok is perfect for young university graduates who want to teach English during their gap-year. Teach English to young learners at a professionally run language school or a public Thai school. For those who have a little experience, there are many highly paid Business English jobs.
Like other Asian metropolises, Bangkok is a blend of East and West. It is no longer the old port town it once was where canals, waterways and palm tree-lined streets were its only features. The Buddhist temples and historic sites are still perfect site seeing opportunities for anyone teaching English in Bangkok. Whether religious or not, The Grand Palace and Wat Phra Kaew will leave you in awe at their grandeur, dazzling and intricate detail. Other impressive and intricately designed temples worth seeing include the Wat Suthat and Golden Mount and Wat Saket.
Bangkok is heaven for the food lover! Get an authentic meal, maybe two, for under $1! To get the most authentic feel from the city, head to Chinatown, where Thai Street food originated. All of your senses will be awakened to the food's flavor, its color and the rich scent and chaotic nature of your surroundings. Classic Thai flavors like kaffir lime leaves, coconut milk and lemongrass are in abundance! For some of the best curry and fried noodle dishes, head to Old Town where experienced chefs have been cooking up some of the best street food the country has to offer for decades.
Be sure to find yourself in Bangkok in the middle of April for Songkran Festival, also known as Thai New Year. This annual festival takes place in a well known tourist area called Banglamphu, where visitors and locals alike 'wash away bad luck' to welcome good luck for the new year. The famous water fight also allows everyone to get some relief from the intense heat and is one of the most enjoyed festivals in the world!
Another reason people love teaching English in Bangkok is access to affordable self-care. Rely on a good massage at least once per week! Massage shops are cheap and can be found almost anywhere in Bangkok, so stop off at the side of any street and enjoy! Check out Asia Herb Association where you'll be treated in a less frenzied environment and with more hands-on care and attention.
To tap into a TESOL community in Bangkok check out the annual Thai TESOL Conference. Although not located in Bangkok, Thailand TESOL is a great association and resource as well.
Read More on Teaching English in Thailand!