Teaching English in Madrid for My Second Experience Abroad
Madrid is not my first experience teaching English abroad. In 2021, I traveled to Seoul to teach English for a year. I loved my time there, although living in South Korea during the pandemic had its challenges. I chose to TEFL in Spain because I wanted a completely different experience. As I expected, teaching in Madrid was completely different.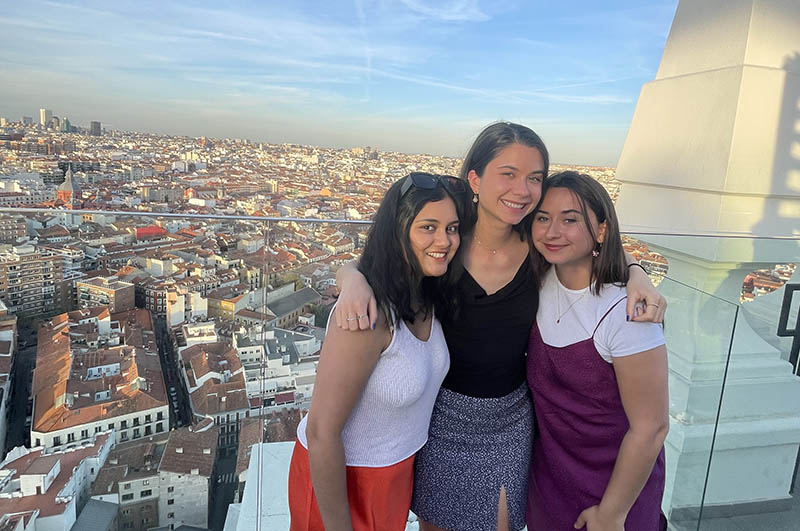 About the author: Liana Mortin competed the TESOL / TEFL certification online with OnTESOL before her first teaching experience in South Korea.
How I Found My TEFL Job in Madrid
I'm working as a language assistant at a private Catholic school. It's a large school that covers both primary and secondary grades. Even though I'm not a EU citizen, I got this position through the Meddeas Program. They guide ESL teachers on which visa to apply for and the documents they need. The Meddeas Program also helps to facilitate communication between teachers and the school, which helped me to feel more prepared before I started the position
Meddeas places teachers all over Spain, although they can only offer you a position that suits your needs and profile. While the positions are limited, I found that they do a good job of listening to what your preferences are. My top choices were Barcelona, Seville, and Madrid, as I wanted to be placed in a big city. I was especially hopeful that I would be offered a position at a school in Barcelona because that was the city I heard about the most; however, I decided to keep an open-mind when Meddeas offered me a TEFL job in Madrid.
FAQ: Do I Need TEFL or TESOL to Teach English Abroad?
Adapting to Life in Madrid is Easy
I am so glad that I accepted the position in Madrid because I'm having so much fun living and teaching English here. Madrid has proved to be everything I expected it to be and more! It is a wonderful city, unique in a way that is hard to put your finger on. I think that my favourite thing about Madrid is the people who live here. I have found Madrileños to be very welcoming and kind. For example, I came to Spain with a beginner level of Spanish, and I am pleased to say that I have improved quite a bit due to the patience and encouragement of the people that I have met here.

FAQ: Do I need to learn a new language?
The best way to make the most of the TEFL experience in Spain is to come with an open mind, ready to learn! People here are extremely supportive if you show that you want to make the effort to improve your speaking skills and understand more about Spanish culture. There is an energy in this city that I haven't experienced elsewhere. Perhaps due to the constantly sunny weather, people here always seem to be in a positive mood. There is always a celebratory atmosphere on the streets, and there are quite a few holidays throughout the year.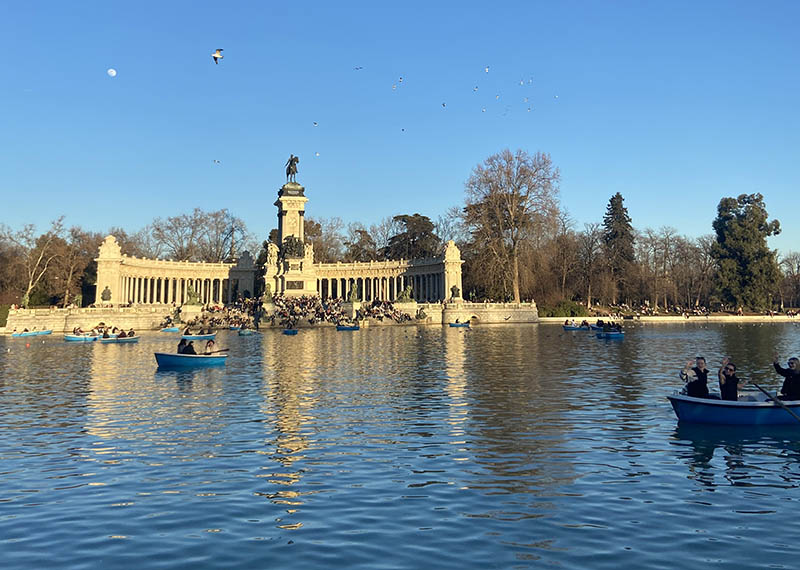 Close to Other Travel Destinations in Spain, Europe, and North Africa!
Another thing that I enjoyed about teaching English in Madrid was the centrality of its location! I was able to travel around Europe very easily because Madrid is well connected to most cities by bus or train.
Coming from Canada, where it takes hours or even days to get from one place to another, I was pleasantly surprised by how fast the transportation in Spain is and how much less money it cost! For this reason, I saw so much more of Spain in 6 months than I expected. I loved traveling down south to Andalusia to see Granada, Malaga and Seville, to the east to see Barcelona and Valencia, as well as up north to visit Santander and Bilbao! These cities were all vastly different from each other in terms of landscape and culture, and from Madrid you can take a short weekend trip to stay in any one of them.
I also travelled to different countries for very cheap from Madrid. I visited Lisbon and Porto in Portugal, Nice in France, and Tangier in Morocco. The plane rides for all of these places never lasted longer than a couple hours! If you want to travel around Spain and the Mediterranean easily while you are teaching abroad, Madrid is the perfect place to set up a home base.
A Different Work Culture
I believe that coming into a teaching assistant job with an easy-going and flexible attitude is very important, as I quickly learned that Spanish schools tend to be a lot more "go-with-the-flow" than the schools I had worked at previously in South Korea and Canada.
For instance, often people will joke about things running on "Spanish time", which generally means that they tend to start about 10-15 minutes after they were scheduled. While this may be shocking to many, I adjusted very quickly. I believe that Spanish culture itself is very relaxed, they have midday siestas, eat dinner late at night and spend a lot of leisure time with friends and family eating and drinking in the plazas scattered throughout every neighborhood.
I found the work environment to be a lot calmer than what I was used to. My employers and coworkers gave me a lot of freedom to decide what to teach in the classroom. As a language assistant, your main role is to help your tutor and the other teachers at your school with whatever they may need to ensure students are getting the most amount of support possible with English, and to have a smooth-running classroom. Each teacher has a different expectation of what this kind of support may look like, so it is important to go into each classroom with a willingness to help in whatever way you can.
With that being said, I was pleased to learn that most of the teachers were happy to give me more responsibility when I was in their classroom, letting me teach my own lessons and play whichever games I felt were suitable for the current curriculum. The teachers stayed in the classroom with us while we taught, which was very useful when it came to managing a class of children. As a result of the program, I quickly learned new strategies and useful tools to help maintain discipline and organization in the classroom, so I found myself needing the help of the Spanish teachers less and less. I would totally recommend teaching as a language assistant in Spain to anyone who is craving a relaxed and hands-on teaching environment.
Got TEFL? Save Up to $400 with the 168-hour TEFL Bundle!