I arrived in the majestic city of Istanbul at the end of a six-month hitchhiking journey across Europe with around twenty British pounds to my name. I was immediately captured by the fascinating architecture, mouth-watering food, and magical buzz of the city. 'We could live here,' I said to the young lady who had given up her life on a whim to travel with me. 'We could stop for a while and teach English.' She agreed.
Yasin Ozturk completed the TESOL certificate course with OnTESOL.
Teaching English is the Best Way to Live in Istanbul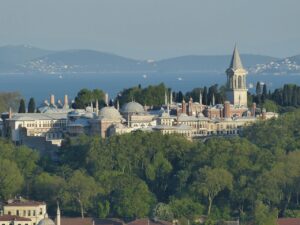 It transpired that the English teacher market in Turkey is very much alive and bubbling, looking for English teachers willing to teach all ages from kindergarten through to adults.
Due to the high demand for English teachers and (relatively) short supply, it is possible to find jobs regardless of your nationality, degree status, or teaching qualifications. As we both had degrees, were native speakers, and had experience teaching English, we were in quite a good standing to find jobs. The only difficulty was that I didn't hold any form of TESOL certification which is quite highly valued in Turkey, so I enrolled in the online TESOL course with OnTESOL.
For anyone else who is applying to teach English in Turkey, I would definitely recommend obtaining some form of TESOL certification because it will significantly improve your opportunities for employment.
Get certified to teach English abroad. OnTESOL offers accredited TESOL courses with job assistance.
Job Hunting Tips
The one thing a potential ESL instructor wants to make sure of is that the school or institute has been around for a while, as there are a constant folding and emerging of unreliable schools in the market.
The best schools will usually offer to pay all, or a percentage, of private healthcare coverage, provide single accommodation, cover your residence permit fees, provide airfare home once a year, and not require you to be at the school more than 40 hours per week.
Regions
Most language schools are located in Istanbul, which is the primary ESL market in Turkey. Unfortunately, there are very limited TESOL opportunities in the beautiful vacationing areas along the Black Sea, the Aegean, and the Mediterranean.
One should also exercise caution in considering any employment in the Southeastern parts of Turkey. While there are safe, historical, and beautiful places to work there, it can be dangerous due to the political tensions between the Turkish government and minority groups.
Job Market
Those with TESOL certification and more than one year of teaching experience will have a much better chance at acquiring positions at reputable private preschools; especially since there is a large number of uncertified, or lesser qualified, native speakers working in the country.
There is also an increase in the number of schools that are switching to full ESL immersion, and public pilot schools that are hiring more and more native-speaking teachers with accredited TESOL certification.
Private language schools pay less and offer shared accommodation to ease the burden of rent. The quality of such accommodations may not be what you're accustomed to, as buildings are old in most parts of Istanbul and other major cities. However, private language schools are a great way to get started as an entry-level ESL teacher.
The Benefits of Teaching at a Language School in Turkey
Although jumping from different class levels is stressful, it's a great way to learn a variety of teaching styles. In addition, it will help you to understand the importance and benefits of tailor-made lesson plans. Become an efficient, engaged and well-rounded ESL teacher by teaching English to a variety of ages and levels, including full classes, private lessons and business English lessons.
Here are some tips to help navigate the challenges of teaching English in private language academies:
Planning:
Make sure everything goes smoothly by planning ahead and keeping notes. Teaching many classes can often be confusing. Use a notebook to record previous lessons and colour coordinate different classes so that you can teach with confidence.
Knowing what and when you are teaching helps you structure the day logically. This also allows you to mentally prepare before stepping into each classroom.
Switching between levels:
Walking out of an advanced class and into an elementary class can be difficult, particularly for conversation classes. It's important to adapt to the class level quickly. Ask basic questions using grammar structures that were previously taught, so that you can absorb the necessary teaching styles and methods. A few simple questions and games can get the class rolling and the communication at the expected fluency level will start naturally.
Switching between ages:
Language schools in Turkey usually have adult classes and junior classes separated. ESL teachers are often expected to teach both. An adult class can be filled with hardworking, enthusiastic students, as are junior classes.
However, young students require a more authoritative teaching style. Remember to adapt to the maturity level before entering the class. You might need to speak louder and keep an eye on disruptive students when teaching a junior class.
How to Get an English Teaching Job in Istanbul
The main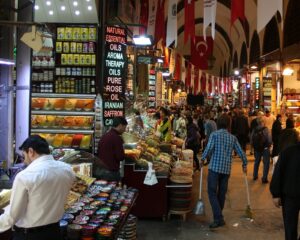 source of accommodation and jobs in Istanbul was Craiglist. We began scouring through the adverts and within a few days had secured an apartment near Taksim, the centre of Istanbul.
Due to the high demand for teachers, it took a matter of days to be offered interviews. I was offered a full-time position by English Time, one of the largest recruiters of English teachers in Istanbul, but ended up rejecting the job because it involved working split shifts and I wanted time to work on my own creative pursuits. Shortly afterward I took on some private teaching jobs, teaching small groups of adults and individuals in various parts of the city.
Job Interview
While the most important part of getting a job was my English speaking abilities, the degree, the teaching experience, and being English, what got me the job was dressing well and acting professionally.
Teaching is generally well regarded and male teachers I met wore suits while teaching, so I did the same for my interviews (and while teaching). If you are a female and applying for jobs in Turkey, it is important to be aware that Turkey is very conservative and you should dress appropriately.
What It's Like to Teach English in Istanbul
After teaching the private classes for a few months, I was tired of long commutes and took on a new job as a teacher coordinator – an intermediary position between teachers and the bosses – with a large recruitment agency.
Strangely there was nothing for me to do for the first month in this newly created role and I picked up a full month's salary for simply turning up and sitting in the office – reading – for multiple hours a day. Due to the sudden loss of a teacher, I was then required to fill in as a teacher for the final month of the term in an expensive private school, two hours commute from my home. Wearing a suit, in roasting heat, and sometimes only teaching one class a day, I resented this commute, but my agency was good to me and paid me for my time.
After one year of teaching English in Turkey, I made the decision to move on to keep traveling. I had a final feast of çiğ köfte – one of my favourite foods in the world – and bid farewell to the city of Istanbul, heading back to Europe where I decided to travel more.