When I researched TESOL jobs in Korea, I knew the country was pretty small as a whole and only considered the capital.
I had had a close friend who taught in a small suburb and loved it, so I jumped at the opportunity to head to the hustle and bustle of another city.
About a month before leaving for my new job, I met someone who said they would be teaching English in Busan.
I knew a few others who had spent time teaching in Busan, and I had to admit that it was very attractive having been called the Vancouver or Miami of Korea.
Having lived in Vancouver and having visited Miami, these two cities could not be more different.
I was intrigued! I knew I had to visit, so I put it on my Korea bucket list.
I had no job and no apartment, but I boarded the KTX with two large suitcases, a heavy duffel bag, and my big girl purse, and took the bullet train down to Busan.
Within a few days, everything was sorted and I started a new job in Hwamyeong, a "new city" suburb in the North West pocket of Busan (a $12 cab ride to the Gimhae Airport or 45 minutes on the subway and the light-rail rapid transit).
Here are 5 things I love about teaching English in Busan!
Read: Guide to teaching English in South Korea
Read: Is Teaching Overseas for You?
5. The Festivals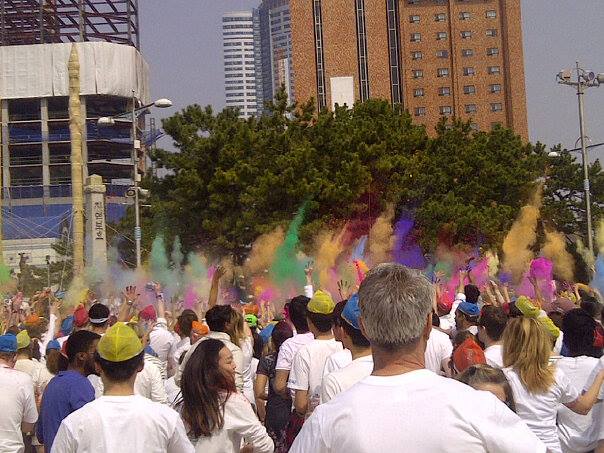 Festivals are a great way to meet people, especially other expats!
Most of us are trying to soak up as much history, culture, and excitement as during our teaching stint abroad, so you'll usually find large contingents of other ESL Teachers.
My second weekend in Busan was the Holi Festival in Haeundae Beach. This local festival put on by the Indians in Korea Community is a festival of colors.
The idea is to celebrate spring, forget our worries, and throw colored powder into the air. While messy, it was pretty liberating, and both 2015's and 2016's Holi Festivals have had unseasonably warm, sunny, weather.
Other popular festivals include The New Year Festival at Gwangalli Beach and Haeundae Beach, the Polar Bear Swim Festival at Haeundae Beach, the Busan Theater Festival at Busan Citizens' Hall, Busan Int'l Short Film Festival at the Busan Cinema Center, and the Busan Int'l Rock Festival at Samnak Ecological Park. Excluding Holi, the two most popular festivals are held in October and would have to be the Busan Int'l Film Festival and the Busan Fireworks Festival (Gwangalli Beach area).
Special mention to the Festival of Lights around Christmas time in Nampo-dong, and the Tolling Ceremony on New Year's Eve at Yongdusan Park.
–Recommended TESOL Certification Courses for South Korea–
4. The Nightlife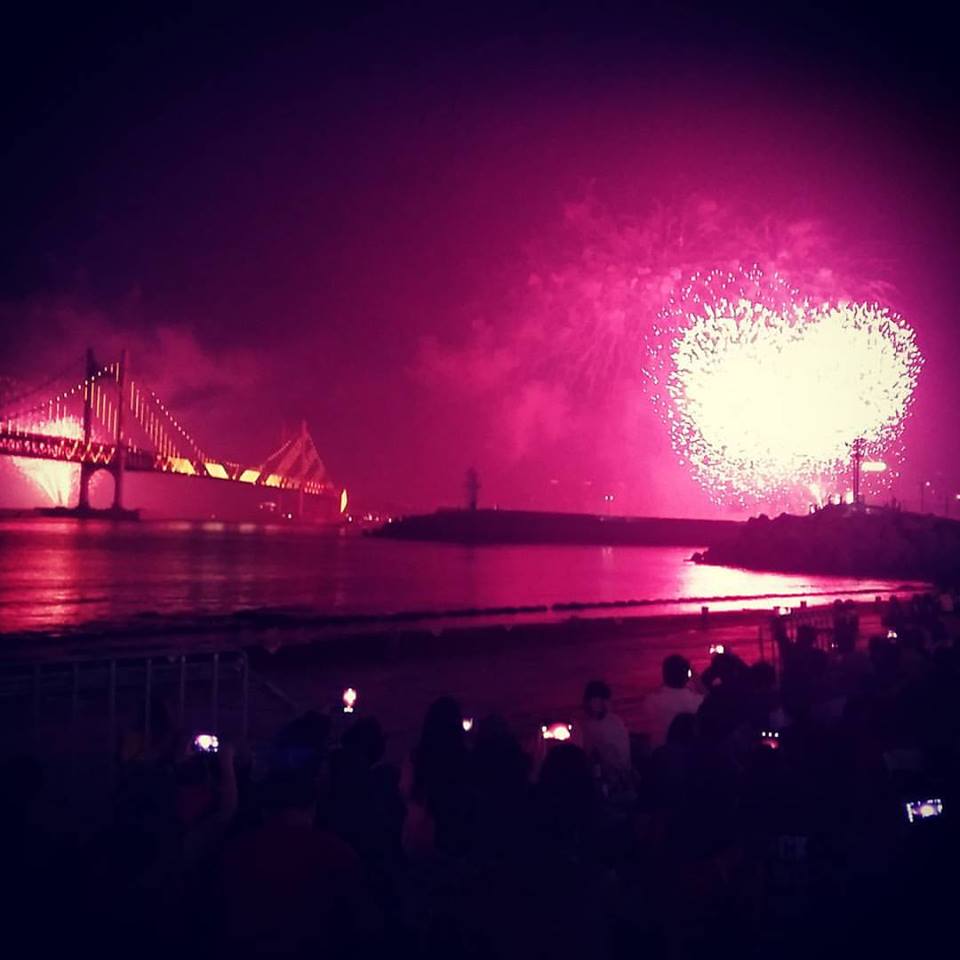 There are plenty of bars in the land of the morning calm (or raging soju hangover).
Beyond beachfront concerts and street performers, outdoor socializing is a Busan must.
On any given night you'll find ajeossi having a soju, makgeolli, or maekju (beer) outside the local corner store.
You may also find yourself enjoying time at a CU or GS25 by playing cards (or drinking games) with friends, singing, or strumming a guitar.
The local alcoholic fare is cheap and cheerful, and if you get hungry there are approximately one gazillion different types of triangle kimbap and ramyeon to satisfy a savoury craving.
Whether you're at a massive club, a local bar, or outside a convenience store time tends to run away from you in Korea!
It's fairly normal to go out for one social and end up diving into bed at 6 or 7 AM.
Each pocket of the city has favorite foreigner haunts known for live music, a particular kind of music, cheap shots, or proximity to other foreigner bars.
Read: How to Get the Best English Teaching Jobs in South Korea
3. The Culture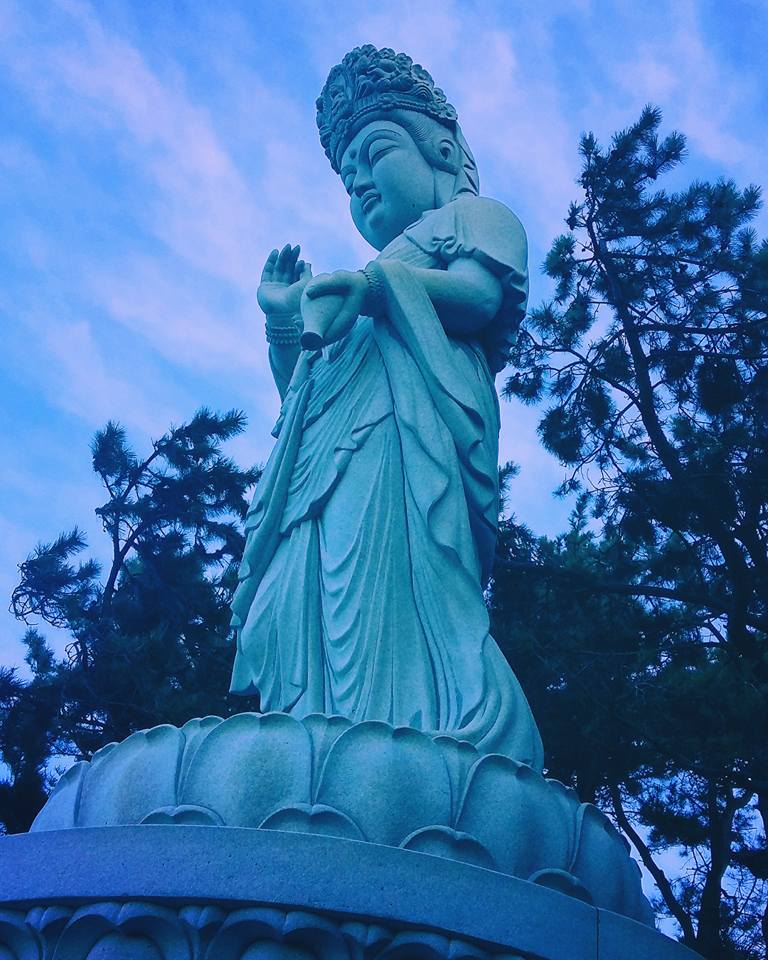 The people of Busan are unlike any I've met in the world. They can be easy-going (something about that beach life), loud and brash (the citizens of Seoul think of Busanites as farmers), pushy, and eclectic.
Even with my very limited Hangeul, I felt like everyone wanted to help me out and they appreciated my efforts.
Busan has plenty of different vibes in each part of the city.
If you're looking for a more hipster vibe (read: great food, shops, dingy basement bars, and lots of live music) with wicked hiking trails (hiking is huge all over Korea, but Busan literally means "many mountains"), check out PNU (Pusan National University).
If you're looking to go out and party every night of the week, KSU (Kyungsung University), Gwangalli Beach (where the diamond bridge and many expat bars are located), or Haeundae Beach (the most famous beach in Korea) might be for you.
If you're a downtown babe looking to be busy every night of the week with a variety of hobbies, check out Seomyeon! It's the "downtown" area and is pretty centrally located.
You'll be able to get to every corner of the city in about the same amount of time.
Nampo is exciting on the weekends, is close to Gamcheon Cultural Village (a must-see for anyone visiting or living in Busan), and is close to the large Jagalchi fish market.
If you like to shop until you drop, like international dining options, and plan on taking the ferry to Japan often, Nampo's your dong (-er…'hood).
As you can tell, I haven't listed Hwamyeong (my old neighborhood) on this list.
There are TONS of neighborhoods in the city of 3.4 + million people. My old neighborhood (like most other non-central spots) has all the local amenities one might need, has a huge eco-park, and is close to the subway (which has wifi if you have a Korean phone!).
Getting anywhere from the 'burbs can be tedious, but Busan's bus and subway systems are easy to navigate and will get you where you need to go.
The first day I arrived in Busan I dropped my bags and immediately headed for the subway to go check out a soccer game. In Korea, you can BYOB and FOOD to professional sports games.
The vibe is unbelievable – Busanites LOVE their teams (even if they're not playing to their full potential) and with exciting MC's, K-Pop dancing, the Kiss Cam (yes, even in prudish Korea!), and made-up songs for every player the whole stadium seems to know, the vibe is electric.
If you want to get to know the vibe and culture of the people of Busan, check out a baseball game. Even if the Lotte Giants lose, the entertaining fans won't disappoint you!
Read: 9 Reasons to Teach English in South Korea
2. The Beaches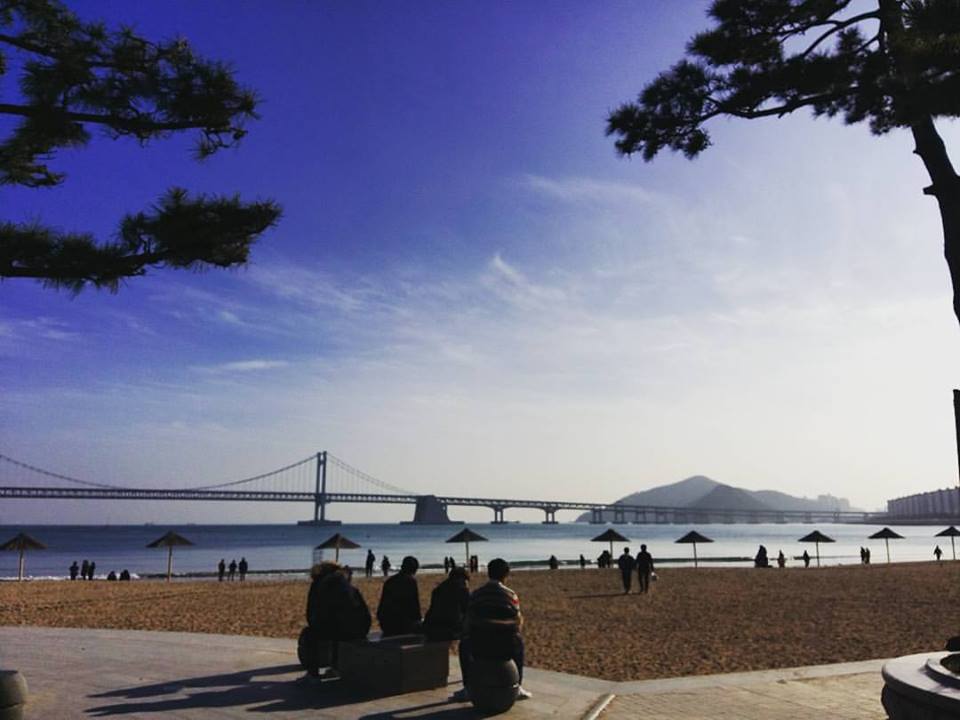 In the summer Korea gets pretty hot! In the summer I spent nearly every weekend at one of Busan's many beaches.
The beaches don't tend to actually get crowded with Koreans until August, so you'll have your pick of places to catch rays for May (I got a bad burn on Cinco de Mayo, 2015), June, and July.
Busan stays warm into September, so you can be back at it through the start of fall.
I visited Haeundae, Gwangalli, and Songdo beach, and personally preferred Gwangalli.
That's where I would most frequently run into other expats at any of the foreigner-friendly pubs and bars, at the foreigner market (a charity event with lots of yummy homemade treats), or simply on the sand and in the waves.
1. The Lifestyle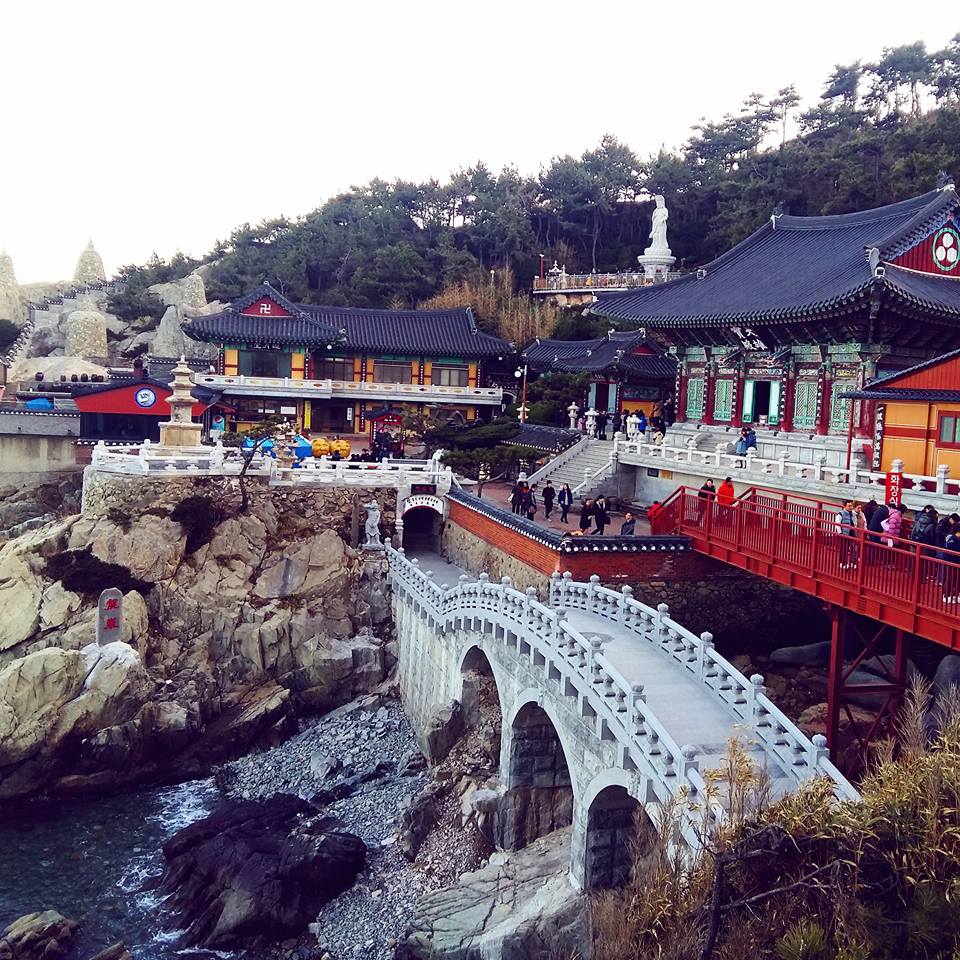 Now that I'm living and teaching in Seoul, I can say with confidence that Busan is a great place for an expat to work on personal development.
In Busan, I felt like I was living in such an easy life. My life was simple: wake up, roll out of bed, shower, have breakfast, go to work (which was across the street from my apartment), workout, and then the nights were free to do whatever I liked.
My schedule was much more relaxed than it is in Seoul, and I had far fewer work-related responsibilities.
I never felt excessively busy, and I always had time to maintain my blog, hit the gym hard, meet up with friends, and even had time to cook.
My social life was very active and I actually ended up dropping about 40 stress pounds by staying active, having the time and energy to go to the gym, and focus on a healthy diet each day.
If you're looking for a balanced lifestyle, all the benefits of the 2nd largest city in Korea, and both the mountain and sea air, Busan is for you.