Teaching English as a second language is a rewarding career because of the transformation you witness as your students improve their English skills.
I am very passionate about teaching ESL students because I love the English language!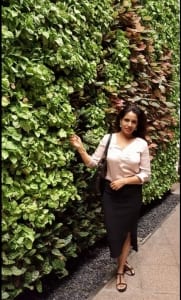 Saby is currently teaching English in Hong Kong. She is a graduate of OnTESOL's 120-hour Advanced TESOL certificate.
Life In A City Where The East Meets the West
I would definitely recommend teaching English in Hong Kong.
Foreigners may think that life in Hong Kong is expensive but there are always cheap bargains on clothing and food.
With careful planning, you can enjoy Hong Kong life and still have some money left over at the end of each month.
Hong Kong is a very diverse place with many cultures living together.
It is a city known as " Where The East meets the West", so anyone who loves experiencing a variety of cultures would Hong Kong.
The Best Course Package to Teach English in Hong Kong! Enroll Today!
Overcoming the Challenges of Working and Living Overseas
Hong Kong is a place of diversity, however, in local schools, the teachers teach in a traditional way.
So in a way, these sorts of teaching methods obstruct the creativity of students.
There is quite a bit of pressure on students, so it becomes ever more important for teachers here to uphold and maintain a certain standard and quality of teaching.
Additionally, the level of English amongst students is very low, so at times it can be challenging to communicate with them.
Teachers need to continuously use simple language, speak slowly, and maintain patience in conversation with students, as you will often be teaching complex topics that are sometimes difficult for students to understand.
One of my concerns was, how will I find the right school for me? What would the working conditions be like? How much will I get paid? Will I have the time to have a social life? These are all things I had in mind before beginning to work.
However, these were all resolved once I talked to people and found the right school for me.
In the end, I have discovered that it is very easy for ESL teachers to balance life and work as you will find schools value your wellbeing just as much as they value your time and effort as a teacher!
How OnTESOL's Course Shaped My Teaching
OnTESOL's course has shaped my teaching because I learned that teaching English is very easy, we simply need to use the appropriate teaching methods that match the needs of the students.
In my current reading classes, the school has a set of "Levelled Readers" books for each level, from 4-14. For the phonics lessons, I prepare my own lessons and create my own lessons since there is no textbook.
I learned that the use of Smartboards and iPads is important as they increase the efficiency of learning as they make the lessons interesting, engaging, and interactive, and students learn more than just rote English.
In fact, they are able to increase their communication, teamwork, and motor skills.
Teaching Young Learners in Hong Kong
Teaching English to young learners is simple.
Primary teachers teach the basics of English in a co-operative and engaging manner. This is quite enjoyable because I don't have to teach in a traditional way like the local teachers.
I have more freedom to come up with creative ideas in the classroom or implement new ways of teaching. The more communicative the classes are, the more fun my students have!
Stepping Out of Our Comfort Zone
Life is full of challenges! Stepping out of our comfort zone to leave everything we are familiar with and move to a new place can feel quite intimidating.
It's okay to take risks and to try something new. The worst possible outcome could be not getting what we expect.
However, what matters in end, is experiencing the journey and learning from the failure. I recommend learning about the customs and the language and getting to know your colleagues.
Recommended Reading:
English Teaching Jobs in Hong Kong: Language Institutes and NETs
Teaching Multi-Level ESL Lessons in Hong Kong
Teaching English in Hong Kong: Classroom Management Techniques for Large Classes