This next post is about all the fun you're going to have to teach English in South Korea!
There are the regular options like movies or dance clubs, but there are some things that Korea does like no place else, so read on!
SEOUL – TESOL South Korea
Seoul's neighbourhoods of Sinchon and Hongdae are my favourites for going out. They are near universities so they are lively all night, and you can go drinking, dancing, eating, smoke a hookah, or sing at a Noraebang.
Noraebang literally translates to singing room, and just as it sounds, this is Korean style karaoke. You and your friends get a private room with a karaoke machine and you choose from a huge binder listing Korean and English songs. You can order beer, soft drinks, or snacks brought to your room and you pay per hour for the use of the room.
I think it's safe to say that every town in Korea has at least one of these. By day they are crowded with kids and teenagers singing their hearts out, but at night if you ever go out to eat or drink with Koreans, chances are that you will end up singing too. Even bad singers shouldn't be intimidated- it's much more about enthusiasm than skill.
The biggest cinema chain is CGV which will usually play a couple of American blockbusters and several Korean films (no English subtitles though). Movie rental is pretty much nonexistent, but DVDbangs are really popular.
Like a Noraebang, you get a private room with a pretty large screen and a couch and you can choose a DVD to watch right then and there. These are very popular with teenagers hanging out with their friends, but also with dating adults.
Most Koreans live with their families until they are married, so a DVD room affords a little bit of privacy that a couple may not often get.
The drink of choice for many Koreans is soju. Soju is clear liquor made from sweet potatoes and tastes a bit like very low-grade vodka. It's extremely cheap and sold everywhere, usually in green bottles. If you are ever invited out to a work function, it's customary to take shots of soju with the boss.
Be careful… even though your Korean coworkers will probably keep pace and still make it to work the next morning, it can give you a killer hangover and I would usually excuse myself from drinking after one or two shots. Fruit soju is soju mixed either with kool-aid or with fruit juice, depending on where you get it, and can be more pleasant to drink than just regular soju.
Some bars will even make cocktails with soju, as imported liquor is extremely expensive. Other local favorites are Makolli and Dongdongju, both milky rice liquors, and domestic wine which is usually very sweet.
Koreans are serious about drinking, but also serious about fitness. Korea is mostly covered by mountains, and hiking is a very popular activity. In big cities, there are some mountains too steep to build on, but apparently not too steep to climb. During nice weather, everyone from small children to old grandparents will trek up and down the mountain, often with very purposeful hiking outfits and walking sticks.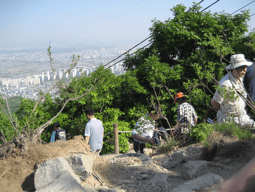 There are also loads of gyms and swimming facilities where you can get a membership or sometimes pay for a day or week pass. Roads do not have bike lanes and drivers are not particularly bike-aware, so don't count on a bike for transportation, but big parks such as Olympic Park or Seoul Grand Park can be great for taking a bike ride.
Finally, for some relaxation, Koreans hit the Jimjilbang, which is like a community bathhouse. It costs a few dollars to get in and you get a shirt, shorts, and locker key.
There are separate male and female entrances leading to locker rooms, where you leave all your clothes and things and grab a towel for a shower or a hot tub soak.
On weekends, you can also pay extra for a massage or scrub. When you're finished cleaning off, you can put on the shirt and shorts you were given and go through to the next area where males and females can relax together in sauna rooms of various temperatures and sometimes tv rooms, snack areas, exercise rooms, or restrooms.
Jimjilbangs vary from small and simple to large and complex facilities where you can bathe in jasmine tea and swim in a full-length pool. Families often go together and moms and kids will help scrub grandma's back and vice versa.
You can stay as long as you like, since most are open 24 hours, and it can be a great way to relax, but some nudity is involved, so I suppose it's not for the shy.
Traveling – TESOL South Korea
Did you like the picture of the beach at the top of this article? That's Jeju Island, which is as beautiful as Hawaii.
Learn more about teaching English in Jeju Island from our 250-hour TESOL Diploma graduate.
Related Articles:
Teaching Large ESL Classes in South Korea