Grocery shopping can be done at large chains like Homeplus (owned by the British company Tesco), Grandmart, or E-Mart. They are a lot like Walmart and offer a mix of clothing, housewares, and food (Mostly Korean with a bit of foreign produce).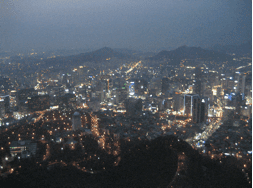 In smaller towns, such large chains may not be available, in which case you will probably find a small H-Mart or other grocery store selling mostly Korean products. A great way to try out local food and get fresh produce is to shop at outdoor markets.
NamDaeMun (pictured below) is a big one in Seoul. Most other cities have similar outdoor markets for food, clothing, gifts, and other miscellaneous items.
Buying Clothes – TEFL South Korea
Fashion is really important to many Koreans so there is an abundance of clothing options to suit all price ranges. There are many huge department stores in the big cities that sell mostly domestic brands, with some imports mixed in, but expect to pay more than you would pay at home for international brands.
Bigger cities like Seoul or Daejeon also have a lot of underground shopping malls. (Bupyeoung underground shopping in the city of Incheon is shown in the picture below). At street level, they may look like subway entrances and are often connected to subway entrances, but turn out to be an underground labyrinth of cheaply priced trendy shoe and clothing stores.
These stores tend to sell a lot of one-size-fits-all items, and the one size in Korea is pretty small compared to Western standards.
Seoul Foreigner Neighbourhood – TEFL Korea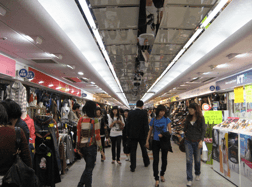 If you need larger sized clothing your best bet is Seoul's foreigner neighbourhood, Itaewon.
Lots of expats come here for the food because the grocery stores sell a much wider variety of food items from home and the selection of foreign restaurants includes anything you can imagine.
Itaewon also has What the Book, a pretty well-stocked English bookstore that sells new and used books, which can be hard to come by elsewhere in Korea. A word of warning on Itaewon: it gets seedy at night. I wouldn't call it unsafe, but I would call it unsavoury.
Electronics – TEFL Korea
Moving on, if you're looking for electronics, Yongsan is a huge electronics complex in Seoul where you can get pretty much everything for pretty cheap (don't be afraid to bargain). If you don't read Korean well, make sure to ask for your devices to operate in English.
In Seoul, many stores will be open from late morning (10-11 AM) to early evening (8-9 PM), in smaller towns closing hours maybe a little earlier, but Koreans tend to really maximize the hours in the day, so convenience stores are mostly open 24 hours and chain stores mostly stay open until 10 or 11 PM.
Related Articles:
TESOL South Korea – Transportation
TEFL Korea- What to Do For Fun!