Teaching English in Kyoto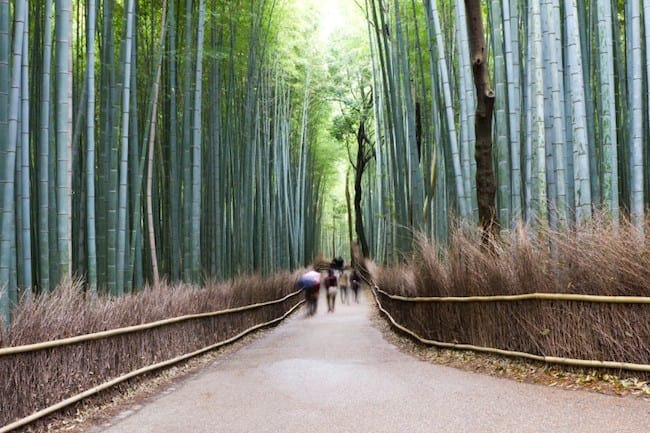 Kyoto is known for its beautiful sites and calming atmosphere. It is the perfect city to take scenic pictures at some of the most traditional and beautiful shrines in all of Japan. The locals have a strong appreciation for beauty and good taste, so be prepared to try some of the most exquisite food and observe the geishas scurrying along in the Gion District. Beware that this city fills with tourists around May and October, so the locals are not as welcoming as they are in other Japanese cities like Osaka and Yokohama. Teaching English in Kyoto is the best way to experience this fascinating city like a local!
Surround yourself with ancient traditional celebrations and beauty. There is an abundance of ancient sites and events to see and attend on your day off, so you'll never be lacking in things to do! In July, you can attend Kyoto's most interesting festival, Gion Matsuri. Attend the many parades and events the festival offers throughout the entire month. This is an excellent opportunity to get to know your new city a bit better.
Take a break from teaching English and head for the hills! Kyoto is known for its otherworldly temples and lush forests, so why not immerse yourself in such rich historical beauty at the Enryaku-ji temple located on top of Hiei-zan.
There are several teaching options in Kyoto, ranging from private language academies to Universities. If you're a young undergraduate, check out the JET Programme that offers teaching assistant positions all over the country. If you're seeking to go the Private School route, check out AEON, which tends to hire year round and offers excellent benefits to their teachers.
Kyoto is also the academic capital of Japan, so there are plenty of opportunities for experienced teachers who want to teach English at a university or offer private classes. Don't forget to join the Kyoto JALT Review (JALT standing for Japan Association for Language Teaching)! This academic journal accepts annual submissions and is a wonderful local resource for new and seasoned teachers.
One of the beautiful aspects of teaching English in Kyoto is enjoying some of Japan's most traditional food. Japanese food is a beautiful reflection of a country with four seasons. Local and seasonal foods are found in each meal that aligns with Shinto, which is a spiritual practice and philosophy similar to Buddhism. Check out the many sushi, ramen and matcha tea shops, such as Tsujiri Tea House, which has home made matcha candy that is very famous in Kyoto.
Related Articles on Teaching English in Japan