Interviews for TESOL jobs in Turkey can fall anywhere along a scale from 'you look Ok, can you teach a class starting an hour from now?'  to a full and detailed trawl through your entire work history.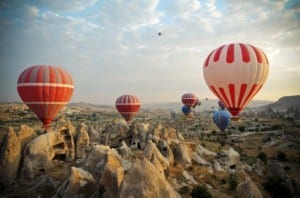 While both of these styles of questioning can and do occur, the majority of interviews will follow a similar path, so it's good to prepare in advance. These are the typical questions you will be asked, and ideas of how to respond.
-Free Teach English in Turkey City Guide-
Questions About Your Teaching Career

If you have teaching experience, you will be asked to describe your past work as a teacher. Talk specifically about the responsibilities you have been given and why you enjoyed the responsibility.
If you are new to teaching or have just completed your TESOL certificate, for instance, be truthful. Turks will appreciate your honesty and this won't detract from your chances of getting the job.
Questions About Why You Like Teaching
The best way to make a positive impression in your interview is to be openly enthusiastic about the job. Turks are sociable and value interpersonal relationships, so describing how teaching enables you to work directly with your students in an engaging way is a good tactic.
If you are fresh off your TESOL / TEFL certificate course, vary this strategy to indicate that teaching will be a new opportunity to engage with others in a meaningful way.
Questions About Your Previous Jobs
As a new teacher, you have the advantage in that you avoid this possibly troublesome question. Turks really value loyalty, so a resume that indicates frequent job-hopping may be problematic.
If this question pops up, avoid any mention of problems with employers, especially if they are also Turks. Instead, focus on personal reasons, such as the need to broaden your horizons or to experience new teaching contexts.
Turks are intrigued by those of a curious mind, so couching your reasons for leaving in the context of professional growth will go down well.
Questions About Your Classroom Philosophy
Turkish students will be extremely talkative and this necessity to chat may manifest itself as unruly behavior. Questions such as this, when posed by a Turkish interviewer, may well be an attempt to assess how well you'll deal with a boisterous group of students.
While school children are used to strong discipline in Turkey, you will be expected to keep everyone happy in class. A good way of dealing with such questions is to state that you encourage discussion and facilitate conversation-driven lessons whenever possible.
Questions About Your Teacher Training
If you're fresh from your TESOL course or are a heavily qualified old pro, you can expect to be questioned about your qualifications. Teaching is a valued profession in Turkey, so be prepared to talk up your teaching education as much as you can.
If you've recently done your certificate and don't have much experience, develop set responses based on what you've learned about lesson planning and dealing with tricky grammar points, for example.
Your Questions
It's quite acceptable to ask about the size of classes, the number of students per class and the number of hours you will be expected to teach, so these make for good questions to show you are really interested in working for the institution.
Although money isn't exactly a taboo subject in conversation, asking about salaries in your initial interview is considered rude. If you wish, state that you will be happy to discuss your compensation terms in detail if and when the employer gets back to you.