I was motivated to become an ESL teacher so that  I could help people achieve their goals and to be proud of my career choice at the same time.
I also wanted to give my family the opportunity to see the world and experience a diverse culture for an extended period of time.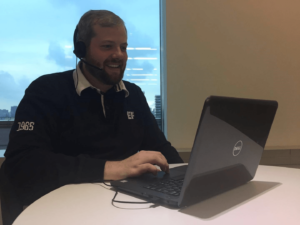 About the Author: Keith Downing is teaching English online from the Shanghai office.

Apply for 1,000+ TESOL Jobs in China!
The Benefits and Challenges of Living in China
Since arriving, I have really transitioned as a person.
My confidence level, food preference, and social abilities have truly blossomed.
I've also discovered the reward I get from seeing my students' progress as they learn a new language.
They are like little sponges, soaking up all the knowledge I can offer and then asking for more each time I see them.
It's rewarding to know that they will have a better opportunity in the future and that I have the opportunity to help them to reach their goals.
There are a few challenges to living in Shanghai.
Obviously, the language barrier can cause issues, so learning the language is key. I am really good at charades, so sometimes I just act things out and hope for the best. 
Another challenge is getting used to being outside of your comfort zone.
With time though, the things that were a struggle, in the beginning, are no longer an issue. 
You can live a really great life in China, for a lot less than you would expect. 
I have a wonderful apartment in a great neighborhood with plenty of money to save and I still eat out for lunch every day.
I could save more, but I am a total foodie and Shanghai is a gastro playground for me.
TESOL Training As a Foundation for Success 
My TESOL course gave me the foundation and tools necessary to be a confident teacher.
The implementation of the lesson planning, teaching methods, classroom management, and linguistics was second nature when I began teaching my first lessons.
I would recommend getting a TESOL to anyone thinking about teaching abroad even if only to get an idea of what teaching ESL would be like.
There are endless job opportunities available once you have a TESOL and it will gift you with a rewarding career.
Read: The Best TESOL Certification in China
EF – Providing the Best Support System for Teachers
I spent many hours researching to find the perfect ESL company and I already knew EF English First.
They felt like they were at the forefront of the ESL industry.
I chose EF over many other ESL teaching companies because of their reputation and their size.
EF is the largest privately-owned education company in the world and in my opinion has the best support system for its teachers.
The company is really built on a foundation of teachers that circles the globe.
They provide an amazing on-boarding program that sets each teacher up to be successful and then gives you the tools to develop yourself in a way that enables you to exceed your own expectations.
EF is a great company and has a great team of product developers.
Currently, I teach with EF's High Flyers product. I really enjoy the depth and thought that has been put into creating a high-quality product with amazing characters that children can really enjoy.
If anyone asks, Tom Thunder is my favorite character and probably my student's favorite too.
Advice for Aspiring Teachers
ESL has several options to help individuals develop as an English teacher.
There is always room to improve one's teaching style and new methods are constantly being developed.
Just because you didn't major in education doesn't mean you can't be a great teacher.
Teaching abroad gave me a whole new respect for all the ESL teachers out there who are opening the world of others through language education.
If you want a career that is meaningful and allows you to experience the world on your own terms ESL is for you.
There are endless opportunities to teach in various locations across the globe. Teaching English opens doors that previously seemed locked.
Go with your gut and take a chance on yourself. If you don't try, how will you ever succeed?
I highly recommend teaching in China!
There is such a demand for ESL teachers that you can teach in a large city or a remote location.
You can have a real-life changing experience. Don't miss your chance to do something exceptional!
Apply now to teach in China with OnTESOL and EF English First!
Related Articles:
EF English First Review: Teaching English to Kids in China
EF English First Teacher in China: Harbin City and Job Hunting Process