My name is Mary Lou Hill and this is a little piece of my life. My husband, David, and I are Canadians from Toronto, Canada. In 2014, we retired from long careers in the construction and accounting industries and flew to Spain with our dog, Kratos. We lived an exciting nine months in Spain and another three months in The Netherlands.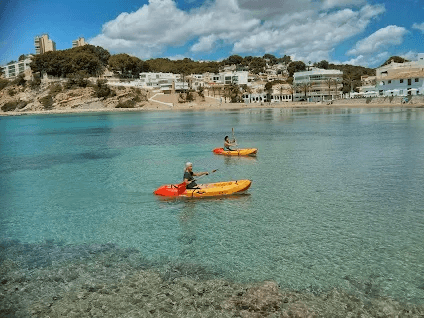 In 2015, my husband and I headed down to Costa Rica for our first winter away from the cold months in Canada. I worked with an American who specialized in locating long-term rentals for visitors from Canada and the United States. Together, we found a cute little home – one of three rental homes in a gated community in the mountains close to the small city of San Ramon. The owner of these rental homes, Felix, was pleased that Canadians were moving into his little community for approximately seven months.
The arrangement worked out well – Felix wanted to practice his English with me and David wanted to practice his Spanish with him. We became very good friends with Felix and his family. This exchange of language lessons would lead to new friendships and a career as an online ESL teacher that allowed me to travel back and forth between Costa Rica, Canada, and Europe before the pandemic, and settle in Costa Rica while other parts of the world were experiencing severe restrictions.
Recommended TESOL / TEFL for online teaching jobs: 168-hour Hybrid TEFL Certificate
My First Private Tutoring Experiences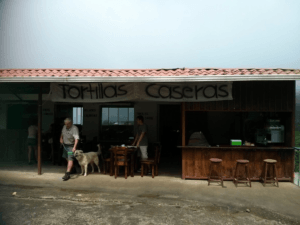 In Costa Rica, a "soda" is a family-owned and staffed local restaurant. We found a soda on highway #1, the Pan American Highway, and asked if Kratos would be welcome in their outdoor dining area. We were warmly greeted by Andres and his mother Roxanna, and had the first of many meals at their soda. Soda typical meals include Gallo Pinto, Casado, Olla de Carne, Sopa Negra, and Ceviche. Ordering our meals was a lot of fun – a combination of David practicing Spanish, and me referring to the menu and using Google Translate.
Andres was attending university taking an engineering course at the time and was very happy to have some English-speaking patrons. Both, he and Roxana wanted some help with their menu translations. When they asked me how much I charged for an English lesson I told them it was my pleasure to help them. Over the course of the next few months, in addition to translating their menus, we worked on private lessons that helped them to better serve their English-speaking clients. I had a great time researching, planning, and meeting with them. We also did some role-playing exercises so that they could practice taking orders and providing service to their customers in English. The experience I gained working with the soda owners gave me the confidence to work with other Spanish-speaking individuals.
We met Roxanna's niece, Liz, who was taking a college program that included an English course. She was struggling with the course and we spent time reviewing, laughing, learning, and having fun. Happily, she passed the course with only a few slipups on the final exam. Liz offered to pay me for the private courses but again I felt that the experience was excellent compensation.
Our "taxi driver, Eric", quickly became "our friend, Eric" and he introduced us to his daughter, Maria, who is a grade 1 to 3 teacher. Maria, invited me to attend her school and present an English class. I prepared a slide show titled "Winter in Canada" focusing on activities that Canadian children enjoy in the winter and it was a hit with the kids. But truthfully, I think the very young students enjoyed snack time as much as the slide show.
The Beginning of a Second Career: Teaching English to Adults Online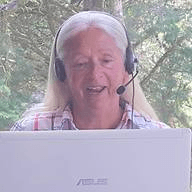 It was a great learning experience teaching English to Maria. When we were done, I realized that I did not have the patience or skills to teach children and directed my efforts towards helping adult students.
My decision to focus on adult learners was the right one. I became an online English Teacher for Open English in April 2016. I conduct online English classes for thousands of Latin American Adults – almost 9,000 in 2020. Periodically, I give private classes to adult learners here in Costa Rica but only to my new friends and never for monetary compensation.
It is a great feeling to know that you are helping people achieve their goals and objectives.
The advantages of working for Open English are professional development opportunities, prepared courses, flexible schedules, and a shift drop/pick up system. However, there are no guaranteed hours and assigned shifts can vary from season to season.

Read: 5 ESL Companies to Teach English Online in 2022
The main complaint from the teachers is the low rate of pay and that is something prospective teachers need to consider. Online English schools based in Latin America typically do not pay a lot. On the other hand, the cost of living in Latin American countries is considerably lower than Canada. Stay away from the North American style stores and live simple!
Teaching Online and Travelling The World
After I joined Open English, my husband and I continued to travel and I taught online classes remotely in Costa Rica, Canada, The Netherlands, and Germany. The pandemic hit while we were living in Costa Rica and we have remained here. We have not been back to Canada since October 2019.
I could not be happier with the direction my professional life has taken. I can travel anywhere in the world and conduct online classes. Open English offers classes 24 hours a day 7 days a week and I typically work from 6 pm to midnight five or six nights a week.

Read: Teach English Abroad (Full Guide: Opportunities, Requirements, FAQ, and more…)
Getting My TESOL Certification
The first tutoring experiences spurred me on to investigating what I needed to do to become a better English teacher. OnTESOL seemed the best fit for me. With my business background I thought it was relevant for me to take the TESOL course with Business English Specialization. It was a huge step for me to go back to school and I have never regretted it.
I still use my assignments to for reference in preparation for my online English classes. So many good ideas for classes, including study skills, first class activity, role play design, lesson planning, and designing an integrated skills plan. I highly recommend OnTESOL if you want to learn to plan lessons for adults or Business English lessons.

Read: What is TESOL Certification?
Start Your TESOL Certification Today!