Teach English in Vietnam
Get Certified with OnTESOL and Go!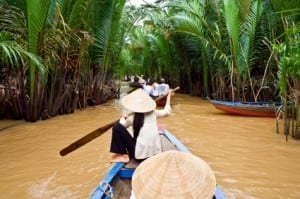 The first step to teaching English in Vietnam is deciding where to go. Smaller provinces offer less when it comes to wages; however, housing, food and transportation are usually included. Better paying cities like Ho Chi Minh City and Hanoi offer wages between $15-$25 USD per hour and will ask you to work 15-20 hours per week as a requirement of your contract.
English Language centers are a popular and easier place to find employment due to the large number of these schools in Vietnam. Usually the class sizes are relatively small (10-15 students per class) as opposed to teaching in a public school where you can expect classes of 30-40 students.
Many of these schools are more open to creativity and allow you to create lesson plans. The school I work at, however, does have a basic curriculum with room for creativity and improvisation.
Hours can vary, but a starting teacher will more than likely be asked to work weekends. I usually have 2 night classes during the week between 5 pm to 7:30pm and on the weekends I teach children between 7:30am and 9:30 am.
How to Find a Job Teaching in Vietnam
Craigslist is a good place to search, but you will encounter many scouts that will benefit from referring you to a school. In my experience, the scouts are pushy and want you to hurry up and sign a contract without concern for your needs as a teacher and a foreigner in a distant land.
There are also websites like expat blog and the new hanoian (TNH.com) which have job postings in many different regions of Vietnam.
Beating the pavement is a great way to land a job. Search for schools in the district you will be living and prepare a Resume/CV with a current photograph (in Vietnam a photo on your resume is required). Make as many copies as you need of your CV/Resume, TESOL certificate, passport and visa to give to the school receptionist.
Teaching Challenges in Vietnam
Our 250-hour TESOL Diploma graduate has over 10 years of experience teaching English in Vietnam. In his article teaching challenges, he explains about the educational system, types of students, and how the Communicative Approach fits into daily instruction.