The food in Spain is incredible. I love the way they make things so simple yet so rich. Tapas, or pintxos, are a typical appetizer people have along with a glass of wine or a pint of beer.
They consist of a crepe stuffed with mushrooms, cheese, and bacon, and then set on top of a slice of baguette with a little sauce on top, jamon serano (Spanish ham), tomato sauce, and croquettes which are like jalapeño poppers in the US only without the jalapeño.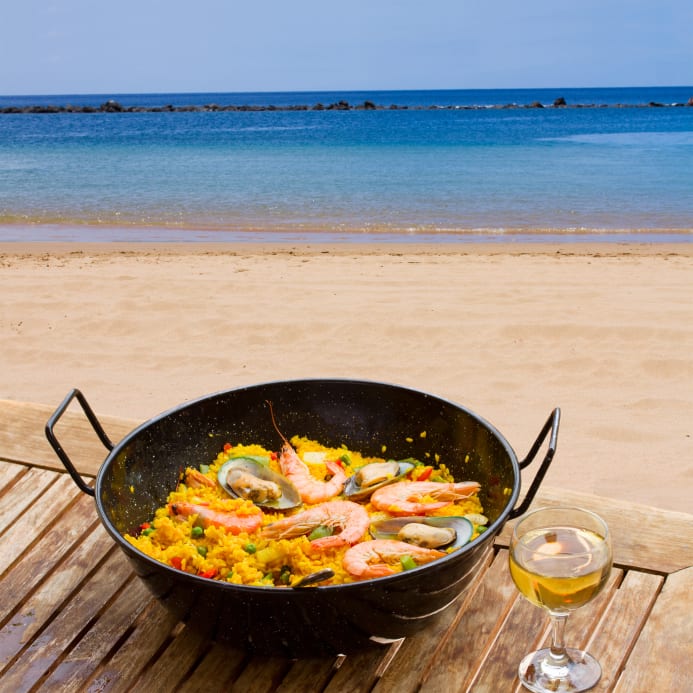 There are a variety of croquettes that you can order. Some filled with cheeses, ham, pork, mushrooms, or things like that. They are really delicious.
My Favourite Dishes – TESOL Spain
Besides the pintxo or tapas that I usually enjoy, I also love the dishes that they eat here for lunch and dinner. Tortilla, bacalao, and txipirones are among my favorites.
The tortilla is like the equivalent of a big Spanish omelet, only much better. The most basic type of tortilla is tortilla de patatas, which is egg, potatoes, and garlic.
From there the variations are limitless. I have seen tortilla with ham and cheese, or mushrooms, or crab and mayonnaise, or a bunch of other delicious food creations that I have no idea what is inside. If you come to Spain, don't leave without trying tortilla. You will thank me later.
Bacalao is the Spanish word for Cod. Here cod is eaten for dinner or lunch and can be served a few different ways. I have eaten soups, fried, dried, raw, and cooked with sauces.
My favorite is how my girlfriend's mom makes it with a tomato sauce filled with garlic, green and red peppers, and probably some other special goodies that I still have yet to discover.
Txipirones is the Basque word for small calamari squid. They make great dishes with these sea creatures. I have even learned how to make several things. Rabas is a cleaned squid that is then cut into thin strips, fried in olive oil, and served with salt and a slice of lemon.
It is typically served on weekends in the mornings at bars but can also be served as an appetizer or main dish known as raciones.
They also cook these squid several other ways like fried with a little oil, or cooked with a sauce using the ink from the squids, or also stuffed in croquettes.
The bottom line is I love the food in the Basque Country and in Spain and highly recommend coming with an open mind and excited to explore new cuisine.
L. Rincon completed Ontesol's 100-hour TESOL Certificate and has been teaching English in Spain since 2009.
Related Articles: