TESOL jobs in Saudi Arabia are generally excellent. School buildings are modern and most often well-maintained.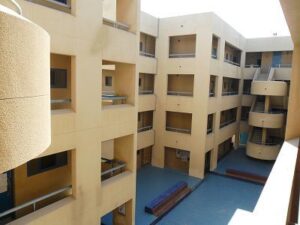 Rooms are swept on a daily basis. This is actually a necessity because fine desert dust can blow in overnight through a less-than-tightly-sealed window.
Gender Segregated Schools – TESOL Saudi Arabia
All Saudi schools are segregated by gender. There are some jobs in Saudi Arabia that specifically require a woman teacher, as only a female may teach other women; likewise, men only teach male students. International schools do generally hire teachers of both genders, but these schools seem to be the only exception.
Otherwise, a teaching position specifically for a male candidate will most likely found at one of three places: a university, a technical college, or a private language school – such as Berlitz.
There are a few positions available at language schools. But this is a rather small segment of the English-teaching market in Saudi Arabia, especially comparing to other countries.
If you start as one of these schools as a part-timer, you are restricted to work for just that one company. It just makes more sense to enter Saudi Arabia holding a signed contract, guaranteeing you a full-time position.
College and University Jobs – TESOL Saudi Arabia
University positions in English do offer the highest pay, but these are usually the hardest to qualify for. You could possibly be competing not only with Saudi nationals for such a job but also with expatriates from other Arab countries, such as Egypt or Sudan. Citizens of these countries have traditionally filled a large number of Saudi English positions.
Saudi technical colleges have recently begun hiring rather large numbers of North American teachers. The thought seems to be that although most Saudi college students have taken English, they have not developed sufficiently in conversational skills.
Thus, hiring North American English teachers is a step towards overcoming this deficiency.
An advanced TEFL certification (ie: TESL Canada, Trinity CertTESOL, or CELTA) with on-site teaching practice is a requirement to teach in Saudi Arabia.
Whichever type of teaching job you find, you provided with housing, or a stipend to cover housing costs.
In an earlier blog entry, you may very well be working for a hosting company, rather than a school. Many companies will also provide you with a plane ticket, or travel reimbursement. It is traditional for employers to cover most health costs, as well.
Related Articles
TEFL Interview: What Do Saudi Employers Look For?
TEFL Saudi Arabia: Regions and Culture