#1-How Does the 250-hour TESOL Diploma Compare to Other TESOL Courses?
The 250-hour program offers advanced training in the Theory and Methodology of TESOL. This program is more comprehensive than any 4-week course, including CELTA (See TESOL syllabus). Learn more and qualify for better jobs!
#2-Is the Practicum Optional?
Yes, you do not need to complete the Practicum after the 250-hour TESOL course. The Practicum is optional for those who want to gain supervised teaching experience and/or be eligible for TESL Canada Standard 2 accreditation.
#3-What Credentials do I Receive if I Do Not Complete the 20-hour Practicum?
Graduates who do not pursue the 20-hour Practicum are awarded a 250-hour TESOL Diploma issued by Coventry House International-Ontesol. Graduates may also apply for ACTDEC Level 5 accreditation.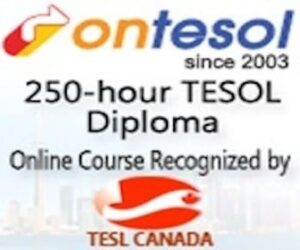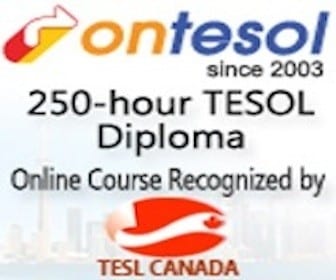 #4-Why is the Practicum a Separate Module?
Our structure provides greater flexibility and more savings: Graduates who have secured a full-time job need the flexibility of not having a deadline to complete the Practicum module, most people take the Practicum for free at the school they work or at a community centre that offers ESL classes, and people take the online TESOL course from all over the world so many graduates need to set up the Practicum in their own country.
#5-How is TESL Canada Accreditation Equivalent to UK-based CELTA and Trinity CertTESOL?
TESL Canada is well-recognized worldwide because they only recognize courses that offer a minimum of 100 hours of advanced TESOL instruction and a 20-hour Practicum module. TESL Canada Standard 1 is equivalent to CELTA, Trinity CertTESOL, and other 4-week TESOL courses. A program that is recognized by TESL Canada at their Professional Standard 2 includes a minimum of 250 hours of TESOL instruction and a 50-hour Practicum module. TESL Canada Standard 3 programs are MA degrees in TESOL, linguistics or a related field.
#6-Is TESL Canada Accreditation Open to Non-Canadians?
Yes, all native speakers from Canada, USA, UK, Australia, New Zealand, and South Africa are eligible for TESL Canada accreditation. Non-native speakers who have a valid proficiency score may also apply. (See TESL Canada requirements).
Recommended Readings:
The Life Of A Freelance ESL Teacher In Canada
3 Ways A TESOL Course By OnTESOL Will Make You A Better Teacher
Why Take The Practicum Before Your First Teaching Job