There are many reasons for taking an accredited TESOL course!
Quality Control
Course Material: Our accrediting organizations scrutinize the course material and suggest improvements during the accreditation stages.
Tutors: Teacher trainers must be approved. If the TESOL institute tells you that your tutor holds a MA degree in Education, TESOL, or related field, and has many years of experience as a teacher trainer and language instructor, then it is true.
Honesty: Accredited TESOL institutes are forbidden from posting misleading advertisements such as "Guaranteed jobs".
Audit: TESOL institutes are audited every few years.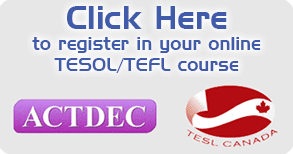 Internationally Recognized TESOL Certification
Jobs: Accrediting organizations such as TESL Canada, Trinity CertTESOL, CELTA, or ACTDEC UK are well recognized worldwide because of their commitment to quality control. An accredited TESOL certificate leads to better jobs.
Peace of Mind: You can choose your course provider among well-known TESOL institutes, colleges, and universities.
Avoid Fly-by-Night TESOL Certification: If the TESOL institute goes under, you hold an accredited TESOL certificate.
Take an accredited TESOL course with OnTESOL!
Other recommended readings:
The Life Of A Freelance ESL Teacher In Canada
3 Ways A TESOL Course By OnTESOL Will Make You A Better Teacher