Working remotely has been a dream of mine for many years. I recently relocated back to Canada after teaching English abroad for several years. I decided that it was time to work from home. In doing so, I was able to improve my work-life balance. I finally have time to pursue other passions such as setting up my online vintage shop and taking up kickboxing. However, teaching English online does come with its challenges.
Not having any coworkers to speak to can be challenging, especially if you are used to working in a school, like myself. It is also easy to fall into bad health habits. Eating too much or too little, lack of movement and fresh air can have a huge impact on productivity. It is important to be aware of these pitfalls and get ahead of them before they become a habit. Over the last year, I have learned a few tips that keep me feeling motivated and ready to take on the day.
Lauren Fragomeni completed the 120-hour Advanced TESOL certificate course with OnTESOL.
1- Organization is Key
Many online teachers work for more than one company and may even have their own clients, like myself. Therefore, staying organized is an essential part of becoming a successful online ESL teacher.
I use a planner, as I prefer to write out my daily tasks and have them in front of me for reference. While I am drinking my coffee in the morning, I go over my tasks for the day and prioritize them according to their importance. I use a spreadsheet to keep track of how many classes I teach each day.
For my private clients, I make note of what we did during the lesson and what we are planning on doing next time. Keeping good records not only saves time when tax seasons come but also helps track the progress of your students.
2- Take Regular Breaks
If possible, I recommend giving yourself a short break every hour. What you do with that break will depend on your schedule and length of classes. I recommend giving yourself enough time to stand up and have a quick stretch. If you can, step outside and get some fresh air or eat a healthy snack. It is also a good idea to give your eyes a break from the computer screen and prevent eye strain. Moving your body can make the world of difference!
Find online ESL teaching jobs on the OnTESOL Job Board! Sign up for free and apply for jobs online!
3- Keep a Routine
If the company you work for requires that you wear a uniform, this is a no-brainer. However, if you have your own clients or your company does not have a dress code, it is easy to stay in your pajamas all day.
I have done this in the past and found that it made me feel lethargic and ready for a nap. Giving myself a few extra moments to change into something more formal, gets me into work mode. This can be especially helpful for those transitioning into this new lifestyle.
Choosing a single space to do your work can also help to create boundaries inside your home. I live in a small apartment, but I decided to buy a desk for my living room. Whenever I am sitting at my desk, I know that it is time to get to work.
I also decided to start going to bed and waking up at the same time each day. Establishing a sleep schedule ensures that I get enough sleep each night. It gives me a routine to follow during the week and helps tremendously with my productivity.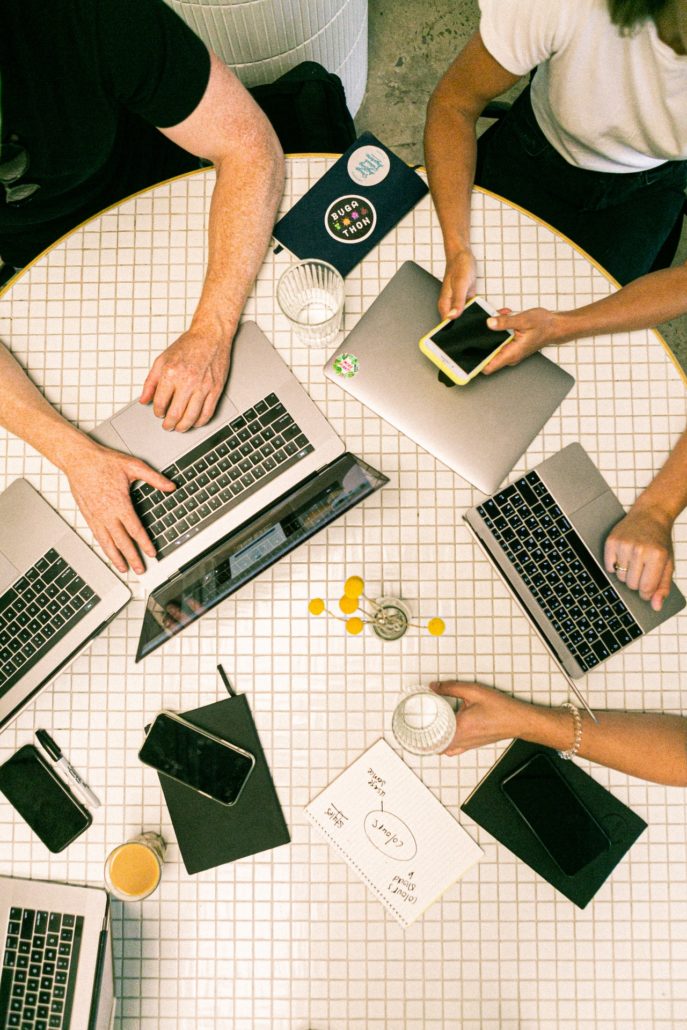 4- Stay Social
This is important now, more than ever. One downside to working remotely is not having any physical contact with others throughout the day. With everything happening in the world right now, seeing someone in person, might not be a possibility.
However, we are fortunate that we have the technology that enables us to see one another, even if it is on a screen. A video chat with a friend or family member can really go a long way. I would also recommend checking if the company you work for has a Facebook group.
Doing so has given me a sense of community and the feeling that I am not alone. Each company has a unique system and way of doing things. If I ever have a question or something I am unsure of, I head straight to the group and check for information. It is a nice way to feel connected to people from all over the world who share in your experience.
Get certified to teach English online with the 168-hour Hybrid TEFL Certificate by OnTESOL
5- Eat healthy and stay active
It is easy to turn to junk food, especially when I am tired and need a pick-me-up. I find that doing so makes me feel better in the moment but does not last very long and I am back to square one. Sitting at a desk all day can make me feel sluggish and unmotivated.
As I mentioned, taking a break to stretch and grab a healthy snack, does wonder for my energy levels. I usually take a break from teaching around lunchtime and head to the kickboxing gym. These days, I am practicing yoga or having a dance party in my living room! I find that when I return to work, I am energized and ready to take on the rest of my day.
With every transition, comes a period of adjustment. We are all unique and what works for me, might not work for you. Find what resonates with you and make it your own. Being happy and healthy not only benefits us but our students, as well!