My experience as a teacher's aide in Nepal is one I will never forget. I had never been on a solo trip before, and it was my first time traveling and living alone in a developing country. I worried that I was out of my depth and thought maybe teaching English abroad was a mistake but I soon realized that anything worthwhile will scare you a little.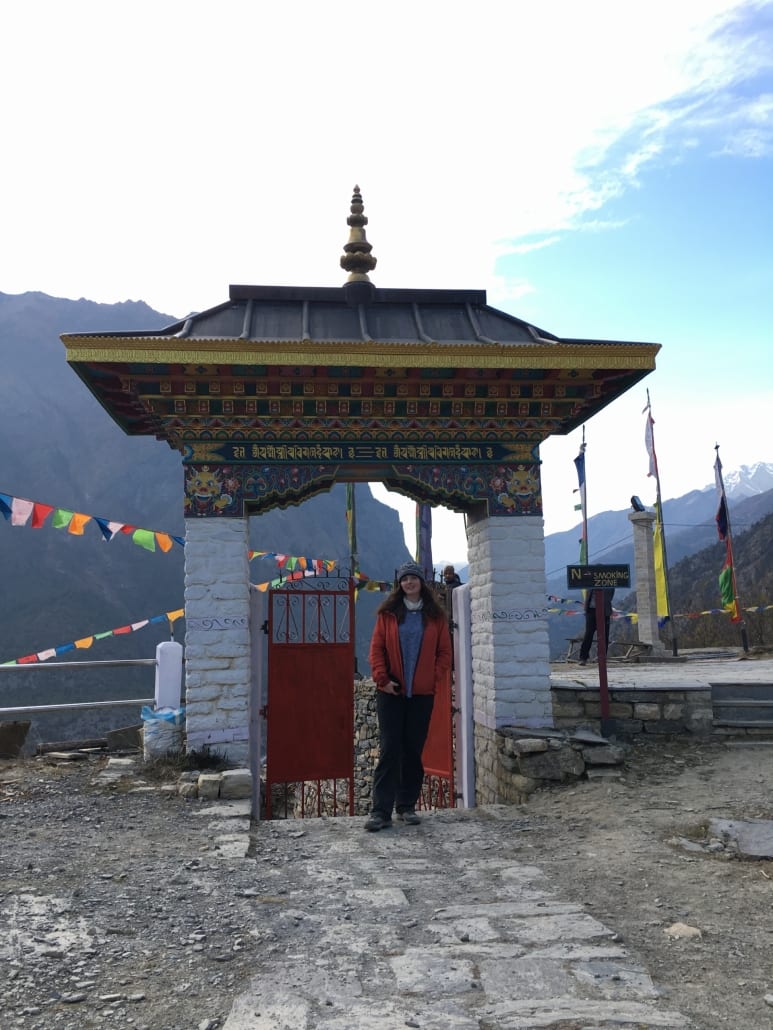 About the Author: Emily Byrne taught English in Nepal after completing the120-hour Advanced TESOL certificate with OnTESOL.
Arrival In Nepal
Just after arriving, my driver took me to my hotel where I stayed for the next 4 nights. The following morning I went on a tour of the absolutely stunning Kathmandu! I met my guide at 2pm and he took me to a square which an earthquake had destroyed.
Some of the buildings were very beautiful, but I was still nervous to be in Nepal and I couldn't fully appreciate the moment. My guide took me to the largest monument in Nepal and for the first time since arriving I felt truly calm.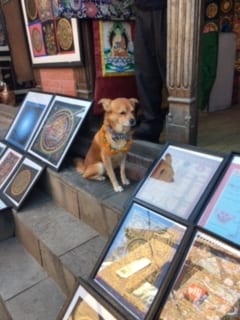 The prayer flags fluttered in the wind and I felt so peaceful. The prayer weals spun and I observed monks praying in the afternoon sunshine. I walked with my guide while he explained Buddhist philosophy and took me to a Buddhist art school.
The artists explained the process behind creating a tanka- a traditional painting which holds symbolism and requires a great deal of work and effort. I loved these new teachings and I thought about how much I would learn from my students. One week into my arrival in Nepal I met my host family and they could not have been more hospitable!
Recommended for Teaching Abroad: 168-hour Hybrid TEFL Certificate (35% OFF)
Teaching English in a Nepalese Classroom
The next day I had breakfast with my family and headed out to see the school. I was apprehensive to meet the teachers, principals, and students. The day was slightly tense, a balance between being useful and stepping on the teacher's toes, but the children were wonderful.
I spent the day adjusting to the school environment. The following days became much easier as I learned more about my students and the other teachers. The principal suggested that I teach one class a day on my own. In my excitement, I immediately created multiple lesson plans.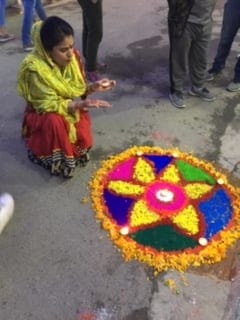 My Lesson Plans
The lesson plans included some reading and writing comprehension as well as a storyboard activity. The reading went very well and almost all of my students had great reading skills. I discovered that 3 of my students were unable to read and I organized a study group for them at lunch.
I had brought an entire hockey bag of supplies from Canada so I took the opportunity to combine a lesson of short stories and UNO cards. The children responded very well to this activity. As a further incentive, I bought them notebooks from the local paper shop so they could continue to practice their work at home.
My Students
I discovered that each class had its own unique and creative students. Class three and four were filled with youthful, energetic, and lovingly rambunctious students. Class 6 had studious and respectful students and class 5 had very sweet- a mixture of energetic and competitive students. My kindergarten students were so excited about everything, their energy and curiosity knew no bounds!
Feeling Welcomed
Even though I was only my students' teacher for a short time, I cared for them deeply. One Saturday, I decided to stay and watch the Tihar festival that the students had been planning for.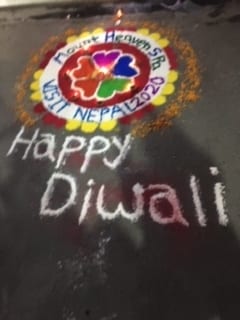 In all the excitement, I even helped the students practice their singing and dancing to prepare. They dressed up in traditional wear and they were so excited to have me see their dances.
We gathered outside and as I was sitting with my students, the principal asked me to sit at the front with him and the other teachers. I was delighted for this opportunity and honored to be recognized by the other educators. I enjoyed the beautiful dancing and colorful Rangolis that the students carefully crafted.
After the students performed around the Rangolis, it was the teachers' turn! I was glad to witness this lovely celebration, but I never expected to be part of it! I didn't know the song or what we were doing, but luckily the principal and vice-principal put a marigold chain around my neck and taught me the song "Doe Cee Ray". It was so much fun and I was so happy that I stayed and enjoyed the festival.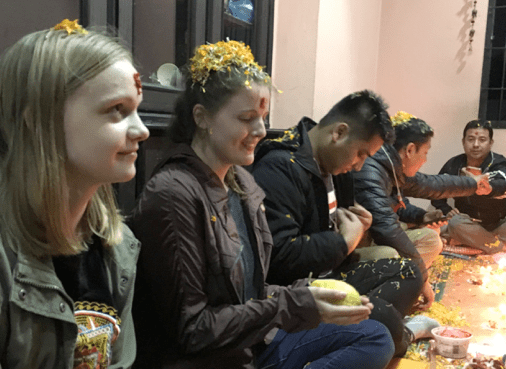 So Much More Than Teaching English
I went to Nepal because I thought I could teach English, but my students taught me so much about their culture and lives. If you are passionate about education please take the opportunity to teach abroad.