There is no train system in Mexico, apart from a line in the north that serves tourists and is more of a trip in itself than transportation. That leaves you with three options: drive, take a bus, or fly.
-Save up to $150 on your online TEFL certification course!-
Driving – TESOL Mexico
Driving in Mexico can be dangerous, especially in the north and at night. If you buy or rent a car and plan a trip, make sure you talk to your knowledgeable Mexican friends because there are certain highways you shouldn't be taking.
There are two kinds of highways in Mexico: toll roads (cuota) and free (libre). The tolls can add up, but these roads are much safer and you are provided with roadside assistance as well. The price of the toll covers your car insurance while on the road.
Take a Bus – TESOL Mexico
Even if you do have access to a car, the bus isn't a bad option. As with other Latin American countries, there isn't one major bus company like Greyhound that goes everywhere. Each bus station has booths for different companies which serve different cities for similar, but different prices.
You can choose the cheapest bus, but it will be less comfortable and may stop frequently. The most expensive will be the most comfortable, with huge reclining seats and a meal. Almost all long-distance buses have a TV where they show pirated DVDs in Spanish.
There may be more than one bus station in your city. Mexico City has many which serve different parts of the country; the north bus station serves cities in the north, the south serves cities in the south, etc.
Fly – TESOL Mexico
Finally, if you're short on time and you are looking for a weekend getaway, for faraway destinations like Cancun you will probably want to fly. You can start by looking for tickets at Expedia or Travelocity, and then visit a local travel agency or two to check for deals.
There are a lot of package trips in Mexico to places like Cancun, Tulum, and Playa del Carmen, where you get a plane ticket and an all-inclusive hotel. If this is your thing then definitely visit travel agencies.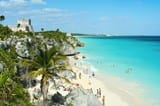 For longer trips, in and out of Mexico, I recommend using the "multiple destinations" option in Expedia. This means that you can fly to one city and return from another, presumably traveling between them by bus.
For example, you could fly from Mexico City to Quito, Ecuador, and then return to Mexico from Lima, Peru. Often these trips are cheaper than the round-trip ticket from one city, and it is a great option because then you don't have to backtrack.
Where to go? Just look at a map and talk to friends; Mexico has something for everyone.
OnTESOL – Accredited TESOL / TEFL Courses Since 2003 – Get certified to teach English in Mexico!
Related Articles
Teaching Conversational English in Mexico