Before I left for Japan, I had a really tough time deciding what to pack and what I could do without. I am sure your parents and relatives will be sending you care packages, so don't worry too much about the details and plan based on your own daily needs. Here is a helpful list that I came up with.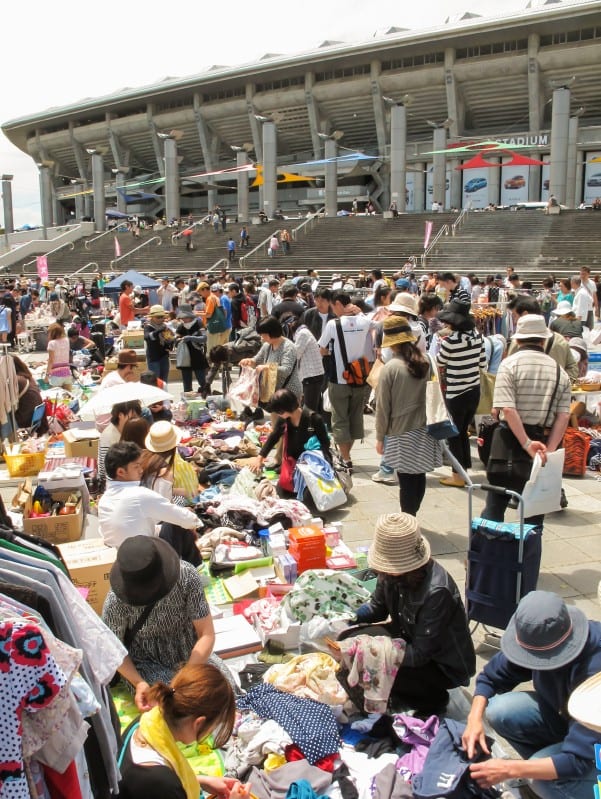 What to Pack for Japan
Omiyage (souvenirs) – the act of gift-giving is a huge cultural tradition in Japan.
Laptop – Even though Japan has some of the best technologies in the world, it would be a safer bet to bring a laptop from your own country. The Japanese keyboard does take some time to get used to and of course, the OS will be in Japanese with any laptop bought in Japan.
Shoes – I was okay because I was a size 7 back in Canada. However, my guy friends had difficulties finding anything that fit their regular size 13 shoes.
Bra – Similar to the shoe story above, it really depends on your size but the measurements in Japan are different as well so it would be best to bring enough just in case.
Deodorant – They have stuff in Japan but it is definitely not strong enough especially for places like Osaka and Nagoya. If you got a brand you like back at home, pack a few extras before you fly.
Props- You will be introducing yourself as well as your home country very often. If you are teaching English in Japan at a public school, you will probably be doing the introductory class about your home country with each class of every grade at your school(s). This means maps, coins, and pictures will be useful and entertaining for those classes. I gave dimes and pennies away for game prizes and my kids loved it. The students will want to know where you came from and what it looks like, and what better way to start a lesson with something you have known all your life. Family pictures always work well.
What NOT to Pack!
Food – Don't be the person who brings a suitcase filled with Mac and Cheese and chunky peanut butter. There are TONS of shops that sell foreign foods. I lived in the countryside for a few years while I was in Japan. And, I could still find taco shells and mars bars so don't worry. Yes, it will cost a bit more, but you are in Japan! There are tons of snacks you can try.
Adaptors – I bought a whole bunch with me and they were heavy and a waste of space. Adaptors are available everywhere! Any electronic place would carry them so don't waste space with them.
You are moving to Japan, a place where you can pretty much find everything you will need for your daily needs. Pack light and you can't go wrong.
The Apartment in Japan
The typical apartment a company will give you will be 6 to 8 tatami mats. Each mat is about 3 by 6 feet. These will include a 1K (kitchen) or 1DK (dining and kitchen) area. Most large conversational schools will provide you with one of these.
If you are one of the lucky ALT living in the countryside, you might get your 1-floor house as I had the great experience of getting. But those are usually not the case, especially if you are working in the bigger cities. Read: How to get a TEFL job with fully furnished apartment before arriving in Japan
Furniture
The apartments will come furnished with the most basic needs and your company will usually go over that information with you in your contract. A big concern for some people is the lack of a dryer.
There is a washer, but dryers are not found in a typical Japanese apartment or even a house for that matter. If a dryer is that important to you, you can go out and buy one yourself.
Again, don't be fooled by the word furnished because this is not the typical furnished house you would get in Canada or US. They will usually have a futon and covers for sleeping on. Don't expect a bed. Futons are just as good and probably much better on your back. Give it a try and enjoy the cultural experience.
Sometimes a kotatsu table will serve as your dining table and workspace for your books and laptop. For those who do not know, kotatsu is a short table with a futon cover placed between the tabletop and the legs of the table. You can use this to drape it over your legs when you sit under it on the thin carpet that comes with a kotatsu set.
Appliances
There will also be eating utensils, some cookware, a small fridge, air conditioner, heater, and most likely a microwave. A lot of it also depends on what the previous teacher left there. I once got a kendo sword and an awesome spice rack that was left behind.
Any internet line would have probably been cut off by the previous teacher before leaving but be sure to ask your school or manager to help you get your connection set up.
I'm sure your company will go over everything with you and of course, each apartment is different. Your manager or even co-workers will help you out as long as you ask them. Don't forget to decorate your space to your liking because it will be your little cozy place for at least a year!
OnTESOL: Online TEFL certification courses for entry-level positions and experienced teachers.