Teaching English in Brazil
OnTESOL Graduate Review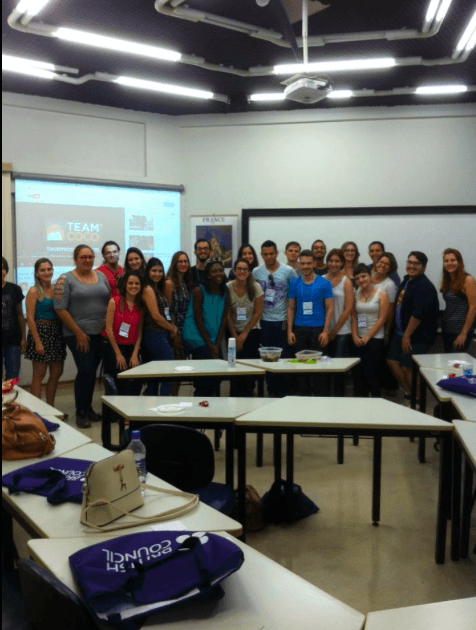 Electra Bolotas is currently teaching English in Brazil. She completed the 120-hour TESOL Certificate with Practicum.
WHAT MOTIVATED YOU TO BECOME AN ESL TEACHER?
I was motivated to become an English teacher in order to help students get their writing published in English and gain a global audience. I also enjoy cultural exchange and believe that language learning is essential to cultural exchange.
WHAT ARE THE BENEFITS AND REWARDS OF WORKING OVERSEAS?
Having worked overseas, students are extremely motivated and interested in learning English. At times they might be shy when working with a native speaker, but it is an amazing experience to see them grow and become confident in their speaking and writing in English. As a teacher overseas, you make lasting friendships and are constantly challenged to grow everyday.
WHICH CITY AND COUNTRY DID YOU CHOOSE TO WORK IN AND WHY?
I chose to work in Brazil. Having studied Brazilian culture through anthropology, I was interested to learn more about the country through living and working here. Learning Portuguese has been an amazing experience and I always share my struggles of learning a new language with my students here too.
HOW LONG HAVE YOU BEEN LIVING AND WORKING THERE?
I have been working and living in Brazil for one year now.
WHAT ARE THE CHALLENGES OF WORKING OVERSEAS OR IN THIS PARTICULAR COUNTRY?
It has been a challenge to adjust to the pace of life at times. I live in a smaller city, where things operate much slower than what I am used to. However, I have embraced this and really enjoy being able to have more time to get things done and live in a less rushed pace of life.
WHAT IS THE STANDARD OF LIVING LIKE?
The standard of living in Brazil is good. Prices are low and living in a smaller city you have more personal time. I enjoy riding my bike, cooking being social with my friends.
HOW HAS YOUR TESOL PREPARED YOU FOR THE JOB YOU ARE CURRENTLY WORKING?
The TESOL certificate course gave me the accreditation that I need in many positions as part of their minimum requirements. I have enjoyed referring to the lesson plans, grammar activities, and videos that I can cater to different age groups and classes.
WHAT IS/ARE SOME OF THE GREATEST LESSON(S) YOU'VE LEARNED WHILE WORKING OVERSEAS?
The greatest lesson I have learned overseas is to be patient. This means being patient with other people and with yourself. It is important to understand the needs of your schools and students and understand what is appropriate in each setting before trying to implement any project.
HOW DID YOU GO ABOUT CHOOSING THE SCHOOL YOU CURRENTLY WORK AT? WHY DID YOU PICK THAT SCHOOL OVER OTHERS?
I was placed in my school. When coming to Brazil, I was very flexible about what city I could live in and the type of atmosphere I would be working in as well. Being flexible allowed me to get to know a city that I otherwise would have probably never have visited. In the end I loved my city!
WHAT WERE SOME OF THE CONCERNS YOU HAD BEFORE WORKING ABROAD?
Some of my concerns were keeping my budget, especially because I was making more money working in the US. However, the experience being in Brazil has been priceless and definitely worth it.
HOW HAS YOUR EXPERIENCE CHANGED OR ALTERED YOUR PERSPECTIVE ON TEACHING ESL OR HAS IT?
Living in a country where I am learning the language has opened up my eyes to how my students in the US, or other language learners might feel. At times it was difficult to express my ideas and communicate. Learning a language and expressing yourself in it deeply is difficult and having experienced this, I appreciate the struggles my students go through.
WHAT NEW THINGS HAVE YOU LEARNED ABOUT TEACHING ESL SINCE WORKING AT THIS SCHOOL IN THIS COUNTRY?
I have learned that doing needs assessments of your students and program is essential to teaching. Long term planning and flexibility is also very important.
WHAT ADVICE WOULD YOU GIVE SOMEONE PLANNING OR CONSIDERING TEACHING ABROAD? WOULD YOU RECOMMEND TEACHING IN YOUR COUNTRY?
I would recommend being flexible and open to new experiences. Don't try to control everything about your surroundings, but be prepared. Be prepared to make lasting friendships!