Complete a Teaching Practice Module After The Online TESOL Course!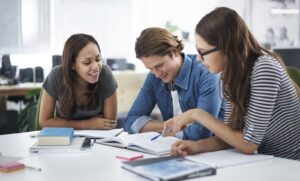 Upgrade your credentials and qualify for the best TESOL jobs! The most reputable employers in the world prefer teachers who completed a TESOL certification with a minimum of a 20-hour Practicum with real ESL students. OnTESOL is one of the very, very, very few online TESOL / TEFL institutes that offers a Practicum module. Our 120-hour TESOL Certificate and 250-hour TESOL Diploma graduates can complete a separate 20-hour or a 50-hour Practicum anywhere in the world.
Note: The Practicum is optional and separate. There isn't a deadline to complete the Practicum, so you can get the TESOL certificate without the Practicum and upgrade your credentials at a later stage in your career. Refer to the course's page for more information about TESOL certification and accreditation.
You can take the Practicum anywhere in the world! We can help you set up the Practicum at one of our partner language schools in Canada or you can take it at an ESL program in your area. If you are already teaching English, it is possible for you to take the Practicum for free at the school you work. Below is more information about the two options our graduates can choose for the Practicum:
Option 1: OnTESOL Practicum Locations
OnTESOL can help you set up the Practicum in Barrie, Edmonton, Halifax, Montreal, Toronto, or Vancouver.
20-hour Practicum Cost: $350-$600 depending on location. Contact us for more information.
50-hour Practicum Cost: $650-$900 depending on location. Contact us for more information.
Option 2: Stand-Alone Practicum (Anywhere in the World)
You can also take the Practicum at anywhere in the world at an ESL school or community center that offers ESL classes. The Practicum must be completed with adult ESL students (18+ Years old. Minimum 5 students per class). Graduates have to find a teacher with more than 2000 hours of teaching experience and a TESOL certificate with at least 120 hours and a Practicum module such as TESL Canada, CELTA, or Trinity CertTESOL.
Cost: OnTESOL will provide the guidelines for free after we approve the supervising teacher. Graduates are responsible for arranging an honorarium with the supervising teacher or school. Many graduates complete the Practicum for free at the school they work.
The Practicum will be scheduled after you complete the TESOL course. Depending on your choice of location, OnTESOL will assign you a supervising teacher or approve the supervising teacher that you will choose.
The 20-hour Practicum consists of 10 hours of class observation and 10 hours of teaching practice. The 50-hour Practicum consists of 20 hours of class observation and 30 hours of teaching practice.
For the class observation part, you will have to observe the supervising teacher and write reports on his or her performance.
For the teaching practice part, the supervising teacher is responsible for setting up your classes and telling you about the topics and materials you will teach. You will be required to create a lesson plan and submit it before staring your class. Your supervising teacher will mark you on your lesson planning skills and your teaching skills and you will get feedback after each class.