Do You Want to Teach English Online?
Golden Voice English is Hiring Native English Speakers Who Want to Teach English from Home!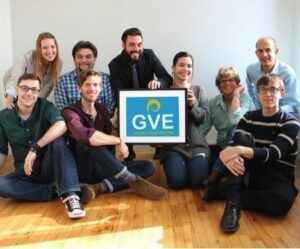 Earn $20+ per hour teaching English online! Teach from the comfort of your own home with Golden Voice English (GVE)! This Toronto-based online ESL school is looking for Native English speakers from Canada and the United States to teach English online to kids in China. OnTESOL recommends GVE because they have the highest rating on Glassdoor (4.2 stars).
Teach English online with a company that provides dynamic and engaging lessons for children grades 1-9. Their unique lessons are based on the Chinese International curriculum and are presented using interactive animation that creates a lively and stimulating classroom environment.
Why Teach Online with Golden Voice English?
Well-Designed Online Teaching Materials
GVE provides its teachers with original and professionally developed Powerpoint lessons to use with their online English classes. You'll never have to worry about extra time spent on lesson planning!
The tutoring hours are between 6AM to 10AM EDT, Monday to Friday and between 9PM and 10AM EDT on Saturdays and Sundays. You have the freedom to choose your own availability within this time frame.
Free Professional Development
GVE is proud to provide professional development and orientation that sets up teachers with the ability to master the technology and deliver their unique online lessons. All training sessions are paid.
Teach English From Your Comfy Home!
No commute. You can work from the comfort of your own home office!
Job Conditions and Requirements
SALARY AND BENEFITS
The hourly rate is 20 CAD/hour or 18 USD/hour. We pay 10 CAD or 9 USD per 30 minute lesson.
JOB REQUIREMENTS
Fluent in English
Bachelor's degree
Min 6 months or equivalent combination of ESL/EFL teaching experience, including part-time, volunteer, community and coaching activities
Energetic and must have a passion for teaching; strong communication skills interacting with ESL/EFL students
Reliable and committed
Cooperative and open to constructive feedback
Qualified home office/location with an internet-connected computer with webcam capability.
Headset with microphone
PowerPoint (2010 or newer)
Must pass an externally generated background check.