TESOL Courses in Montreal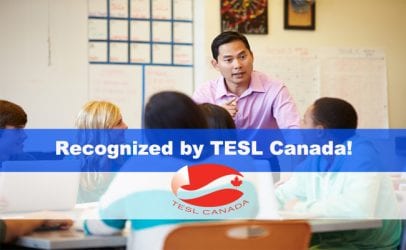 OnTESOL offers online and combined TESOL courses in Montreal.
Study TESOL online and complete a teaching practice module with a qualified teacher in Montreal.
This program is recognized by TESL Canada, so you can teach anywhere in the country or go abroad anywhere in the world with an internationally recognized TESOL certificate.
OnTESOL Offers the Best TESOL Courses in Montreal!
How the TESOL Course Works
Choose between the 120-hour Advanced TESOL Certificate or the 250-hour TESOL Diploma. Our combined TESOL courses provide new teachers with a lot of flexibility. You can take the TESOL course online at your own pace and receive the TESOL certificate after completing all the exams and assignments. This is perfect for people who want to go abroad and don't require an in-class component. You can also upgrade your credentials by taking a separate teaching practice module with one of our partners in Montreal ($600) or you can set up the Practicum on your own and arrange the payment directly with the teacher. If you choose the second option, OnTESOL will approve the Practicum and provide you the guidelines free of charge. If you are already teaching at a school in Montreal, it is possible to take the Practicum for free there.