Advanced Online TEFL / TESOL Certification Courses with Professional Tutor Support and Job Assistance
Recognized by TESL Canada Since 2003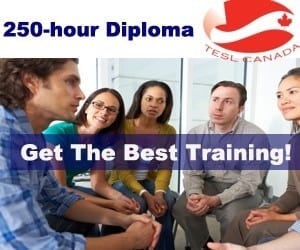 Accepted for professional TESOL / TEFL jobs worldwide
More comprehensive than CELTA and Trinity CertTESOL
Accepted in native-English speaking countries
Recommended for school director, university, and curriculum development career advancement opportunities
Earning potential: $75,000+/year
Accreditation: TESL Canada Standard 2 and ACTDEC UK
Tuition fee: CND$995 (Approx. US$789, EUR 675, GBP 545)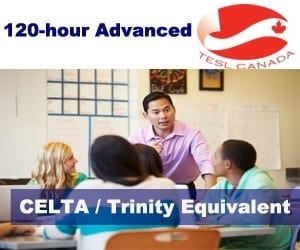 Accepted for professional TESOL / TEFL jobs worldwide
Academically equivalent to CELTA and Trinity CertTESOL
Accepted in native-English speaking countries
Earning potential: $40,000-$60,000/year
Accreditation: TESL Canada Standard 1 and ACTDEC UK
Tuition fee: CND$ 650 (Approx. US $485, EUR 475, GBP 319).
FAQ 1: How Do I Choose The Best TESOL / TEFL Course?
Knowing how to supplement the textbook with communicative activities and authentic material (Ei: songs, movies, news stories, podcasts, and other media) is a very important skill that you must have as an ESL teacher. Whether you are planning to teach English abroad or in an English immersion program at home, the textbook is often outdated and boring. In some countries, there isn't even a textbook to follow because students cannot afford one. For this reason, learning to create professional lesson plans using the Communicative Language Teaching method is the most important reason for taking a TESOL / TEFL / TESL certification course.
After completing your advanced TESOL course with OnTESOL, you will be able to create fun and effective lesson plans using authentic materials, integrated skills activities, role-playing, simulations, drama in the classroom, storytelling, debating techniques, presentations, and many more strategies and techniques.
Compare OnTESOL with Other Course Providers!
OnTESOL

CELTA Courses
Oxford Seminars
TEFL Online by the University of Toronto and Teach Away
International TESOL / TEFL / TESL Accreditation
TESL Canada Standard 1 and Standard 2.

ACTDEC UK.

CELTA is the accreditation.

Canadian CELTA courses are recognized by TESL Canada for their Standard 1 certification.

No
No
Tutor Support and Feedback
Yes
Yes
Yes
No. Assignments are marked by Teach Away office staff.
Includes Grammar and Phonology
Standard (120 hours)

Advanced (250 hours)

Standard
Introductory
No
Lesson Plan Assignments
Advanced (Both OnTESOL courses):
Using authentic material and communicative activities for grammar, vocabulary, speaking, reading, writing, and listening lessons.

Teaching integrated skills

Advanced: Using authentic material and communicative activities for grammar, vocabulary, speaking, reading, writing, and listening lessons.

Teaching integrated skills

Introductory (Does not follow PPP, TBL, ESA or another internationally recognized format).
No. Assessed through reflective essays only.
In-Class Practicum with Real ESL Students
Optional. Extra
Yes
No
No
Accepted by Language Schools in Canada, the United States, the United Kingdom, South Africa, and Australia
Yes (With Practicum)
Yes
No
No
Affordability (Based on a 120-hour course)
$650
$2400
$995 for the 100-hour course. Adding 20 hours costs extra
$1295
Even after completing a Bachelor of Education, Master's Degree in Educational Psychology with a thesis on English Language Learner Achievement, two years teaching in South Korean international schools and five years teaching in Canadian public secondary schools, which includes international programming, I found OnTESOL's program incredibly useful, relevant, theoretically sound and pedagogically inspiring. Not only is this program fundamental for those who wish to teach abroad, but it is also practical and helpful for teachers working with international students who need greater insight into linguistic development, language learner needs and adapted teaching strategies.
After taking my TESOL course through OnTESOL, I was offered TWO teaching positions in Germany. This course has not only allowed me to find the job of my dreams, it has given me the proper tools to be an effective teacher.  I've looked at many online TESOL courses and OnTESOL offers the most robust teaching course. Their trainers are there for you 24/7.  And yes, both jobs I found through the OnTESOL Job Board! This course is worth so much more than what I paid for it!
I had a very accommodating tutor named Danielle. Though we didn't get to see other, I felt very comfortable with her. I value and really appreciate her efforts and time on checking my assignments, especially when I was having trouble in making a lesson plan. I learned so much with my tutor. The ideas that she shared had been a great help in my class. Thank you for the great experience OnTESOL!
The course was really helpful and beneficial. I have been an ESL for 3 years but I still learned a lot and I am now a much more effective teacher. I finished the course feeling more confident because I am better equipped after in taking the 120-hour TEFL certificate course with OnTESOL. Furthermore, the tutors are great. They encourage you to ask questions and they also provide lots of comments and feedback. They are really committed in your learning. Choosing OnTESOL is a very good decision! 
Teaching Abroad vs Teaching Immersion Programs at Home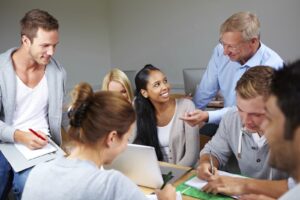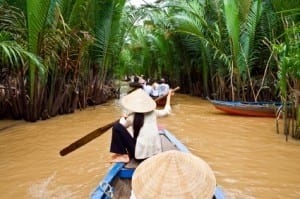 Teaching abroad is a great way to travel the world while doing a job that makes a difference in the lives of many people. Most people teach English abroad for a year or two, but there are plenty of highly paid job opportunities in native-English countries, so there are thousands of teachers who continue their TESOL career at home or keep traveling around the world. The advanced TESOL courses offered by OnTESOL provide great flexibility to native-English speakers from Canada, USA, UK, Ireland, Australia, New Zealand, and South Africa who want a credential that is accepted abroad and also at home.

Korean Horizons is an official EPIK recruiter. Coventry House International-OnTESOL partnered with Korean Horizons to offer free recruitment services for public school jobs in South Korea. Apply to teach English in South Korea while taking your TESOL / TEFL certification course with OnTESOL!
Teach English in Japan with Gaba! Over 40 locations! Apply to  teach English Conversation One-to-One with the leading institute in Japan after completing your online TESOL / TEFL certification course!
TEFL / TESOL / TESL Certification and Teaching English Abroad FAQ's